The Woven Path: Ipnot Embroidery
3D embroidery has always been a fascinating form of art to us here at KOEL, and our fascination was only further fuelled after coming across Ipnot's innovative and playful designs. Ipnot's work completely encapsulates the rich Japan culture she has grown up with, finding inspiration in everyday happenings, objects and people – ideas are never bound to run out! Her work literally pops off the fabric they are stitched upon, so real we find it almost hard to differentiate it from their actual counterpart. Find out more about Ipnot embroidery art through the interesting chat we had with her, and visit her shop to feast on her spellbinding designs!
Tell us about your background and what led to you choosing embroidery as a craft.
I'm a Japanese embroiderer and master in French knots. I grew up around people who enjoy art. My grandmother was amazing at embroidery and I've admired her since a young age. She was the one who inspired me, and continue to inspire, and so she is one of the reason why I decided to pursue my dream of starting my own embroidery business. My brand Ipnot, which came to life in 2011, came from my childhood nickname. My shop has been a passion of mine, and the love of my life.
What made you want to take your passion to the next level?
I have big dreams when it comes to embroidery. I've always wanted to improve my knowledge on the French knot, as I thoroughly value the meaning and beauty behind the stitch. I'm always open to learning other forms of embroidery as well. So I am always curious and experimenting.
What kind of materials do you like to work with?
I like working with big pin cushions, made by myself!
Your favorite design to date…
My favourite piece of finished product is the 3D food series. Inspiration comes to me anywhere, at anytime. So I like to visit various places and reach out to as many people, culture and art as I can. It's through physically visiting and experiencing these things, am I able to ensure the feelings I pour out into my work are just right. That's how these intangible emotions turn into art that people can see and touch.
What is the yarn scene like in Japan?
The popularity of embroidery in Japan is increasing every year. I still see traditional embroidery sewn using silk and thread. It's a beautiful and timeless form that can never turn obsolete, but there are also new and rising embroidery styles created by different artists.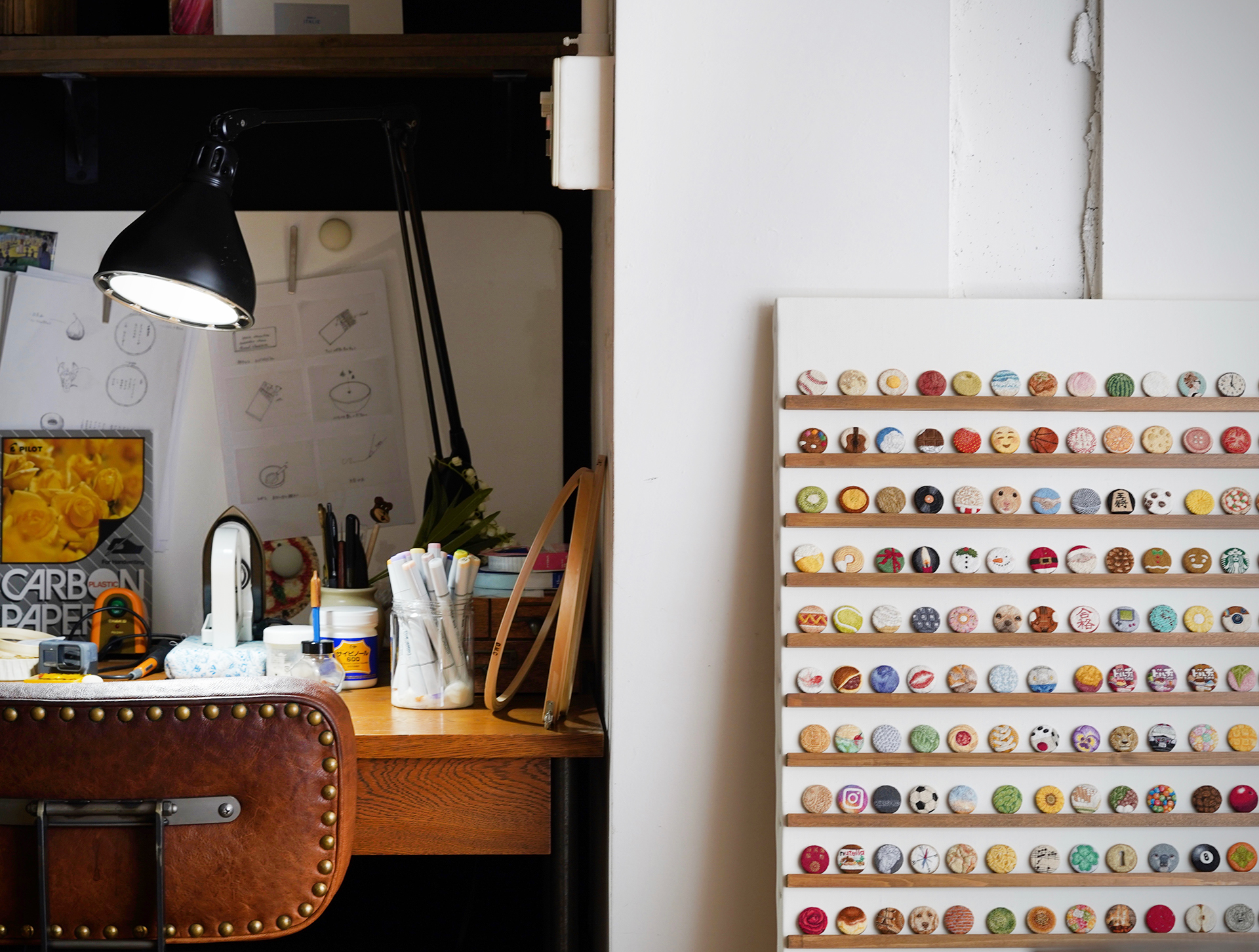 Is there any interesting or particularly memorable moment in your career as a maker?
My most memorable experience in my career so far is when my work was chosen as one of CHANEL's best savoir faire. I was invited to their fashion event, and got the chance to witness wonderful Haute Couture clothing.
Advice for those wanting to make the switch into crafting full time?
My advice is to ask yourself what you truly want, and go for it! So knowing clearly what you love to do and having the chance to fulfil it makes life extremely rewarding. In this current generation, it's easy to become overwhelmed with everything in life and we tend to lose track of our passion and interests. Pursuing what you truly love will help you get to know yourself better. That's how I started and fuelled Ipnot embroidery art.
EARLY RISER / NIGHT OWL
Early riser
A SONG TO GET YOU INTO THE CREATVE GROOVE
I often listen to classical music while I embroider.
WHAT DID YOU ASPIRE TO BE WHEN YOU WERE FIVE
I've always wanted to work in a bakery since I was 5!
3 ESSENTIALS WE CAN FIND IN YOUR BAG
* my SONY noise cancelling headphones. I love listening to music while I work.
* a bottle of nail oil (that smells so good!)
* bottle of water to keep my hydrated.
IF YOU WEREN'T AN EMBROIDERER, YOU WOULD MOST PROBABLY BE DOING…
I'm a fan of the healthy and organic life, so I can see myself in the process of developing organic food products. I take extra care in additives and preservatives in food.
Photo Credits: Ipnot
Inspired to start creating your own embroidery art? Choose your favorite embroidery pattern and start stitching.