KOEL Kid: Kate Gordes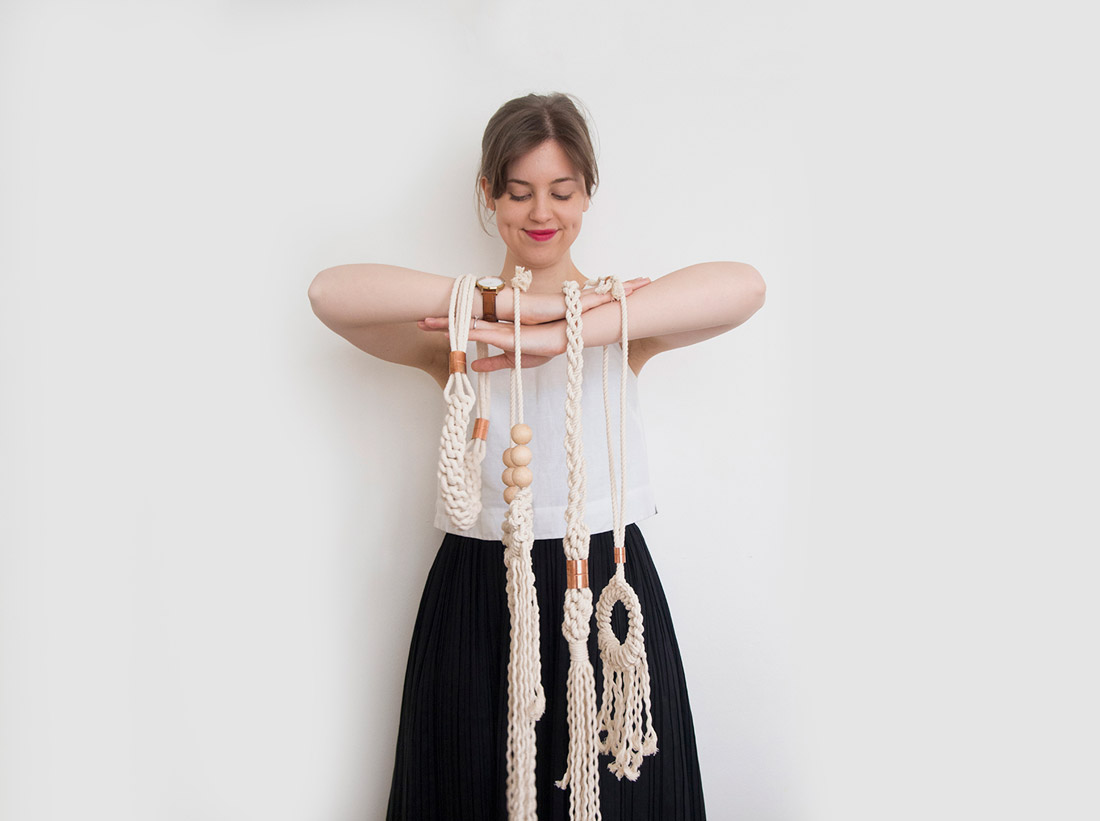 Childhood passion turned career. Melbourne-based maker, Kate Gordes was obsessed with the art of knotting since her early scouting days. It was not until she attended a plant hanger workshop years later that re-ignited her childhood dream of being a notorious knotter. She quickly turned this childhood ambition into fulfilment by opening an Etsy shop, named Scout Gathers, where she sells contemporary macramé pieces like planters and her hot-favourite jewelry collection (we love her play with dip dyes too!). Read on and you might be inspired to turn your children dream into something bigger too!
1. Tell us more about your background and what led you to choosing macramé as a craft?
My love for knots came from my early childhood days. At a young age of five, I joined the 1st Ferntree Gully Scout Group as a Joey. As a young scout, I filled my little sleeves with shiny crafting badges till the age of 18 years old. It was during my scout days that I fell in love with the art and skill of knot making. In early 2014, I attended a plant hanger workshop and opened my Etsy Store selling modern macramé pieces shortly after. The workshop renewed my passion for knots making from my young scouting days – hence the name 'Scout Gathers'. A few months later, I expanded my collection from homewares to jewelry. I wanted to experiment with versatile, contemporary pieces that can be worn with a simple linen shift dress. They are now the most popular items on my Etsy store.
2. What makes you a KOEL Kid?
I love to create color gradients on my macramé pieces using multiple dyes. It's so fun to experiment with bright colours and push the boundaries of traditional macramé with 3D forms, shapes, colors and patterns.
3. Share with us the creative process behind each of your project.
I'm constantly looking out for modern and contemporary formations to weave into unique fibre art that can be treasured for decades to come.
4. Pick one of your favourite designs and answer these quick questions!
The inspiration behind this design is… To create a modern, contemporary formation.
The dream store in which I would like to stock this design is… Made It Lab in Richmond, Victoria Australia.
Which celebrity can you picture wearing your design? Zoe Foster (Blake) at one of her book launches (she is one of my heroes!)
If this design made it big, I would… It will help me to fulfil my dream of owning a little cabin in the woods (in Mount Dandenong, Victoria Australia). I will set up my own studio in the backyard, surrounded by gum trees and ferns. I would then have space for a kiln to start experimenting with porcelain and rope.
If this design could talk, it would say… Keep your outfit simple so that I can shine!
5. Great things take time… So how much has changed since you first started macramé and where do you see yourself in the next five years?
The craft has definitely evolved extremely quickly since I started. Fibre art (and more broadly 'handmade craft') is now more sought after with many pursuing it as their full time career. In the next 5 year I would like to experiment more with combining rope and other mediums – such as porcelain, polymer clay and wood.
Photo Credits: Kate Gordes