KOEL Kid: Elise Chu
"I like to document everyday scenes and transform them into something special." We love works of artists like Elise Chu aka @fukanokano, whose art focusing on the little details in life. Using mostly a mix of satin and french knots, Elise creates embroidery pieces (or what she calls "paintings that you can touch") that are born from a memory in her mind, a place she has visited or a feeling she felt. We took a peek into her everyday sights through her works and had a chat with her on her favourite design and more.
1. Tell us more about your background and what led you to choosing needlework as a craft?
I have tried and enjoyed a lot of different crafts before. Not long after I first tried my hands on embroidery, I moved to Japan to live there for a year, and travelled around a lot. Embroidery was a very 'portablae' craft that I can stick with regardless of my living circumstances at the time. I love that with embroidery you can make magic from very little material, it's easy to carry around, and you can practice pretty much everywhere.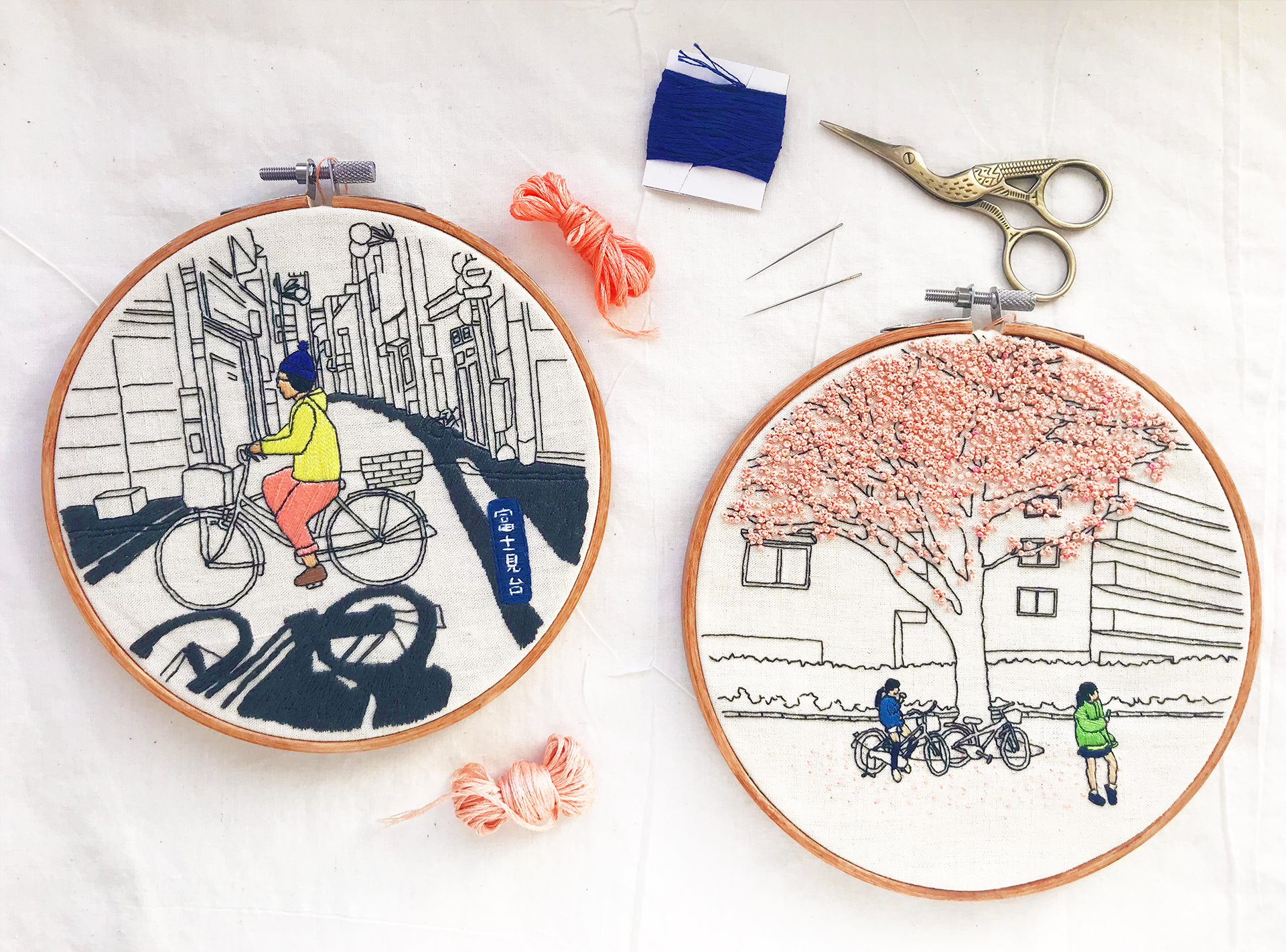 2. What makes you a KOEL Kid?
I like to document everyday scenes and transform them into something special. I'm always drawn to those little details in life that can bring people joy. I hope it shows in my work.
3. Share with us the creative process behind each of your projects.
When I'm not commissioned to make something specific, my projects usually start with a memory. A place I've been to, an atmosphere, or a feeling. I then sketch the idea, and start stitching. Every piece takes many hours to create, that I have time to make an idea evolve, and see what works and what doesn't. A lot of time, the final piece is very different from the original sketch.
4. Pick one of your favourite designs and answer these quick questions.
The inspiration behind this design is… My love for my city, tours in France and my fascination for clouds.
The dream store in which I would like to stock this design is… I would love to see it in my own Fukanō Kanō store! It would be a dream, to have my own space! I would like to have my studio there, and a space to organise workshops. It will not just be a store, but a place to connect with crafters alike and form a community!
Which celebrity house can you picture your design at… Haha! This is not easy to answer as I'm not very familiar with celebrities. But I would say Jameela Jamil, as I love her style. If I have the chance, I'd love to make a piece especially for her!
If this design made it big, I would… Be super grateful and push myself even more to create new things.
If this design could talk, it would say… "Don't be shy, you can touch me!" Not in a creepy way, but just cause embroidery is like a painting that you can touch, and that's cool!
5. Great things take time, so how much has changed since you first started needlework and where do you see it in the next five years?
So much has changed since I first started! I learned so much! I feel like my work keeps evolving as I get new inspirations and new ideas. Who knows what the future will bring! My wish is to stay curious, keep practicing and try new things. I also would really like to create at a bigger scale, and make larger pieces. Finally, I really want to share my work with people, to organise more workshops, to do collaborations, and to find new ways to connect with people to see where our creativity can bring us.
Photo Credits: Fukanō Kanō