Arm Knitted Chunky Vase Pattern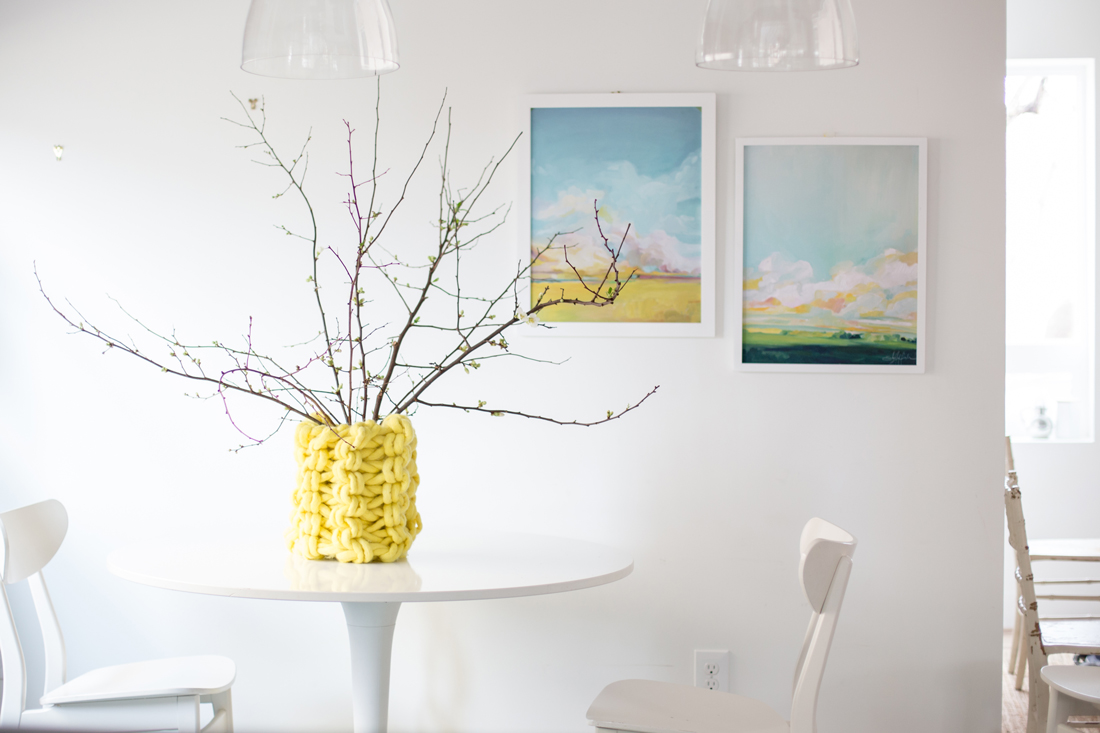 We are back with yet another arm knitting DIY from craft expert, Anne Weil of Flax and Twine! If you haven't dabbled into arm knitting, this tutorial will convince you how fast you can create a beautiful piece without landing your hands on those needles. Anne amazes us again with a chunky vase DIY that is sure to be the centre piece of your living room! Read on for full tutorial.
For a incredible statement piece, arm knit this stunning vase in less than 30 minutes! The plush texture of the knit stands in vivid contrast to the flowers, foliage and surrounding decor. Learning to arm knit takes little time, and there's so much fabulous fun to have with this technique. Drop those enormous needles and simplify your chunky knits. I promise you'll thank me (: Go big with this one, too! Imagine your next event surrounded by these striking vases – they are sure to wow!
Materials
1. 10" height x 5" diameter vase
2. 35-40 yards of jumbo specialty yarn held double (use a jumbo specialty yarn that gets approximately 1/2 to 1 stitch to the inch on traditional needles)
Yarn Used
1. A ball of LoveFest Fibers Tough Love, 50 yards, 100% New Zealand Wool in Bright Buttercup
Note: This project can be done with less expensive yarn. If the jumbo specialty yarn is out of your budget, simply replace EACH strand of jumbo yarn with 2-3 strands of a super bulky yarn that you buy in your craft or local yarn store.
Techniques
*This pattern assumes that you know the basics of Arm Knitting1. Arm Knitting How To (Instruction Sheet Downloadable here) 2. How to Purl in Arm Knitting (Instruction Sheet Downloadable here)
A purl stitch is the reverse side of a knit stitch. When you purl, you create a knit stitch on the opposite side of the fabric. In arm knitting, to create a garter stitch, you need to purl one row and knit one row, because you never turn the work around!
To create a purl stitch, moving from the left arm to the right (1), bring the working yarn right behind the first stitch on your arm (2). Let it rest there. Reach through the first stitch and grab the working yarn (3). Bring that loop of working yarn through the stitch, while pulling the stitch off your hand. Insert your hand through the loop, moving your hand away from your body (4). The working yarn should extend from the front of your arm (5) (even though the working yarn hangs at the back of the work). Tighten stitch and repeat process for each stitch in row.
KOEL Stories | DIY Arm Knitted Chunky Vase with Anne Weil
Instructions
Begin: 
Cast On 6 stitches
Continue: 
Row 1: Knit. Row 2: Purl. Repeat Rows 1 & 2, four more times. Knit one row. Bind off while purling. Cut end with 1.5 yards remaining. Pull cut end through the last loop (A).
Finishing:
Place piece with bound of edge to your left, and cast on edge to the right (B).
Fold ends towards one another. Using the remaining length allowed for seaming, go back and forth from side to side bringing the seaming yarn under the outer most loop/leg of the left side, then under the stitch on the right (C).  At the end of the seam, weave all ends into the vase cover, and tuck to the inside. Insert the vase into the knit cylinder (D).
A Little About Anne
Anne Weil is the creative voice behind Flax and Twine. A lover of beautiful things, she's never met a craft she doesn't like. Anne designs charming knit, crochet and embroidery patterns, as well as simple DIY crafts for the modern maker. Her signature style is bright and clean, with gorgeous photography and step-by-step instructions that can be followed with ease.
Find Anne's book, "Knitting Without Needles," a Potter Craft title, to immerse yourself in chunky, stylish arm and  finger knit patterns. Find Anne in her Denver studio relishing joyful making moments that really make her heart sing!