KOEL Kid: Olivia Weaver
"It helped me heal and see good that could come from pain. It was a physical representation for me that beauty could come from ashes." Olivia Weaver had to brave the loss of a child from her miscarriage in 2017. It was weaving that pulled her out of heartache and guided her down the road to healing. Embracing it as a form of therapy and creative outlet, Olivia now finds utmost joy and contentment in creating woven works that inspire and touch people's hearts. Get to know a little more about Olivia and her shop, Woven Together through the interview we had with her!
1. Tell us more about your background and what led you to choosing weaving as a craft?
I started weaving about a year and a half ago after my husband and I walked through a miscarriage. Honestly, weaving played a very important role during my journey of healing after that loss. As I was physically healing from surgery, I decided I wanted to learn to make woven wall hangings (there was one in our house I bought from Target that inspired me). So I got the materials and starting watching YouTube videos. One video led to the other, and I just jumped right in. I fell in love with the art of weaving immediately and haven't stopped since. For me, weaving was a way for me to express my emotions. I would sit in our spare bedroom for hours at a time listening to Elevation Worship and weave. It helped me heal and helped me see good that could come from pain. It was a physical representation for me that beauty could come from ashes. Weaving continues to be therapeutic for me and is a time to just disconnect and focus on creating. Life gets so busy at times that I think it is important to find something you are passionate about and spend time doing that. Most of the weavings I create now are commissioned pieces, but I also try to create time to weave for "fun" and try out new ideas. Those pieces I sell in our online shop along with my handmade jewelry!
2. What makes you a KOEL Kid?
Gosh, honestly I look at all the incredible artists you feature and I feel honored to be included! Everyone talks about having a fixed "style" for their work. Repetition drives me crazy, so I look at each piece as a blank canvas and an opportunity to create a completely new piece. I love adding texture and playing around with new ideas. Every piece I create has tons of texture (I fell in love with the art of adding funky textures from taking Lindsey of Hello Hydrangea's classes). You will see similar textures in all of my pieces, but rarely in the same pattern. I try to make each piece look like its own. My style is all over the place, but I feel that is part of the fun of weaving. Every piece has an opportunity to look different and reflect the mood I am in. Each weave is created with passion and most of the custom orders I create have a story behind them. I believe when you are passionate about what you are creating, your creativity flourishes and it sets you apart from others.
3. Share with us the creative process behind each of your projects.
Most of my projects start with an idea I will randomly have throughout the day. I will make notes on my phone when ideas come to me, and refer back to it when I have the time to sit down and work. My mind works all over the place and there is very little organisation. I typically pick a general color scheme and then start weaving. I never plan out a design, I just go with the flow and allow my creativity to do its thing. My mind is always thinking of new ideas. Some of them I love, and some of them turn out awful. It's all part of the process for me – just trying new things and letting my imagination run. My husband and I love being outside and traveling to the National Park, so a lot of my inspiration comes from that. If you were to walk in and watch me working on a piece, you would see yarn sprawled all over the floor, lots of coffee, music playing in the background, and lots of trial and error. I always feel so accomplished when I finish a piece and it can be so hard for me to sell them! I love seeing them hang in my studio.
4. Pick one of your favourite designs and answer these quick questions: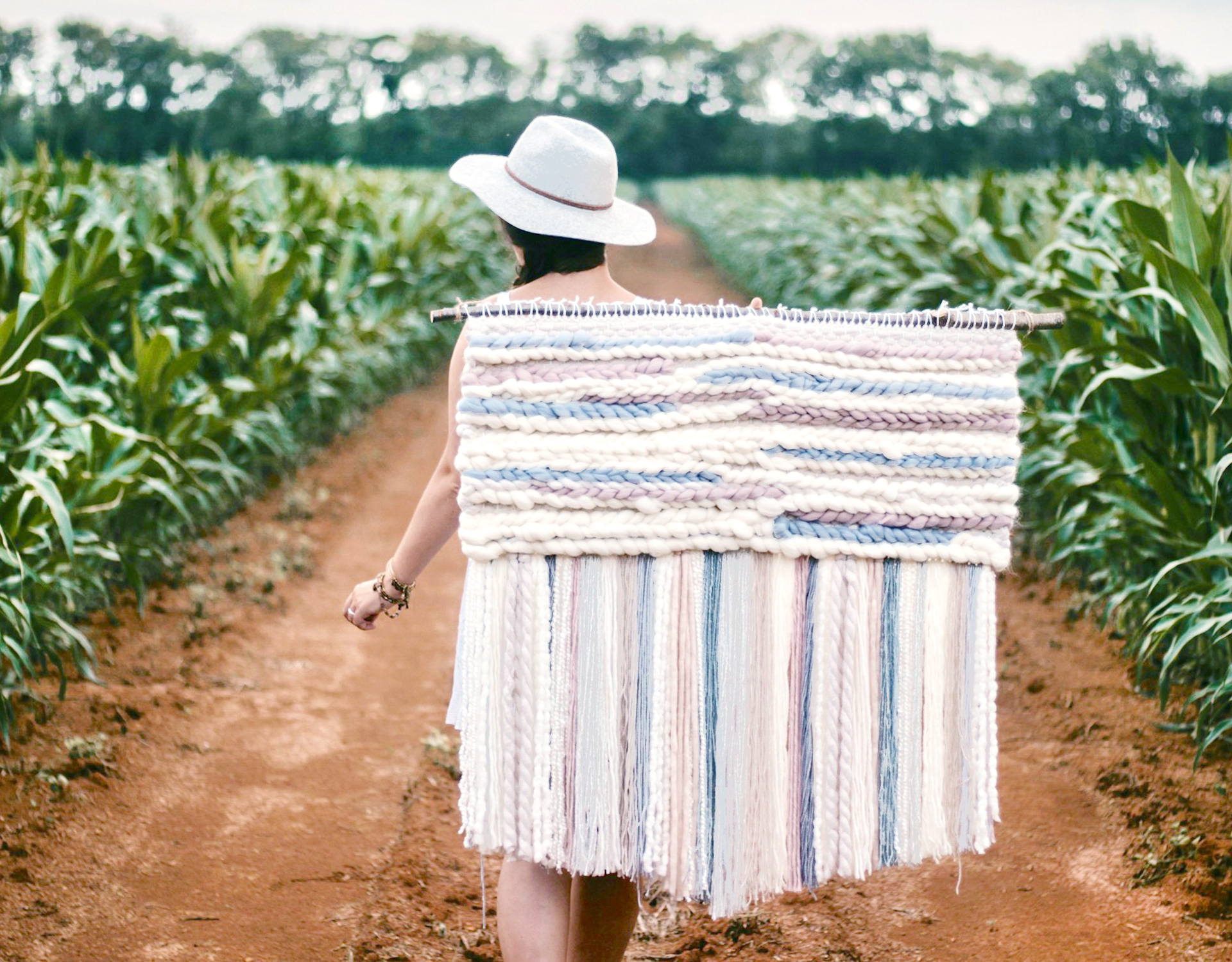 The inspiration behind this design is… The colors of Yosemite National Park
The dream store in which I would like to stock this design is… Anthropologie, isn't that every Weaver's dream?!
Which celebrity house can you picture your design at… Lauren Daigle or Katy Perry (honestly I just would love to see any of my weavings in their homes because that would be cool and I love them)
If this design made it big, I would… Cry. And then put a picture of it in my daughter's baby book so I could prove to her one day that her mom used to be cool.
If this design could talk, it would say… Always take time to go on adventures and make memories with the people you love (Yosemite was one of the first National Parks we ventured to)
5. Great things take time, so how much has changed since you first started weaving and where do you see it in the next five years?
A lot has changed in the year and a half since I started Woven Together. We now have a 7 month old daughter and I am pursuing my creative dreams full time (while also being a mother). I have slowly but surely figured out how to run a small business (I used to be a 3rd grade teacher, so running a business was not up my alley!), but most days I feel overwhelmed trying to balance everything. I have learned to give myself a lot of grace and not get too busy to the point I forget the simple love I have for weaving. I never imagined Woven Together to grow to what it has (I honestly started it because we had no wall space left for me to hang the weavings I was making). I would love to watch it continue to grow in the years to come, but am just taking it one step at a time and enjoying the ride. I will always treasure how weaving has taught me to embrace creativity, be still and reflect, and not to give up on the things you are passionate about! I am thankful for the opportunity to be a part of the weaving world and the KOEL Kids!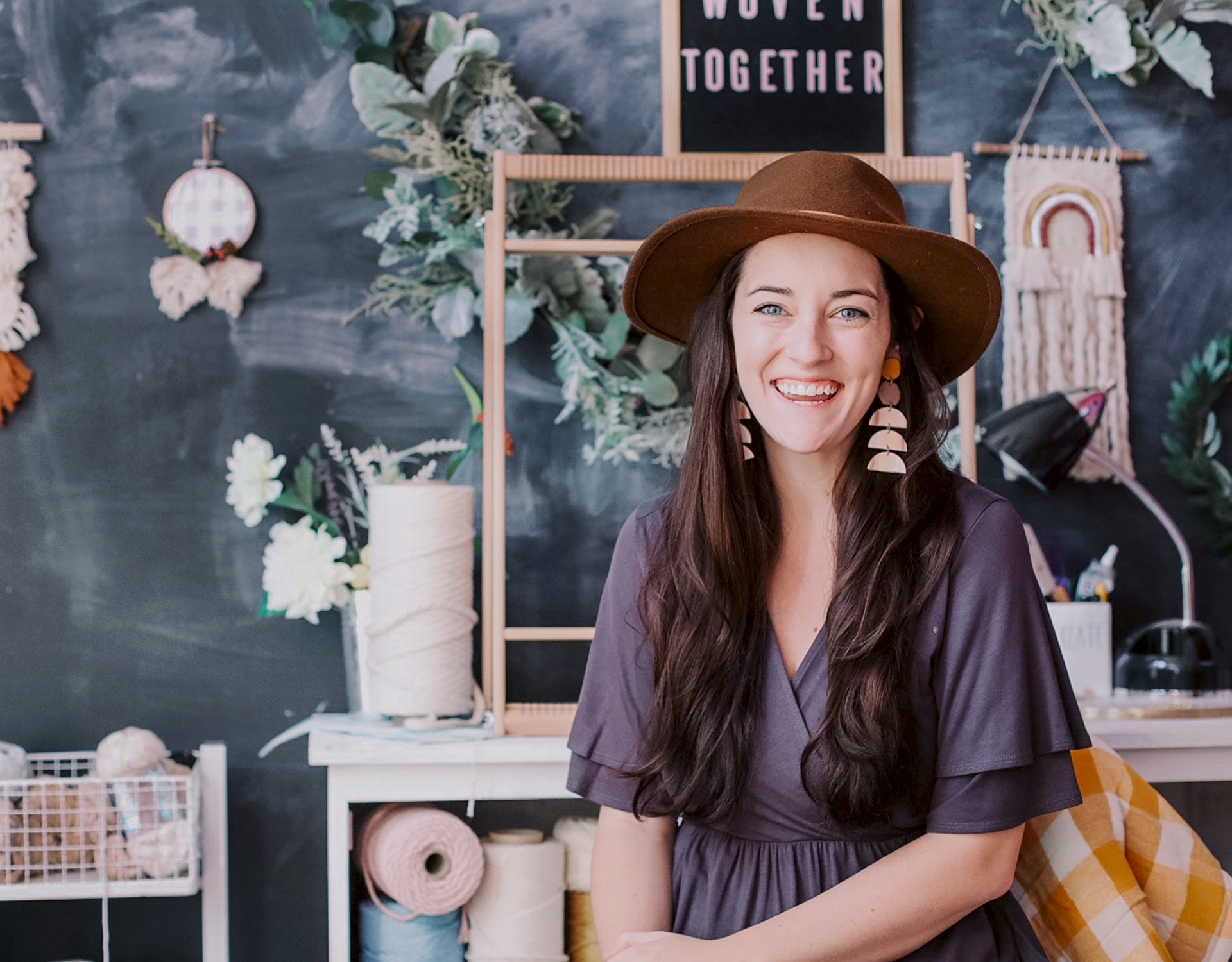 Photo Credits: Olivia Weaver