Finger Knitting Trimmed Pillows Pattern
At KOEL, we want to encourage a lifestyle of making and crafting. We want you to get your hands dirty with projects, and for you to produce works you love and have lovingly made. Dabbling into a life filled with creativity hones in on your skills and talent, and truthfully, it's an awesome form of escape! Don't you agree? Our new DIY column, Knit A Therapy, will do just that for you. We're inviting talented crafters to share the joy of a handmade life with you!
It was a unanimous decision to have Anne Weil, of Flax and Twine, kick things off for us! Flax and Twine is best known for her friendly DIY tutorials, and we absolutely love her finger knit and arm knit projects! We are super thrilled to have Flax and Twine join the KOEL club. Presenting to you, a Finger Knitting Trimmed Pillows tutorial — just what you need to introduce small changes to the home! We shall now hand it over to Anne to talk you through this project. Over to you Anne!
I'm in love with this simple and easy finger knitting pillow trim. What a pretty and clean way to bring a handmade touch and a chunky knit feel to your decor. Finger knitting is fun and uncomplicated – great for folks who have never knit before and a nice change for experienced knitters.  Finger knitting is effortless to learn and very addictive. It is a a great way to make something beautiful with your children as well. Kids pick up finger knitting with ease. You'll be clamoring for more projects before you know it!  I've included a pillow with finger knitting trim done on two fingers, and one with it done on four fingers. One is made with t-shirt yarn, and the other with a wool blend yarn. Try  different combinations of materials and pillow sizes and types for lots of knitting enjoyment.
Materials
1.. How To Finger Knit – Four Fingers and Two Fingers Instruction Sheet (Downloadable here)
2. Pillow of any size (I find it easier to buy pillows in a desired color already finished at a home goods store, but you can always buy fabric and an insert and make your own custom cover.)
3. Approximately 20 to 40 yards of worsted weight yarn (size 4 in craft stores), depending on pillow size. (For pink pillow, I used  HiKoo's Tee Cakes in pink. For green pillow, I used Fiber & Co's Terra in Mint)
4. Needle
5. Thread
6. Scissors
7. Pins
Instructions
1. Finger knit either a four-finger width (green) or two-finger width (pink) finger knitting strand long enough to go around all the edges of your pillow. Don't finish your strand yet, as you may have excess after you attach the strand to your pillow. Stick a pencil or large safety pin in the open stitches to keep the strand from unraveling.
2. Pin the finger knitting strand all the way around pillow, making an effort to keep the strand untwisted.
3. Using needle and thread doubled up, stitch down finger knit strand to pillow along the seam.  Catch only one edge stitch of the strand at a time, making an effort to keep the stitch you are catching all in the same line of stitches.  Doing this will keep the strand from twisting.
4. When you bet back to the beginning of your pillow, unravel the remaining finger knitting strand until it will meet at the corner of the pillow.
5. You will have the loops or stitches of the strand free.  Cut the length of yarn with about 8" to spare.
6. Feed this tail through all the open loops of the finger knitting and tighten.  Tack down the final bit of strand with needle and thread and trim and weave all yarn tails to hide them in the border.  Fluff and arrange the strand for a nice border around the pillow.
And that's it! You've got finger knitted trimmings around your pillow. We think this would also make a super lovely project as Autumn approaches — change up the colors of your thread to suit the season! Take a picture and tag us @koelmagazine #KnitATherapy when you upload it onto Instagram!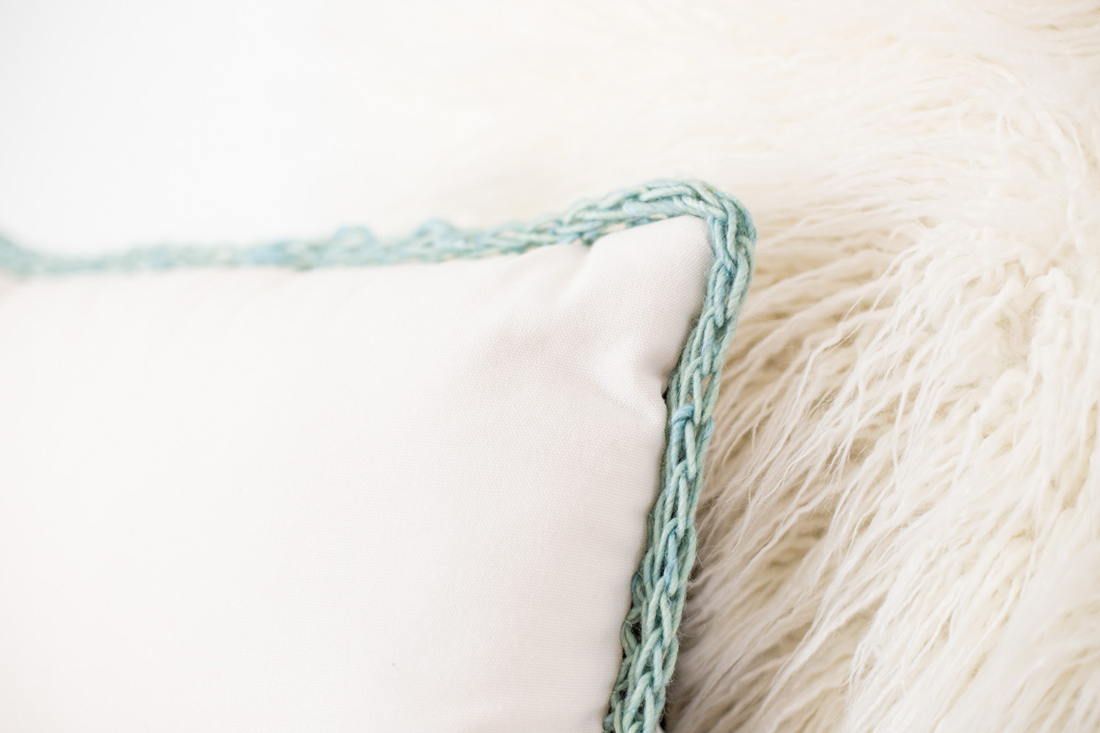 A Little About Anne
nne Weil is the creative voice behind Flax and Twine. A lover of beautiful things, she's never met a craft she doesn't like. Anne designs charming knit, crochet and embroidery patterns, as well as simple DIY crafts for the modern maker. Her signature style is bright and clean, with gorgeous photography and step-by-step instructions that can be followed with ease.
Find Anne's book, "Knitting Without Needles," a Potter Craft title, to immerse yourself in chunky, stylish arm and  finger knit patterns. Find Anne in her Denver studio relishing joyful making moments that really make her heart sing!