The Woven Path: Asmaa Aman-Tran
What makes Asmaa Aman-Tran's weavings stand out from the rest, we believe, lies in how she combines materials such as lambskin, copper, clay, jute, and silk to create works that celebrates her Moroccan heritage and culture. Born in Casablanca, Morocco, and currently living in Boston, Asmaa is fulfilling her passion of creating with her hands through her woven pieces. But the love for yarn and running her Etsy shop, Hand & Fiber, isn't the only thing spurring her on. Her lovely 3 year old daughter, Nylaa, motivates her to keep weaving and showing her child the wonders and freedom that comes from creating art. Get inspired by the interview we had with Asmaa!
5 Facts about Asmaa Aman-Tran
Early riser or night owl?… Early riser, our daughter wakes us up at 6am everyday and I always like to start working at 9am
A song to get you into the creative groove… Under Pressure by Queen
What did you aspire to be when you were 5?… It was either a vet or fashion designer
3 essentials we can find in your bag… I guess keys, identification card, and money. But I always need to have a lip balm in there too!
If you weren't a fiber artist, you would most probably be doing?… Visual merchandising
1. Tell us about your background and what led to you choosing weaving as a craft.
My name is Asmaa Aman-Tran. I'm a weaver and ceramicist living in Boston with my husband Chris, and my 3 year old daughter Nylaa. I was born in Casablanca, Morocco and spent most of my life there before moving to Boston. I'm so proud to have had the chance to grow up in such an exceptional and diverse culture with all its colors and wonders. My work reflects that diversity in many forms. I graduated high school in Casablanca with a degree if Plastic Arts and did some graphic design and visual merchandising shortly after, but that did not satisfy my love for creating things with my hands. When my daughter Nylaa was brought into the world, I thought I would never have time to do what I love. Somehow, along the way I realised I had to start creating again. I love having my daughter around to see that we can do with our hands. There's so much more to our surroundings; the things we can smell, the textures we feel, the colors we see, and the sounds we hear.
I discovered weaving in 2016, 4 months after my daughter was born. I was scrolling through Pinterest and have never stopped since. I enjoy the freedom in weaving. Not to mention, the endless possibilities. I challenged myself to experiment with ceramics a couple years after I started weaving. The idea of making and adding my own ceramic components to my tapestries seemed very exciting to me, and alas, I fell in love with clay. I'm a very visual person, and my creative process comes spontaneously. I free-hand most patterns for my ceramic work and rarely sketch my weavings. My work celebrates my Moroccan artisanal heritage and cultural art by combining different materials — Lambskin meets copper, cotton meets clay, jute meets silk. My work is all about sharing my rich Moroccan roots through exceptional techniques and mediums, and creating something special from that.
2. What made you want to take your passion to the next level?
I have always seen myself making things and sharing it with the world. Throughout the years, I have struggled to find what I really want to do. Weaving allowed me to use my love for fiber, and I instantly knew that it was in for a good ride. It took me a year until my sales started picking up, and that was the hardest part for me. But I was determined that perseverance is key. I'm so grateful to be able to do what I love from the comfort of our home while raising our daughter Nylaa. But most importantly, everyday I wake up looking forward to opening my little studio door! What motivates me even more is that I'm able to show Nylaa that creating art can make you feel accomplished and free. Every time I show Nylaa a finished piece, she responds "It's beautiful Mama" and that means everything to me.
3. Tell us more about your shop, Hand & Fiber
I opened my Etsy shop in July 2017. It took a while before I started seeing revenue. My only advice for anyone opening their own shop is to never give up. That first sale will happen eventually!
4. What kind of materials do you like to work with?
I love texture, and I'm always on the lookout for raw fiber. I love combining the roughness of jute and hemp with the softness and delicacy of silk. I also like working with different kinds of cotton rope. Fabrics likes linens and cotton gauze add an organic and rustic feel to tapestries. Adding ceramic beads and tiles allows me to play around metals and beads. Overall, I like my tapestries to have intricate details, and the only way to achieve that is by using different fibers and components.
5. What is your favourite piece of finished product and what inspired you to create it?
One of my favorite piece is the neutral sequinned macra-weave. When I warped my loom, I knew I wanted a festive piece. But also a quiet, neutral palette, with curvy lines and sparkles! The Moroccan wedding blanket has always been a true inspiration for this piece and for my work in general!
6. How is the yarn scene like in Boston? 
Honestly, I rarely get my yarn from shops. I source most of my fiber online. Although, there is this one boutique called Bead + Fiber that I absolutely love, probably because not only do they carry different kinds of yarn, but they carry beads as well!
7. Is there any interesting or particularly memorable/interesting moment in your career as a professional maker?
I made so many memorable moments during our weaving retreat in Marrakech At Maison 28, last April. I spent 10 days with a group of delightful strong women. We even visited some women weavers, and that truly filled my heart and made me feel proud of where I am today. I cannot wait to go back next year for another retreat to make new memories!
8. Advice for those wanting to make the switch into crafting full time?
Never give up, create as much as you can and never be afraid of taking risks and trying new things. Challenge yourself, and you'll be surprised at how much you can handle.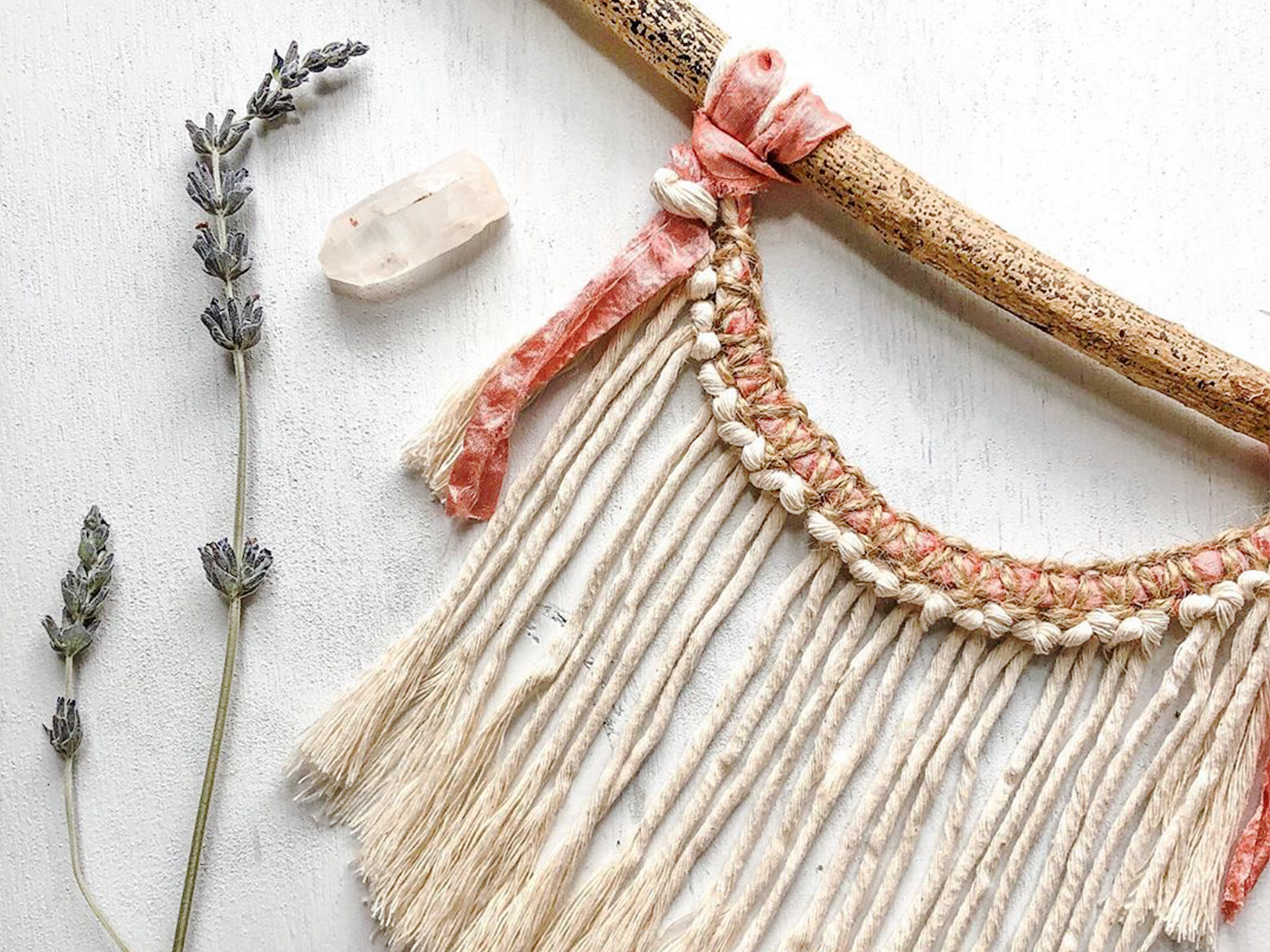 Photo Credits: Asmaa Aman-Tran