The Woven Path: Lauren Aston
People picking up knitting as a craft and profession is an ever-growing affair, and extreme knit designer, Lauren Aston saw the need to make her pieces stand out from the rest. Putting into consideration her tactile love for big and cosy things, she was left with one option: huge, chunky yarns! Using her degree in knitwear as a starting base, Lauren Aston Designs now allows customers to purchase her products, as well as knitting kits suitable for both beginner and professional knitters. Packing comfort and optimism into her pieces, Lauren's chunky knits are truly, in all aspects, larger than life. Read more below!
5 Things about Lauren Aston…
Early riser or night owl… Night owl – but less of a party girl, more of an "I've got to finish knitting this" until the early hours!
A song to get you into the creative groove… Anything by Beyoncé or Dolly Parton (depending on my mood)
What did you aspire to be when you were 5… Anything where I didn't have to take orders from anyone else… or Posh Spice.
3 essentials we can find in your bag… If I look in my bag right now, there's a phone, a Twix bar and a hairband. All the necessities!! I have a really small handbag to stop me from carrying my life around in it.
If you weren't an extreme knitter, you would most probably be doing… Something that I can do in front of Netflix… and nothing where I had to take orders from anyone else!
1. Tell us about your background and what led to you choosing extreme knitting as a craft.
I have been knitting since the age of 11, having been taught by my Grandmother. It took a good few years and a degree in knitwear to truly cement my passion, but now I adore it!
I love the tactility of making something so big and cosy, and always wanted to hand knit, but knew I needed to do it quickly, so the biggest yarn I could find seemed a great solution to that. Because of this, I went on a mission to find and develop the yarn, and after a lot of research and practice I managed to do it!
2. What made you want to take your passion to the next level?
When we moved to Devon in 2013 for my husband's job, I didn't know what to do with myself, but I knew it needed to be creative. I never intended on setting up a knitting business, but having a degree in it meant it was a natural place to start. I took time to research knitting designs and yarns, and my passion to run my own business just grew.
3. Tell us more about your shop, Lauren Aston Designs.
My brand is basically my baby – I'm so proud of how it's grown. I do feel that part of the business's success is due to it being in the right place, the right product, and the right time, but I've tried to overcome all the challenges I've faced with new, fresh designs. Giant knitting was totally new when I launched it and I managed to carve out a distinctive brand. We started with ready-made products (like the giant blankets and cushion), and then developed into knitting kits so that other people could have a bash themselves. When I was asked to do a knitting book in 2017, it enabled me to bring out a range of smaller (but still big!) yarns, and from there we've developed a really strong DIY range. The knitting kits with smaller yarn have become so popular for those just starting out on their knitting journey or would like to experiment with some larger yarn.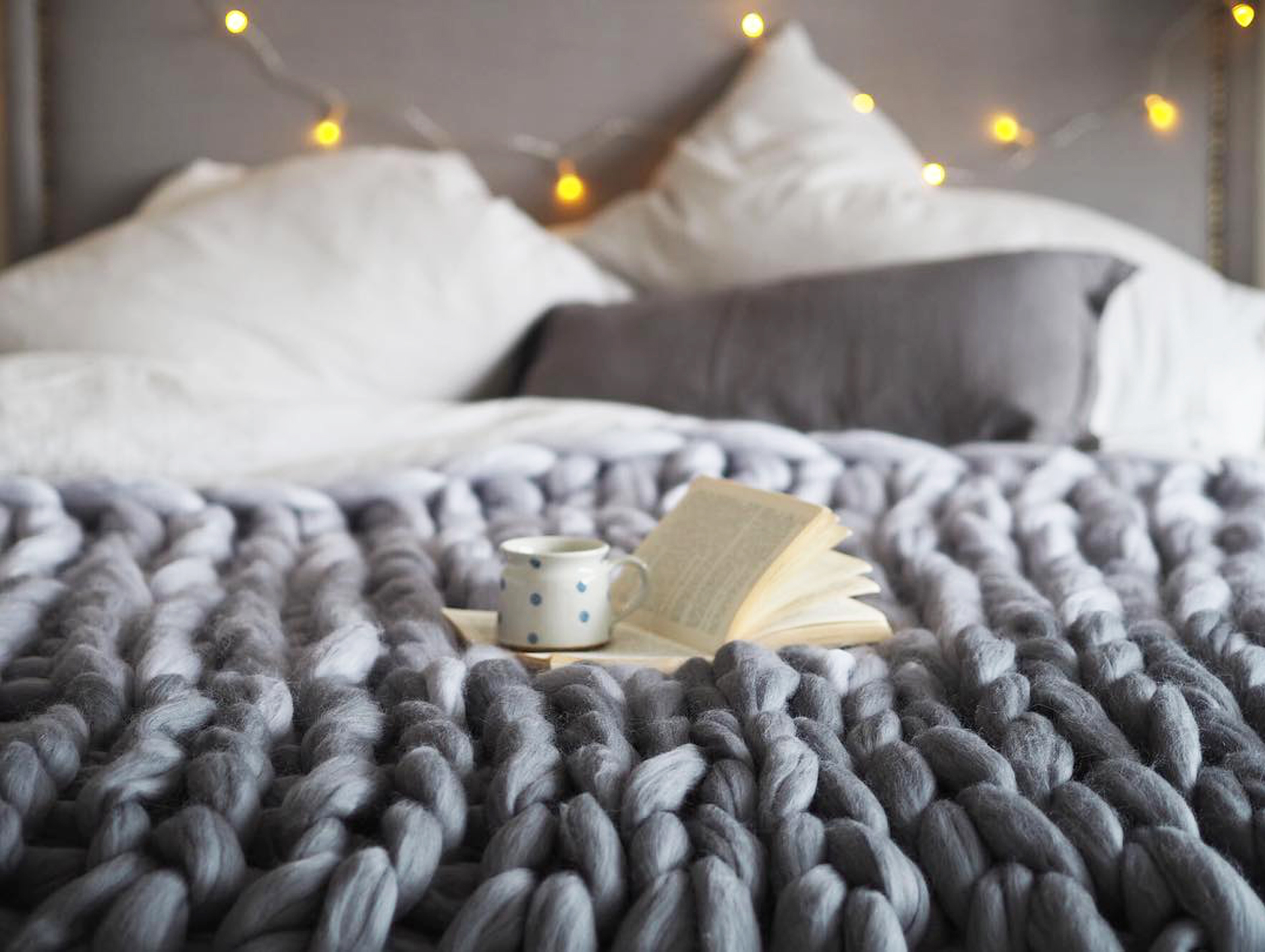 4. What kind of materials do you like to work with?
Merino Wool is incredible, I won't bore you with all the details but I did a blog on it a few years ago; it's colourfast, hypoallergenic, temperature regulating and fire resistant – to name a few! Also, I'm actually allergic to nearly all wool apart from Merino, so it's a match made in heaven! I like to embrace the huge size of it and feel privileged to get to work with this amazing fibre every day.
5. What is your favourite piece of finished product and what inspired you to create it?
I think it has to be my super chunky oversized cardigan. I designed it because it was something I really wanted to wear, we sell it as a knit kit and it's wonderful seeing the colours the customers choose. Some I'm not naturally drawn to but then when I see them completed I fall in love with them! Is it wrong to have a cardigan in every colour?!
6. How is the yarn scene like in England?
I don't really feel we're part of the yarn scene in the UK, we kind of just do what feels right and work how we want to, enjoying the massive creative community on Instagram without specifically focusing on yarn or knitters.
7. Is there any interesting or particularly memorable moment in your career as a maker?
In 2017, Victoria Beckham and her family bought 6 of my Christmas stockings, and shared them on her Instagram stories for 2 years running. Having grown up in the Spice Girls era, watching her go from super cool Spice Girl to incredible fashion icon, I've always adored her so it was truly mind blowing (I cried so much I had to go to bed the first time!). I don't think I'll ever get over it!
8. Advice for those wanting to make the switch into crafting full time?
Be passionate about what you do! You invest so much into it that you need to absolutely love it. Start something that is totally unique, and own that USP – it's so important to have a brand that stands out, and your customers will love you for it. I've written loads about starting a small business on my blog so please do take a read in case there's anything helpful on there! It's certainly not an easy option working for yourself, but there are so many positive opportunities and it's exciting, humbling and incredible to watch your business grow!
Photo Credits: Lauren Aston