KOEL Kid: Rachel Dowda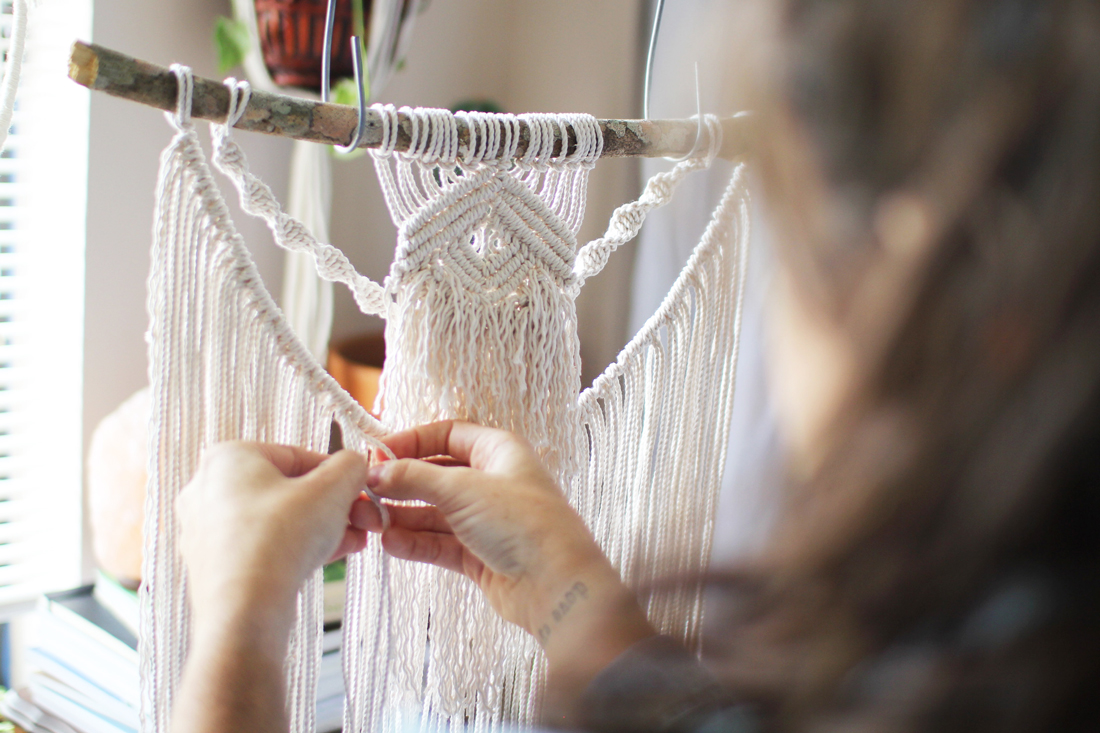 We love hearing stories on how people have engaged in yarn crafting as a means to self-mediate and heal during tough seasons. Likewise for Florida based fiber artist, Rachel Dowda, macramé became her healing ground in the midst of recovering from a traumatizing leg injury caused by a hit and run accident. Having built a large inventory of pieces after her recovery, Rachel did her first pop up shop and later set up her Etsy shop, Drift and Dwell, where she sells her adventure-inspired pieces online. We had a chat with this brave and adventurous crafter on her journey towards healing, her favorite design and more.
1. Tell us more about your background and what led you to choosing macramé as a craft?
I honestly am not sure what led me to choosing macramé. I have always loved to create, and constantly shifted from one medium to the next. I did film photography for a long time and loved developing my own film. I love the process of creating things. Maybe that's why I fell for macramé!
Last summer I was on vacation in Savannah, Georgia and was in a hit and run accident while riding a bicycle. I broke my leg and had to go for surgery to insert a rod, plate and six screws. The whole incident was pretty traumatizing. I randomly picked up macramé after seeing photos of it on Instagram, and started to create macramé pieces while recovering in my recliner for a few months. After I was able to walk again, I had built up a large inventory of pieces and did my first pop-up shop a few weeks later.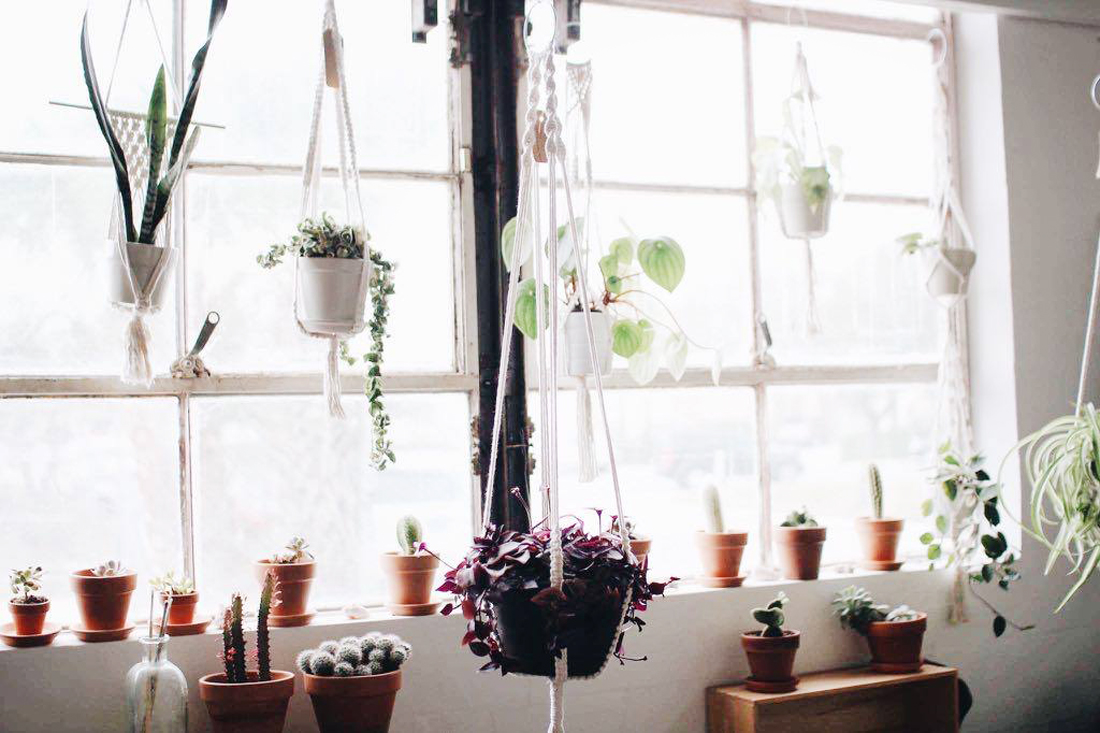 2. What makes you a KOEL Kid? 
I'm a big believer in stories, and I think everything we do is made unique by them. I used macramé as a way to self-medicate and heal during a tough season. I'm very much of an innovator and adventurer, and it was really hard for me to sit still for long. I think my pieces are both wild and gentle. Kind of a mixture of how I felt during my recovery. It is a very meditative process for me and it calmed me in the midst of physical and emotional pain. As I'm moving on from that season, I believe my pieces still have a sense of adventure and peace, wildness and home – a paradox of what's inside of me.
3. Share with us the creative process behind each of your projects
I feel very blessed and thankful that I'm able to create full time right now. I usually wake up, drink a few cups of coffee, and sit in front of my rolling rack. I never plan out my pieces… I usually have an idea in my head and just start, but it never ends up looking the same way I envisioned it. It's a very organic, almost random process and I usually unknot and re-knot many times along the way.
4. Pick one of your favorite designs and answer these quick questions.
The inspiration behind this design is… This piece was created in view of the mountains, and the inspiration behind it was the spontaneity and unpredictability of wilderness.
The dream store in which I would like to stock this design is… I would love to make it HUGE and hang it in an Anthropology window.
Which celebrity house can you picture your design at… I honestly can't think of any celebrities off the top of my head. I'm not really into pop culture. But my favorite musician is Josh Garrels, and I think his family is the coolest so I would be so happy to have a piece in their house. And maybe be their friend too!
If this design made it big, I would… Turn an airstream into a portable studio/loft and park in various national parks and hidden, beautiful places while creating.
If this design could talk, it would say… Rachel talks to herself ALOT while creating. But more seriously, it would say that "Symmetry is overrated". Uniformity isn't fun. It's more exciting to be a little all over the place; a little wild.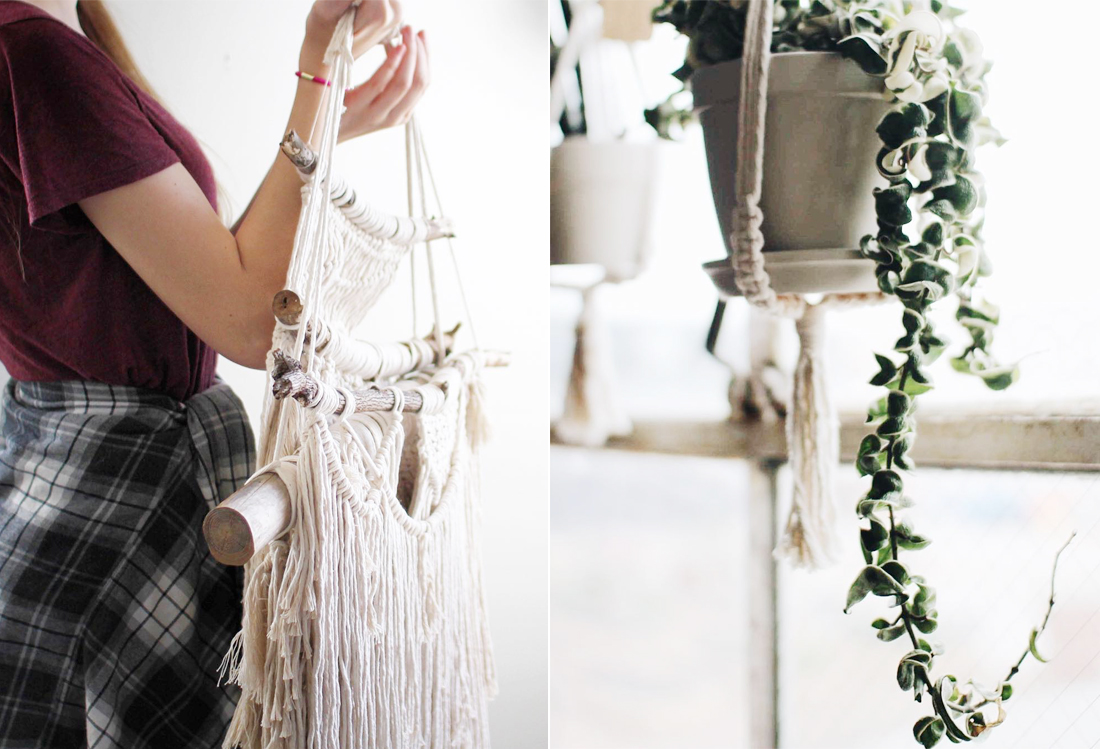 5. Great things take time, so how much has changed since you first started weaving and where do you see it in the next five years?
I've definitely grown as a person since I first started doing macramé. I've also started doing wholesale orders and workshops, which have definitely changed and almost limits the creative process at times. In the next five years I see myself continuing to do workshops and wholesale orders, and hopefully exploring new mediums too, such as wood working and maybe even ceramics, and incorporating all these things together. I've always wanted to do big installations, so hopefully that's in my future plans as well.
Photo credits: Rachel Dowda