KOEL Kid: Jessica Boicourt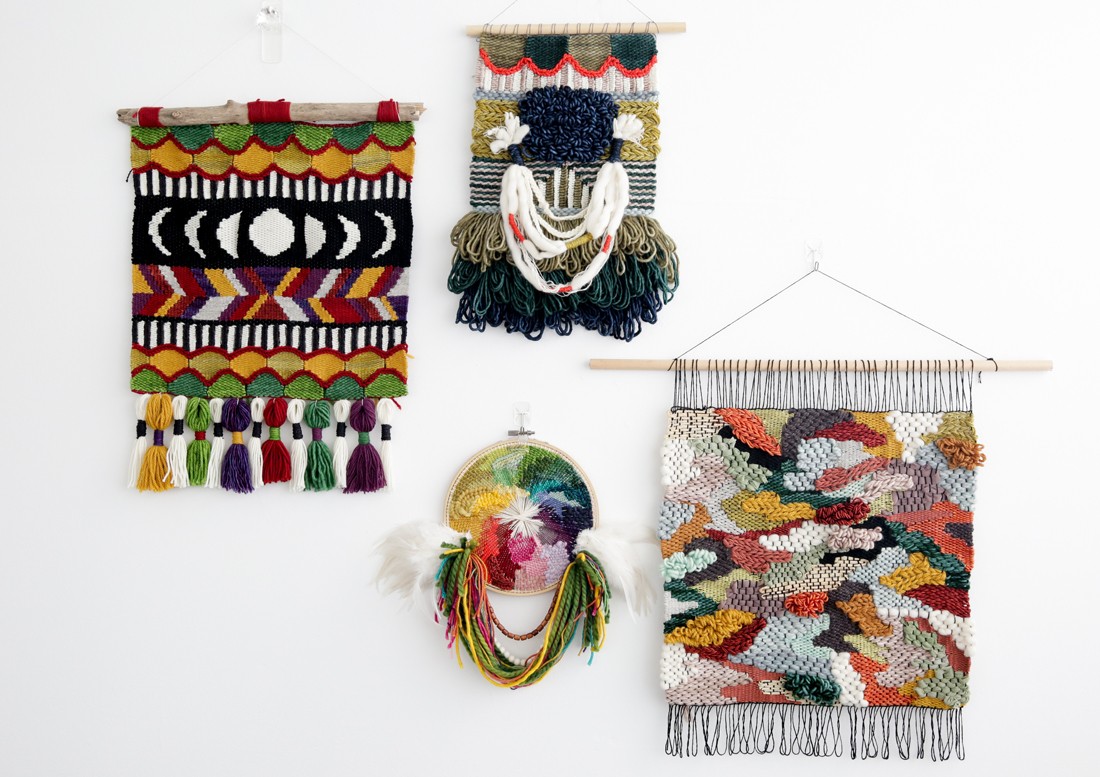 "In weaving, every line counts just like how in life, every moment counts." Portland-based weaver Jessica Boicourt finds parallel between weaving and her interest in existentialism. Drawing connections between how she was living life and how she was creating, weaving led her to fall in love with life and the craft even more. Maker behind Etsy shop, TheEclecticWeaver, Jessica's woven pieces are always filled with lots of crazy pattern designs and as she firmly puts, they are always one-of-a-kind. We had a little chat with this eclectic weaver about her style of weaving and favourite piece.
1. Tell us more about your background and what led you to choosing weaving as a craft?
I have always been a creative individual, but much like the way I chose to live my life, I remained safely on the surface and never really dived in to get lost in art. After becoming a mother, I found that creative part of me wanting more. I dabbled into many different mediums before giving weaving a try, but none of them could hold me for very long. The first weaving I saw was actually by a Portland weaver, Natalie Novak. I made my first weaving on a picture frame and it only snowballed from there. Weaving gives you a lot of control over what you're making, and for someone who has always fought and struggled with control, it appealed to me. Another reason I fell so hard for weaving is due to my, at the time, new found interest in existentialism. When you think of weaving, I'm sure existentialism is the furthest thing from your mind. But the two coincide quite nicely! I began drawing connections between how I was living my life and how I was making my art. At the beginning, I was always thinking of the next weaving even while sitting at the loom with an active project. Because of this, I was rushing through my designs. In weaving, every line counts just like how in life, every moment counts. As I try to slow down and appreciate the process, I fell in love with the loom and with life. So in a way, weaving saved me.
2. What makes you a KOEL Kid?
I very rarely weave the same thing twice. For me, weaving is 100% meditative and conditional upon how I'm feeling at any given point of time. If I start on a weave one day and want to finish it later, it may be weeks until I'm in the right frame of mind to complete it. It took me a while to find my own style at the loom, but I like to think that I have found my own place, with my crazy pattern designs and color combinations! I will always be pushing myself to do something new and different.
3. Share with us the creative process behind each of your project.
My favorite part about the creative process has got to be color! I find inspiration for color everywhere and that's where it starts. Taking a walk, observing my surroundings, looking at naturally occurring patterns and color schemes. After I choose my colors, I warp my loom and either have an idea already and jump right in or I stare at my blank "canvas" until I feel ready to begin. Since I have two young children, I work in small chunks of time and take frequent breaks to play, mediate and tend to my girls. So my process can be rather unpredictable. But after they go to bed, I put on some music and can really sink my teeth into weaving for hours! It has interfered with sleep a few times…
4. Pick one of your favourite designs and answer these quick questions!
The inspiration behind this design is… the intent of meditation through slow-weaving. This was my first weave of the year 2017, and I felt the need to stitch something slowly, one section at a time while reflecting my thoughts and to begin the year afresh. I enjoy pattern design in weaving, but letting go and using a more free form style is very freeing and meditative for me.
The dream store in which I would like to stock this design is… I'd like to stock this design at any of our lovely local handmade goods shops in Portland! I believe in supporting small businesses and those who are thrilled to be involved in mine!
If this design made it big, I would… I'm not sure that would be possible. I've done plenty of designs that have gotten rave reviews, but I just can't see myself churning out the same design just because it sells or is popular. Part of what I love most about weaving is the freedom I have! Mass production just doesn't go with my overall philosophy when it comes to my own work.
If this design could talk, it would say… Hmmm.. It would tell you soft affirmations and words of encouragement like "you are enough", "you are strong", "there is love in this world", "there is beauty in the ugliness", "live in the moment even when it's painful". This weaving fills me up with love and hope when I look at it.
5. Great things take time, so how much has changed since you first started weaving and where do you see yourself in the next five years?
When I first began weaving, I was much more focused on the end results. I rushed through a lot of really good ideas, because I just wanted to move on to the next really good idea. Once I laid down a solid foundation and learnt more about the process of weaving, I began to enjoy the process much more. In five years, I would love to have my nonprofit up and running! The arts are very important to me and knowing that arts programs are typically the first to go during school budget cuts, I want to ensure the arts are still accessible to the students who need it the most. I would also love to be an artist in residence program, but that may have to wait much longer until my kiddos are bigger!
Photo Credits: Jessica Boicourt