Anna & Juan
Founded by designers Josefina Eliggi and Luzius Schnellmann in 2011, "Anna & Juan" is a collective that strives to develop sustainable textiles based on the use of plant dyes. Their responsible approach to design has since resulted in a stunning suite of products of high quality, which are made available in their shop in Zurich as well as their Etsy store.  We are also pleased to stock KOEL Magazine in their shop, so be sure to check the shop out when you are in Zurich!
1) A one-liner about your store? How would you summarise it for someone who's never been?
Anna & Juan is a sustainable textiles and naturally-dyed yarn shop and studio, offering different kinds of hand-dyed yarns, knitting and crochet needles and notions, specialized magazines, handcrafted textile products, and even classes.
2) Bestselling item in the store?
Aside from our crochet hooks that are made of beech wood and produced in Switzerland, one of our best-selling items in the store is the Plant Dyed Cashmere Merino yarn — soft and warm, ideal for baby clothes and accessories.
3) What is something you never expected when you opened the shop?
We had three pop-up stores in Lucerne, before moving to Zurich. Zurich is bigger than Lucerne, and we had almost immediate acceptance. We were surprised by how quickly the workshops and classes were sold out, and by how people kept coming back. We have customers of all ages and from different countries. Also some of our customers became good friends and great supporters of our project.
4) Any funny experiences with customers?
Although our names are Josefina and Luzius, many people call us "Anna" and "Juan"!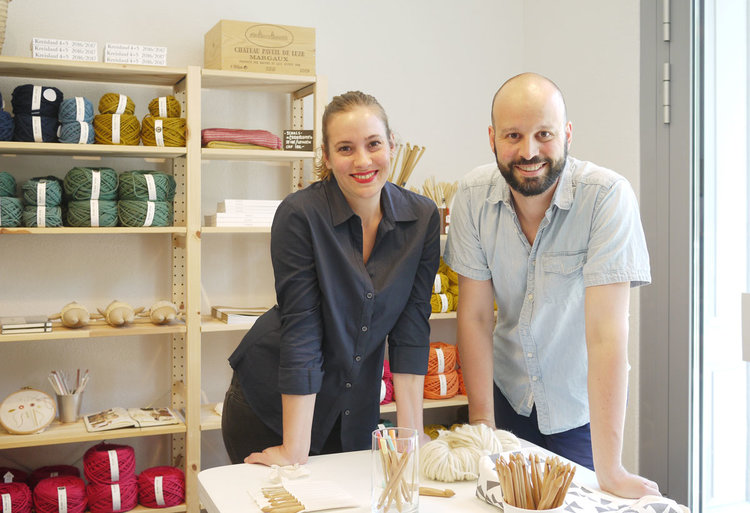 5) Other than your shop, what is another shop you would say is a must-visit?
The area where Anna & Juan's shop is located, is close to Ida Platz – a charming little square surrounded by bars, restaurants and nice small boutiques. Two of our favourite shops are Duplikat, a stationery and book store with a beautiful selection, and Norkind, a wonderful store with curated household goods that is owned by a couple of designers.
6) Thoughts on the yarn trend?
Usually we don't follow trends, at least not consciously. We started developing this project five years ago while Josefina was doing her Masters. If we would have followed what seemed to be the "future" of textiles back then, we would now be working with LED lights. But we decided to follow our guts, and instead we turned to traditional processes with a modern approach. We are mostly inspired by independent designers and artists' work, which we like to follow through social media.
7) What was your motivation to open your shop?
Josefina used to have a small clothing company back in Argentina. Luzius has a background in graphic design and illustration. We met at a sustainable summer school in Germany in 2010 and later on decided to do something meaningful and take responsibility as designers. We started studying natural dyes and local materials like wool, linen and dyeing plants that would grow easily in Switzerland. We love textiles, especially hand-made ones. Textiles tell stories. The experience of learning something new, being in contact with material (yarn, thread, fabric, color) instead of staring solely at a screen, and also sharing this passion of ours with other people is both inspiring and powerful.
Photo credits : Anna & Juan