KOEL Kid: Nikita Sheth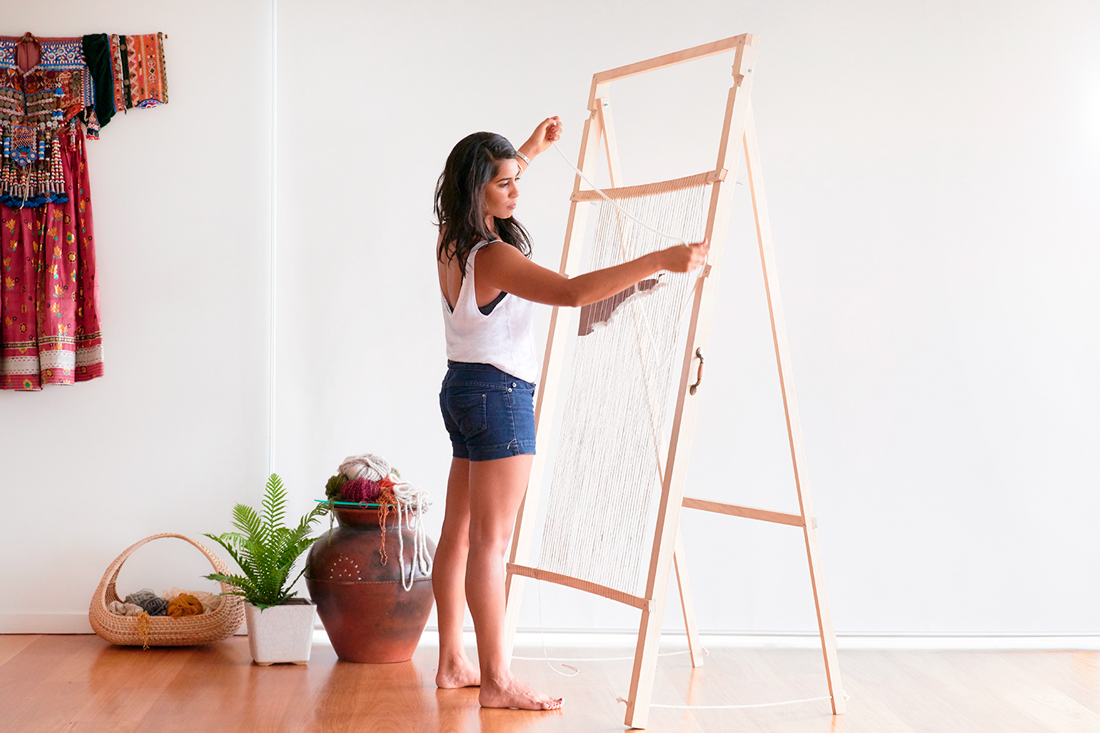 "Weaving acts as a means for me to explore various aspects of my heritage and culture with an innate sense of freedom." Just by looking at Sydney-based weaver, Nikita Sheth's woven pieces, you can feel them bursting with the rich cultures of her family background. Using mostly recycled sari silk donated by Indian grannies for her weaves, Nikita includes stories of her life and people she know into her pieces. And with her ancestors in Gujurat all being weavers, weaving must have ran in her blood even before she found it… or as quoted by her "she might have done it in her previous life!" Be intrigued by Nikita's vibrant colored weaves and her story as you read further.
1. Tell us more about your background and what led you to choosing weaving as a craft?
My name is Nikita and I am a weaver based in Sydney Australia. Weaving calms my mind – it slows me down and forces me to 'switch off'. I started weaving about 6 years ago when I was going through a heartbreak and was looking for a creative outlet to channel my energy. I believe that 'weaving found me'. I was trawling through Etsy and found a loom. I had no idea what to do with it then, but was keen to learn. One day, my grandfather saw me weaving and mentioned that many of my ancestors in Ahemedabad, Gujurat were all weavers! Weaving suddenly felt so natural and familiar. I had no formal training in weaving – It just 'appeared' at a time when I needed it most. Sometimes, I can't help but wonder if I have done it before. Perhaps in a previous life?
2. What makes you a KOEL Kid?
Sourcing materials for my weaves is a big part of my creative process. I use a lot of recycled sari silk. To source them, I have visited lots of Indian grandmas who generously donate them to me (many of whom are connections with my grandfather). I really enjoy getting to know the ladies behind the saris – they always feed me and serve me cups of chai!  I like knowing that the saris I use for my weaves have been used and lived in.
3. Share with us the creative process behind each of your project.
Each of my work is a product of my intuition. I don't like symmetry and never have a set plan. Each weave intuitively evolves from an emotion, a thought or a narrative. Even the colour palette evolves as I begin to weave. I enjoy the freedom of being able to change direction, which is the beauty of weaving – it is very forgiving. Weaving acts as a means for me to explore various aspects of my heritage and culture with an innate sense of freedom. The style of my work continues to evolve with my recent work focusing on reflecting the inherent contradiction between ornament vs. minimalism evident in India. With a minimalist approach, my work attempts to occupy that nexus between decoration and simplicity.
Qualities of transparency and opacity are also essential aspects of my current body of work. Loosely woven fibres are used to capture light, colour and movement. My compositions are always abstract, but representational. I enjoy converting scenes from reality into forms that can be read by the viewer primarily as independent relationships, rather than with reference to the original source like realism. Sometimes, my creative process can be quite frustrating as I am not following any distinct plan, but I guess that is just part of the creative journey!
4. Pick one of your favourite designs and answer these quick questions!
The inspiration behind this design is… my recent (big bollywood) Hindu wedding. The recycled sari silk symbolises the garlands that were part of the ritual.
The dream store in which I would like to stock this design is… in the window of Anthropologie
Which celebrity house can you picture your design at? Jenna from the fashion label Ace&Jig. I am inspired by the way she values and sees the beauty in handwoven textiles.
If this design made it big, I would… make it into a HUGE life-sized public art piece.
If this design could talk, it would say… I am peace.
5. Great things take time, so how much has changed since you first started weaving and where do you see yourself in the next five years?
So much has changed indeed! I am now using a Saori loom, which I absolutely love. It gives my work more physical structure and I am experimenting with lots of different shapes. In the next 5 years, I see myself finding time to exhibit a little more and learning the intricate art of the Saori loom too. As I change and grow as a person, I hope my art does too.
Photo Credits: Nikita Sheth