KOEL Kid: Carrie Burch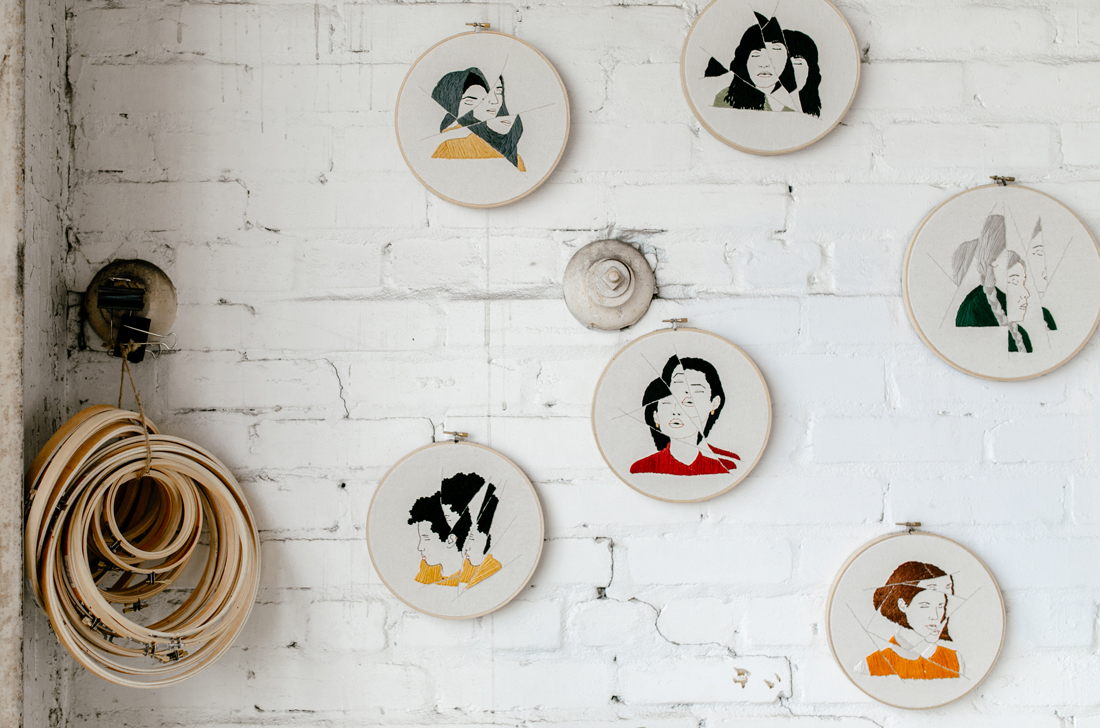 We became an instant fan of Carrie Burch's embroidered work when we first caught sight of her portrait series with fractured mirror effects. Her newest collection #WomensSeries, which has been recently exhibited at The Light Gallery during Art.Downtown 2017, is inspired by the Women's march and sends a powerful message that women are power and supported. Owner behind Stitch Folks, Carrie creates customised embroideries, ranging from family portraits (just send her a photo and let her work her magic for you – we think it will make  a great gift!) to typography and large marketing pieces. We had a chat with her about her favourite piece, what inspires her work and more.
1. Tell us more about your background and what led you to choosing needlework as a craft?
I love creating artwork of all kinds, but needlework has become a form of meditation for me. As I have dealt with depression and anxiety over the past few years, this craft has forced me to focus on the breath moving in and out of my lungs as the needle weaves in and out of the fabric. I often create an image to embroider that correlates with something going on in my life, or something I strongly believe in. It is incredibly healing to watch my ideas slowly become permanent, textured pieces of art, and to see my feelings begin to exist tangibly outside of myself.
2. What makes you a KOEL Kid?
I attempt to bring another dimension to embroidery by making my portraits appear to be reflections in a fractured mirror. I like the idea of abstract embroidery, something you don't normally see in this medium.
3. Share with us the creative process behind each of your project.
I'm either inspired by something meaningful that comes my way or I am commissioned to make a certain type of work. Then I spend a few days thinking, drawing, and rethinking how I would like to portray this concept. After my sketch is finalized, I make some tea, curl up in a chair, and begin the long hours of stitching until I complete the project!
4. Pick one of your favourite designs and answer these quick questions!
The inspiration behind this design is… The women in my life who struggle on a daily basis with believing in themselves or defining who they are in a world full of lies and misconceptions about women. I wanted to take an artistic medium that is often perceived as a simple "woman's craft" and send a powerful, contrasting message.
The dream store in which I would like to stock this design is…I really like the Urban Institute for Contemporary Arts in Grand Rapids, Michigan. It would be a lot of fun to put my work up in their space.
Which celebrity can you picture wearing your design? Maybe Maggie Gyllenhaal? I appreciate her concern for human rights and often love her style.
If this design made it big, I would… Be incredibly grateful, and continue creating art full time!
If this design could talk, it would say… Women, you are powerful and supported. You are capable of providing a peaceful, mirror type reflection of the reality of women's current condition to all people!
5. Great things take time… So how much has changed since you first started needlework and where do you see yourself in the next five years?
So much has changed! I had no idea how to embroider when I first began making patterns and family portraits three years ago, and now I am stitching full time. My style and my concepts keep growing and evolving, so the future is a mystery to me— but my goal is to make artwork that brings hope and beauty to the world.
Photo Credits: N. Kristine Photography, Spencer Penfield & Carrie Burch