The Woven Path: Chrysteen
Incorporating her love for flowering plants into her pieces, Chrysteen's homely and heartening character is affectionately shown through her warm-coloured macramé designs. Believing that her passion for fiber art is meant to be shared, Chrysteen hosts workshops through her brand Waverly Knots (with up-and-coming floral weaving classes!) , giving quick online tutorials and building an online craft supply store, all the while being a full-time mom! She's sure got her hands all tied up (…no pun intended). Despite her busy lifestyle, Chrysteen wouldn't change it for the world. Scroll down to find out more about our flora-loving designer!
5 Things about Chrysteen…
Early riser or night owl… Night owl for sure!  I love to stay up late and watch TV and relax! However, I do need to get up early in the morning for my little guy!
A song to get you into the creative groove… I love anything Ellie Goulding
What did you aspire to be when you were 5… A singer, but I still can't sing!
3 essentials we can find in your bag… Cell phone, chapstick, and a toy car for my son
If you weren't a weaver, you would most probably be doing… Gardening or teaching! I'm excited for summer to come so I can start gardening!
1. Tell us about your background and what led to you choosing weaving as a craft.
I originally started off doing macramé and selling macramé supplies!  I love learning new things and I am constantly switching it up. My first woven piece was actually taught by Maryanne Moodie through the crafter's box!  I then started learning more and just kept going about doing it. It's definitely a craft that I ALWAYS come back to.
2. What made you want to take your passion to the next level?
I mentioned that I love trying new things, but there is something about weaving that I always come back to. I love the different techniques, fibers, colors and ways one can weave. I took it to the next level by slowly polishing my skill and being unafraid to try new things. Sometimes, it is just about doing and learning a little bit every day. Eventually, you have a whole toolbox full of skills and ideas that make you excited to work on your pieces!
3. Tell us more about your brand and your experience of teaching weaving workshops. 
Waverly Knots started when I had my son, who is now 2 and half years old.  I have been weaving longer than that, but started Waverly Knots as a side hobby for myself as a new mom. It was amazing how quickly my brand grew. I was making macramé and weaving, teaching workshops, doing quick online tutorials, and building my online craft supply store. Not to mention, I was and am still a full time stay-at-home mom!  Right now, I'm in a bit of a transition! I still teach macramé workshops, butI'm planning on teaching floral weaving workshops too. I also carry naturally hand-dyed ribbon, and all types of weaving looms that I co-design and are made by a local woodworker! One of my biggest projects of 2019 is writing my first book! It's a fiber arts book relating to plants and florals! I'm super excited and nervous while working on it!
4. What kind of materials do you like to work with?
Oh! I love working with florals, greenery, ribbon, random fabric around my house, hemp, and yarn, of course!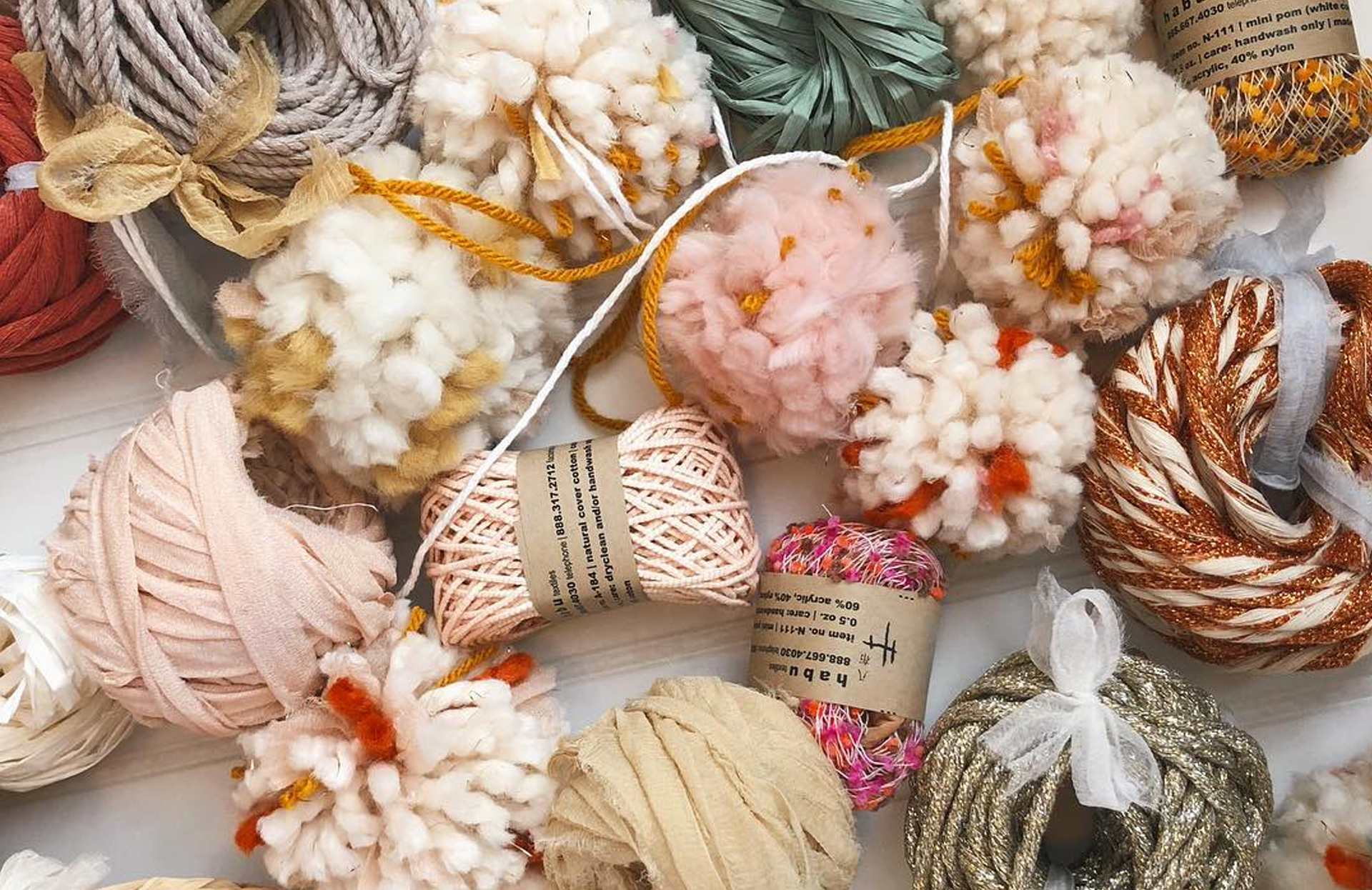 5. What is your favourite piece of finished product and what inspired you to create it? 
My favorite piece is from a dried flowers collection I did. I made really simple weaving and sewed dried flowers into it. I recently found out about a wholesale growers market in Seattle. I was inspired when I saw a whole section of dried flowers and wanted to incorporate them somehow! I am still inspired by florals today!
6. How is the yarn scene like in the city you live in?
I'm not extremely certain about the yarn scene, but I do know that the makers scene is growing really fast here in Seattle!
7. Is there any interesting or particularly memorable/interesting moment in your career as a professional maker? 
Oh my gosh, I can't think of one particular memory because with every opportunity that comes my way, either big or small, I'm extremely thankful for whether I choose to move forward with that opportunity or not. Getting accepted into the market, getting asked to do commissions, people loving my work, people purchasing my work…It's ALL rewarding and a blessing.
8. Advice for those wanting to make the switch into crafting full time?
Follow your intuition. If your gut is telling you to, just go for it! Jump in and see what happens, otherwise, you will never know what could have been!
Photo Credits: Chrysteen