Emma Jacobs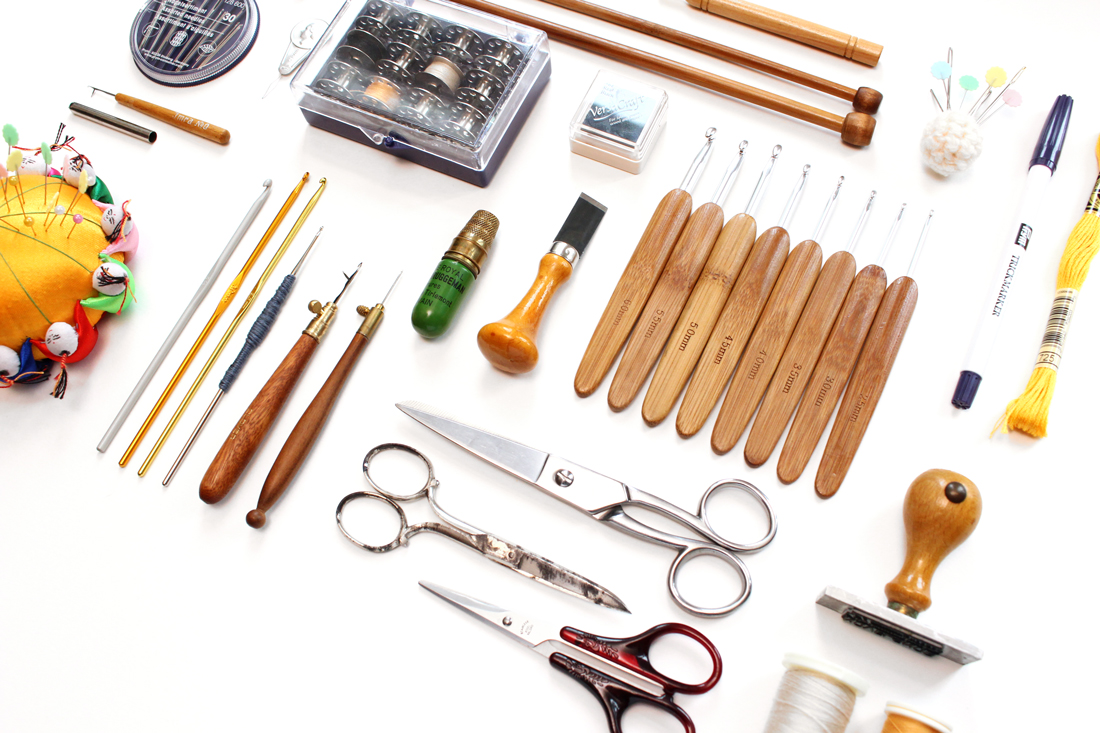 Belgium based maker Emma Jacobs sure has a thing for unique and vintage tools – her obsession for them turned into a trade itself. And she has high standards on the tools you find on her Etsy shop, Novelsnob, all of which have to be tried an tested by the crochet and embroidery artist herself. We have no reason to not pry into her holy grail of tools and ask her a tip or two on sourcing hard-to-find tools.
1. Describe yourself and what you do.
I have always been obsessed with creating things and looking for all kinds of special techniques to try out. To me, the process of creating is more important than the finished product. That might be the reason why I am a bit crazy over all kinds of tools and supplies. I started sharing my tools on Instagram and out of this sprouted my Etsy shop. I love searching for special and unique tools you can't find in your everyday supplies store. Vintage tools are my biggest weakness, probably due to the fact that I live in Bruges, the city known for it's bobbin lace!
2. Messy or organized? How does this trait affect your creative process? 
To be honest, I'm quite a messy person while working. Everything gets everywhere! But when I start noticing the mess, it needs to be put back in the right place before I can continue working.
My supplies itself are very organized. I keep my most used tools in a glass on my table. My fabrics are all neatly kept in my closet and I have a drawer for all things embroidery and beads. My crochet hooks and supplies are kept in mesh zipper bags of all sizes, so I can easily take them with me. I have a small travel pouch in which I keep a small crochet pincushion, which holds some needles and pins, scissors, a latch hook, superglue (a quick fix for fraying fabrics) and some plain aluminium crochet hooks. I just have to add in the crochet hooks I'm currently using, put the small bag in a bigger one together with my project, and I'm ready to go!
3. Any tips to sourcing the best tools and supplies?
Finding basic supplies is quite easy – look for them in your local craft/fabric stores, the more different they are the better, that way you will have a larger range to choose from. If you want something more unique or are looking for something very specific, the internet is the place to go (think Etsy, Amazon…) It is also very helpful to look up for hard to find tools or supplies in different languages. After a long search I found my tambour hook (or crochet de Lunéville) at a French website.
4. Name one tool you cannot live without, and tell us why.
I always test the tools before stocking them on my Etsy shop as I don't want to sell goods that aren't up to my own standards. I got my hands on crochet hooks with the bamboo handles and I haven't let go of them since. At that time I was working on a huge batch of crochet flowers. They came as big relief for my painful hands. The wooden handles is what makes them so comfortable to work with, it feels warm in your hands and they have just that right shape. Of all the ergonomic hooks I tried, these are by far the best and I couldn't be without!
5. What is your most recent purchase?
I go to the sewing supplies store almost every week, the staff must start to think I'm going crazy… My most recent purchase (4 days ago) was a small zipper for a crochet bag I'm working on and some stabilizing backing fabric for embroideries.
6. What is your best under $10 spent?
I'll have to say mesh zipper bags, I use them non stop! They are transparent so you can see everything that is in it and they come in many different sizes (:
From left to right, top to bottom: Metal clamps; Stitch markers; Latch hook; Crochet pin cushion with pins and needles; Trickmarker Prym, from Veritas; DMC embroidery floss no. 725, €1.60, from local sewing shop; Bamboo Tunisian crochet hooks (in a set of 12), €14.47, from Novelsnob; Prym assorted needles, from Veritas; Needle threader; Box of sewing machine bobbins, from Veritas; Versacraft ink pad, USD $2, from Joann; Bamboo handle crochet hooks (in a set of 8), €11.45, from Novelsnob; Antique Ymra latch hook with cap; Aluminium crochet hooks, from Veritas & HEMA; Clover Kantan Couture Bead Embroidery Tool, USD $18, from Amazon; Crochet de Lunéville + Needle, EUR 19.50, from Broderie Plaisir; Antique needle case with thimble; Buttonhole cutter; Traditional Chinese pin cushion; Antique scissors; Valoro brown resin scissors (in a set with other crochet/knitting tools), €9.05, from Novelsnob; Antique stamp; Bobbins of threads.
Photo Credits: Emma Jacobs