The Woven Path: Jen Duffin
"I feel that art can serve all sorts of purposes – but for me it is a way to channel my emotions and creativity into something positive and beautiful." With this mantra in mind, Fibre artist, Jen Duffin, creates yarn pieces that brings joy and happiness to people's homes. Her signature style? Her rainbow weavings that are full of colour and full of texture. Yarn crafting has also become a light at the end of the tunnel for Jen who suffers from a health condition, allowing her to manage it while doing the things she loves. She now sells her colourful woven pieces, supplies and kits on her Etsy shop, Nova Mercury. We had a chat with this inspirational crafter on how yarn crafting has helped turned her life around.
5 Things about Jen Duffin…
Early riser or night owl… I am an early riser, but not by nature! I have two young kids and my eldest has to report to school very early in the morning. We are all up at 5:30 am on most days! If not for my kids schedules, I would say 7am would be the perfect wake up time.
A song to get you into the creative groove… "I Want to Break Free" by Queen
What did you aspire to be when you were 5… Probably an artist or a veterinarian!
3 essentials we can find in your bag… Reusable coffee cup, Kat Von D everlasting liquid lip in Lolita, a notebook for jotting down ideas.
If you weren't a fibre artist, you would most probably be doing… I would probably still be doing what I was doing before – grant writing and coordination for a music production company.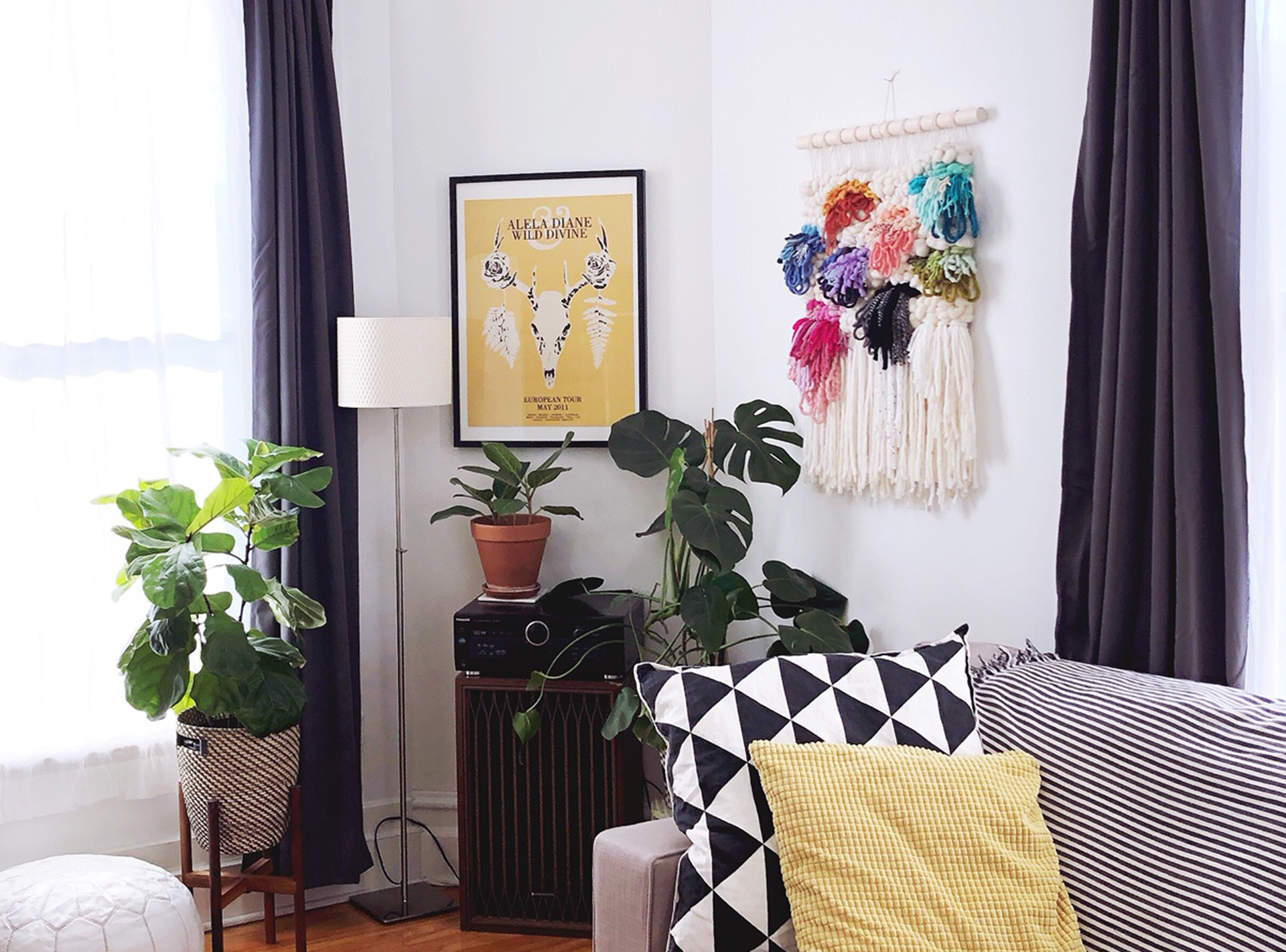 1. Tell us about your background and what led to you choosing weaving and macramé as crafts.
Well, I have no formal training as a fibre artist. I got interested in macramé a few years ago because I had begun collecting plants and I wanted to make some plant hangers for my home. Funny enough, macrame plant hangers were not easy to find then! I decided to look up some tutorials online and have a go at making some. I really loved the process and result so much that I did a few online classes with Emily Katz (of Modern Macrame) and was hooked! I only gave loom weaving a try about six months after learning macramé – it seemed like a natural extension to explore other fibre art practices.
2. What made you want to take your passion to the next level?
Everything happened rather quickly for me. I was doing all of this (learning and experimenting) while I was on maternity leave with my second child. I also have Fibromyalgia – a condition that causes pain and fatigue among other things. It was hard for me to work full-time job with my condition, and I was feeling worried about how I was going to manage my health with both work and parenting two kids. I have a background in retail and business management – so I decided to put myself out there and try selling my work. I really didn't have a clear plan, but my intuition was telling me to go for it and I'm glad I did because it worked out for me pretty well!
3. Tell us more about Nova Mercury Design.
I feel like now that I've been crafting for several years and have found my voice as an artist and creative. My aim with Nova Mercury is to create pieces that will bring joy and happiness into peoples homes. I feel that art can serve all sorts of purposes – but for me it is a way to channel my emotions and creativity into something positive and beautiful.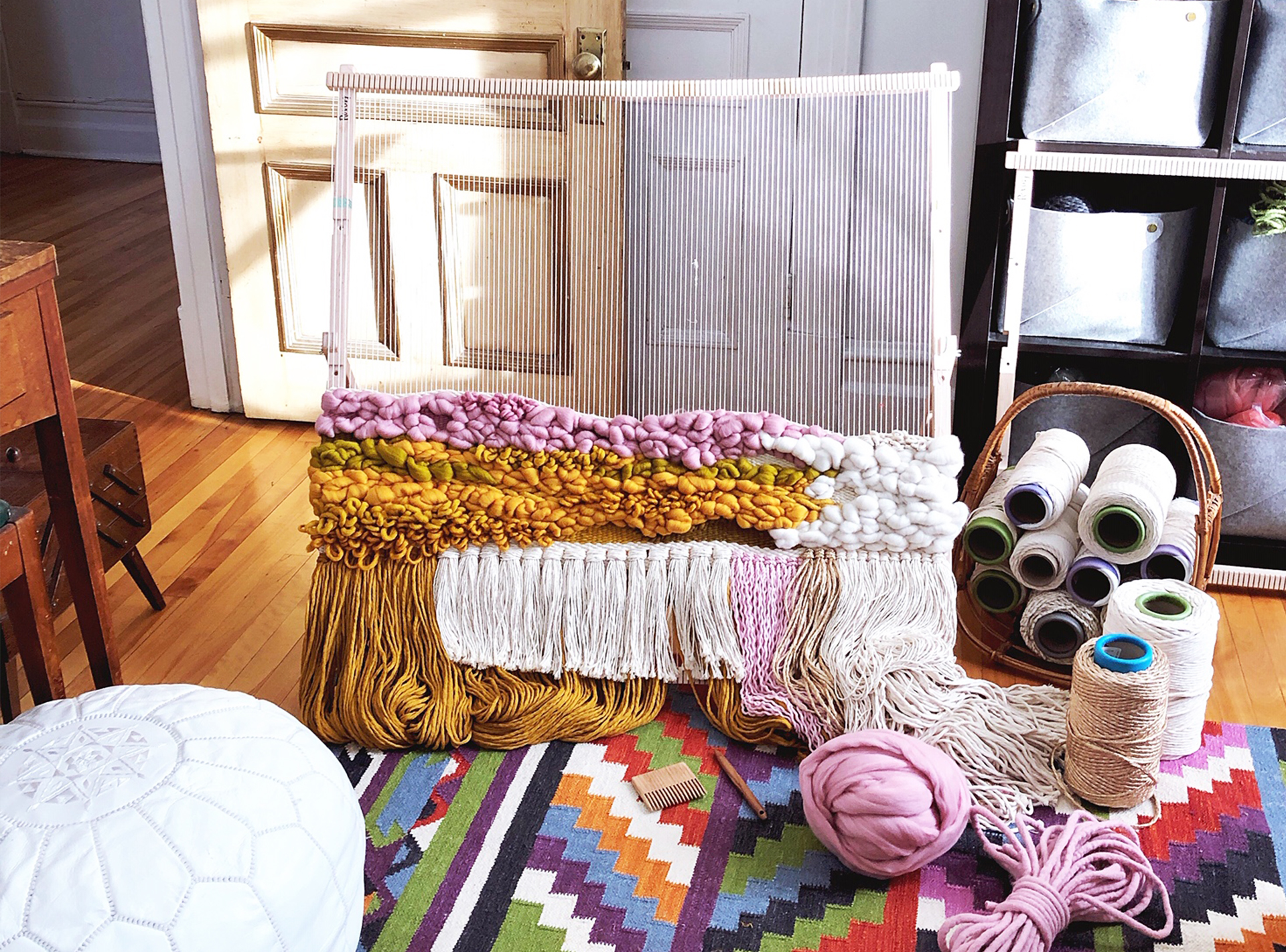 4. What kind of materials do you like to work with?
I prefer to work with natural materials. I most often use wool and cotton. The materials I use are often my biggest source of inspiration. I love shopping for yarn, choosing interesting colours and textures. I love to support other creatives and try to purchase a lot of handspun yarns, botanically dyed yarns, etc. This is actually something I hope to learn more about this year and hope to make myself.
5. What is your favourite piece of finished product and what inspired you to create it?
I think my favourite pieces are my rainbow weavings. A good friend of mine commissioned a rainbow piece from me a few years back and I've been making them ever since – they have become my signature. I love working with a rainbow palette as I don't have to make choices when it comes to colour! I think these are also my best selling pieces because of the happiness they bring to folks!
6. How is the yarn scene like in Montréal?
I think the yarn scene is pretty great, but I don't actually know many other weavers here in Montreal. I work from home a lot and make most of my yarn purchases online from different sellers and makers – so I don't always get out and see what is going on in real life!
7. Is there any interesting or particularly memorable/interesting moment in your career as a professional maker?
I think it has all been very interesting for me! I have to say watching the evolution of my business and my practice has been really wonderful. Having a regular creative practice has been so good for me in many ways, and I am also able to make a modest living doing it, which is incredible. I am so grateful every day that people are interested in what I do and want to support my work!
8. Advice for those wanting to make the switch into crafting full time?
I would say to have a clear vision of who you are and what you want to put out in the world, and be persistent! The market is really saturated right now and it can be hard to stand out. Stay true to who you are as an individual and keep at it – it will pay off! Also, I think it can be great if you have other ways to make money that don't rely solely on your creative practice. It is important to have a certain measure of freedom to create that isn't connected to monetary gain. Good luck!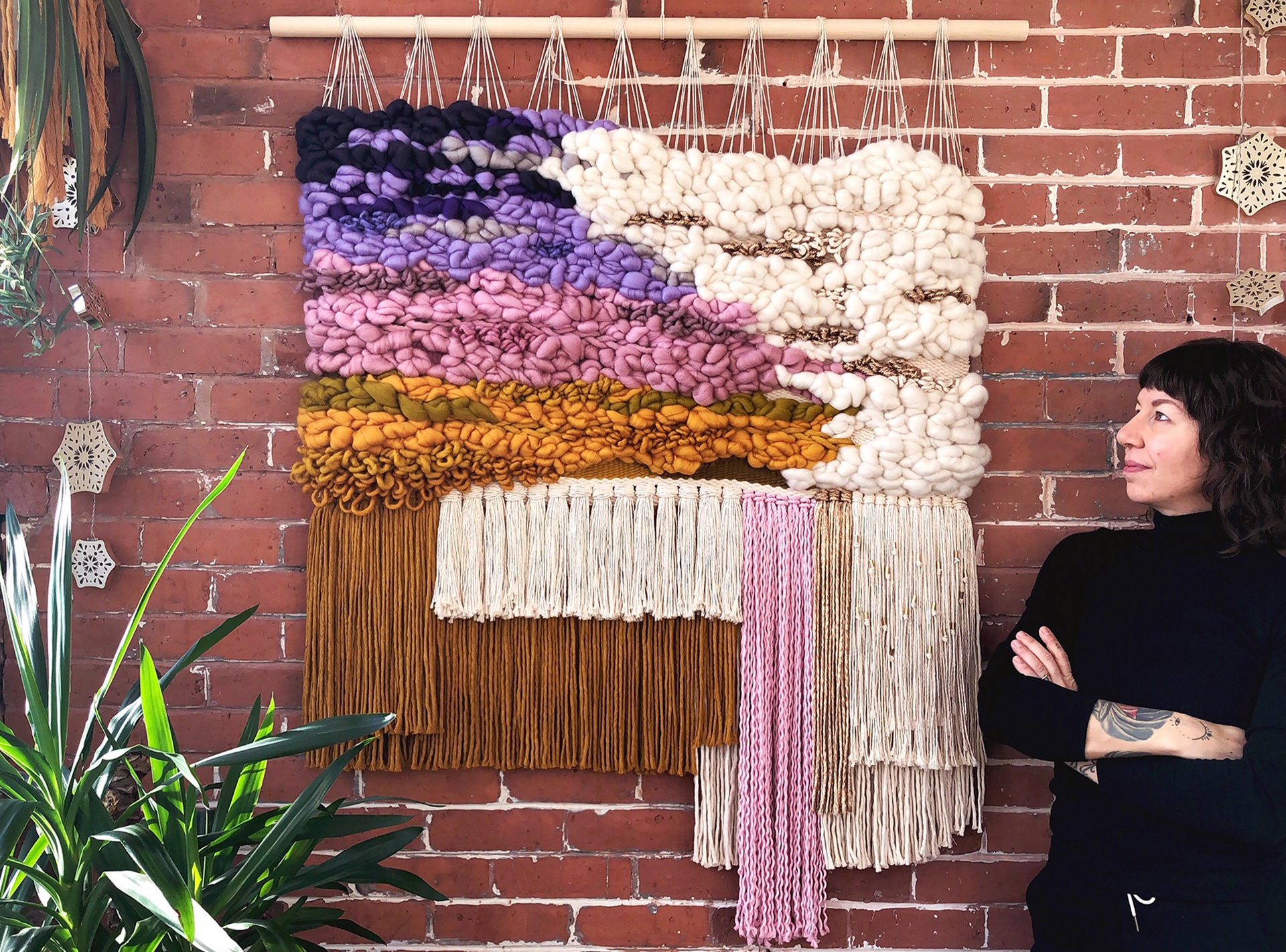 Photo Credits: Jen Duffin