The Woven Path: Sarah Godfrey
We love hearing stories of makers who give their all – time, energy and hard work – to the craft they love… and Sarah Godfrey is one of them. Juggling between being a PhD candidate, a mum and fibre artist must have been tough, but Sarah never chose to neglect any of them. In fact, they complement each other perfectly – researching for her thesis has helped Sarah in incorporating new techniques into her art and just hearing her toddler say "Mommy made!" has been a great motivation for her to keep creating beautiful embroidery pieces. We had a chat with this trooper and learnt what keeps her going, her favourite materials to work with, advice and more.
5 Things about Sarah Godfrey…
Early riser or night owl… I used to be a night owl… but now that I have a toddler, I am an early riser.
A song to get you into the creative groove… My son and I have been singing Moonshadow by Cat Stevens a lot lately.
What did you aspire to be when you were 5… My career aspirations were constantly changing at that age – I loved drawing, singing and animals so it would have either been an artist or veterinarian.
3 essentials we can find in your bag… My sketchbook, pencils and headphones so I can listen to music or a podcast and draw when inspiration strikes (which is often).
Share a fun fact about yourself… I LOVE to sing! I am pretty much always singing or humming to myself and sometimes do so when I am out in public without thinking. My husband is very musical as well so I like that we can share that passion and make music together once in a while.
1. Tell us about your background and what led to you choosing embroidery & punch needling as a craft.
I was definitely born with the need to create and that artistic drive has only intensified as I have gotten older. When I was little, I was constantly drawing and singing and I knew that I wanted to be involved in the arts from a very young age. I started out mostly drawing with pastels, markers and pencil crayons and enjoyed watercolour painting as well, with nature always being my greatest inspiration. Illustration is my first love and where all of my textile art flows from! Last May, I was visiting my husband's family and on a whim, I decided to give hand embroidery a try. Because I was following some illustration accounts, embroidery art started to pop up in the explore feature on Instagram and I was really impressed with the work of contemporary embroidery artists. My mother-in-law used to embroider in the 70's and would stitch in the audience at folk festivals when my father in law was performing with his band. I told her I wanted to learn to embroider so we went on a shopping trip together and she bought me all the supplies I needed to get started! I sat down that night without knowing a single stitch and just started to experiment – from that moment on I have been so inspired that I have started to branch out into more textile arts, including punch needle. I plan on giving latch hooking a try next!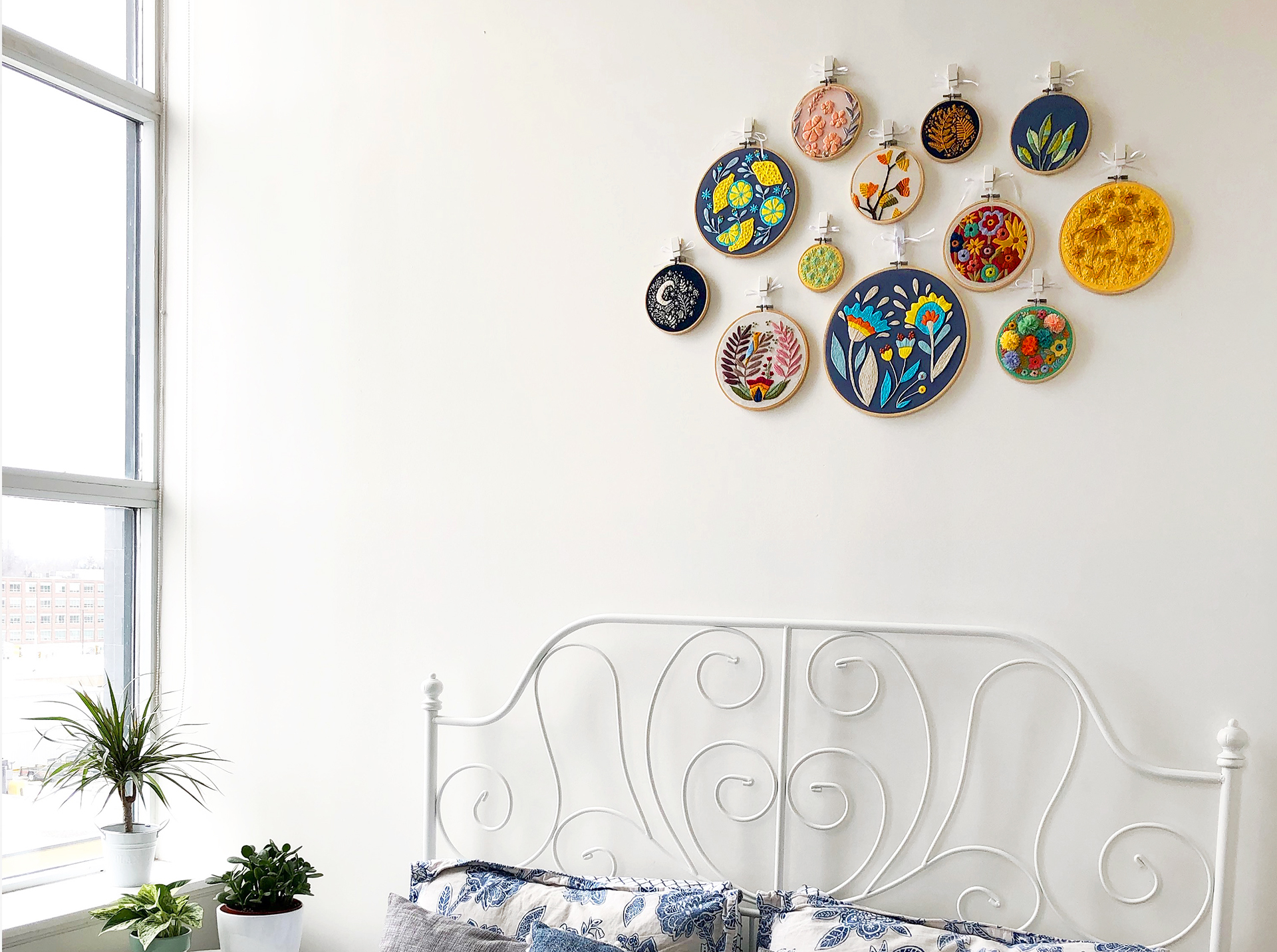 2. Share with us how you juggle between being a maker and a PhD candidate.
I am a PhD candidate in Urban Planning at the University of Waterloo in Ontario, Canada. Being an artist, mother and student is definitely a lot to juggle with, but it is also so rewarding. During the day, I focus my time on research and I work on creative projects in the evening once my son is asleep. I find that these two areas of my life have really complemented each other. I am exploring creative methods as a part of my thesis and my research skills are useful when I am trying to learn about new techniques and materials to incorporate into my art.
3. Tell us more about your Etsy shop, thelakeofspring.
My Etsy shop, The Lake of Spring, is still quite new and I am currently planning out the next phase. Until now, I have focused on downloadable patterns, embroidery kits and finished hoops. I have also taken on some custom work too which is really enjoyable for me. I would like to continue making these products and I am also working on some new textile goods to come this Spring!
4. What kind of materials do you like to work with?
For my hoop art I love to stitch on linen – it is easy on the hands, the texture is gorgeous and there are lots of lovely colours to choose from. I also love to find clothing I can upcycle through embroidery – I seem to gravitate towards denim for the upcycled pieces, but I am open to trying new materials. My punch needle work is done on monk's cloth with wool and I use the Amy Oxford Punch Needle in size #10 with bulky weight yarn and the #14 with worsted weight yarn.
5. What is your favourite piece of finished product and what inspired you to create it?
My most recent hoop is my favourite piece I have made so far. I just completed an embroidery piece inspired by my current favourite flower, Anthurium. Recently I have been filling our home with houseplants and I am finding that so inspiring. If I am ever having a bad day or feeling stressed, I like to go to my favourite nursery to spend some time amongst plants and choose something for our home. I love Anthurium because the shape of their leaves and flowers is so unique and the red tones are so vibrant! I just bought a large Anthurium plant with the most gorgeous orange-red flowers!
6. How is the yarn scene like in Kitchener?
I don't feel like I have fully explored the yarn scene in Kitchener yet, but I definitely want to! I have a local craft store where I have been buying my fabric and yarn, but I would also like to learn more about yarn dyers in my area. There are lot of creative people in Kitchener and it feels really special being a part of this community.
7. Is there any interesting or particularly memorable/interesting moment in your career as a maker?
It would be so hard to name just one! The first time someone reached out to me about a custom order was a wonderful feeling and my first sale on Etsy was an exciting moment. I also hosted my first workshop back in December with a lovely group, which was definitely very memorable. I have been so inspired to decorate our home now that I have been making so much and I love the feeling of adding colour and whimsy to our space. One of my favourite memories of this time will be the sound of my toddler's voice saying "Mommy made!!" when he sees my finished pieces displayed on our walls.
8. Advice for those wanting to make the switch into crafting part-time or full time?
My husband was the one who encouraged me to put myself out there on Instagram and I am so grateful that he believed in me and made that suggestion. My page has shifted quite a bit since I started because I have been able to put the time into experimenting with different art forms and engaging with other creatives. If you are thinking of crafting either full-time or part-time I suggest to just dive in! Enjoy the learning process, make connections and embrace the trial and error that will inevitably occur. If you have a dream don't hesitate, start working towards your goals one step at a time. I wish you all the best!
Photo Credits: Sarah Godfrey