Meet The KOEL Kids: Daniela Lardiés
We were first drawn to Daniela Lardiés's work through her "Oficio" collection of textiles with simple and minimalistic pixel-based stitching. After scrolling through more of her works via her Instagram feed, we immediately became fans of her pattern-making and retro-colored schemes she uses in her embroidery work. Self-taught and later taught by well known stitchers in Argentina, Daniela is slowly making her mark in the embroidery world a stitch at a time. Scroll further for more of her patterned designs.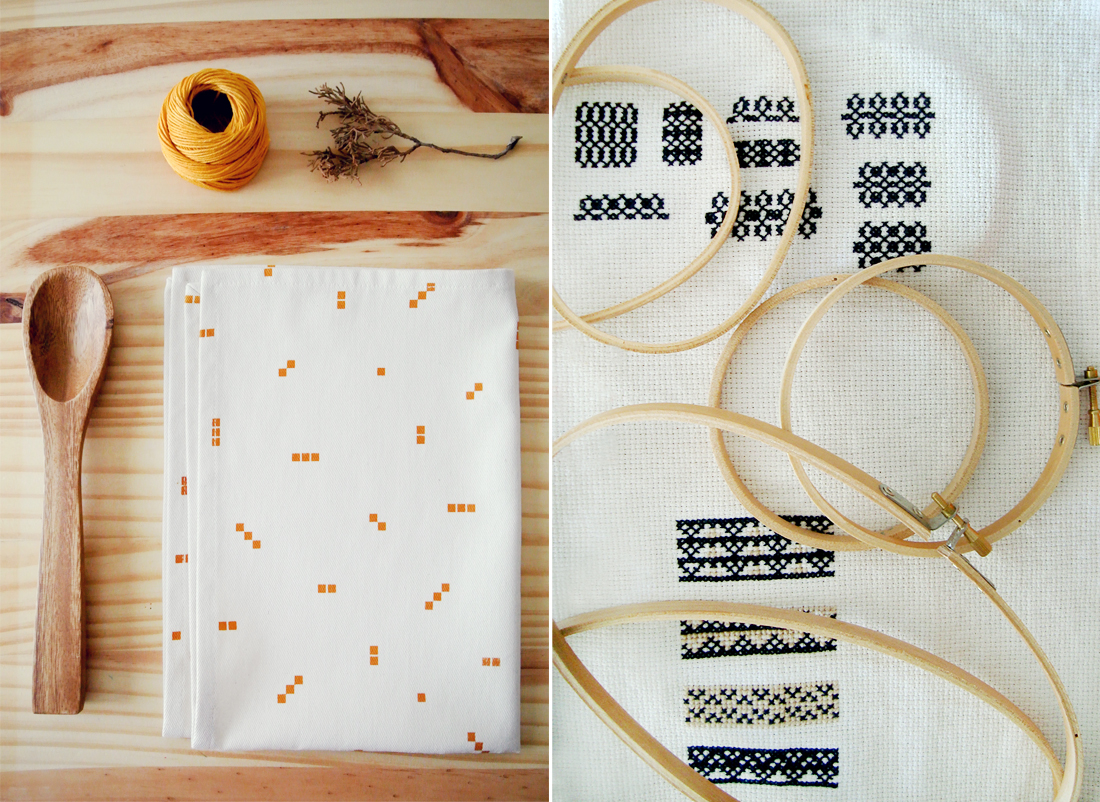 1. Tell us more about your background and what led you to choosing needlework as a craft?
After I graduated from Fashion Design school, I started on a long journey of exploring and experimenting with different textile techniques in different product development areas. During my study days, I was particularly interested in textiles, along with textures and stamps, which formed the guidelines of my exploration journey after graduation. On that path, I stumbled upon stitching and discovered many great stitchers whom which I fell in love with their works. From that point onwards, a whole new world was opened up to me. I started to self-teach myself basic stitching techniques with the help of publications and online tutorials. However after trying to master the right techniques for a while, I ended up frustrated and uncertain of my skills as I couldn't achieve what I hope to get with the needles and threads. After some time, I decided to take out that abandoned frame and started to explore stitching again. With a new found energy, I wanted to sharpen my skills and took classes with well known stitching teachers like Guillermina Baiguera and Adriana Torres from Buenos Aires, Argentina.
I eventually chose stitching because it connects interesting aspects of myself to my work. On one hand, it reflects my desire of making patterns that are difficult to achieve on a computer or paper on fabric. On the other hand, what I find fascinating about stitching is the patience, control and observation of how the image is formed after each precise stitch. When I think of what stitching means to me, a beautiful quote I read a time ago pops into my mind: "The needle substitutes the chisel, it shapes the piece silently, by sounds that only the viewer can hear, and understands the sensitivity of the spirit", quoted from Carlos Benvenuto in "El gran libro del tapiz bordado" (The great book of Embroidered tapestry), a book by Eleonora J.A de Parise.
2. What makes you a KOEL Kid?
I am still in the middle of discovering my own distinctness, so I can't really say what style my work take in the future. I like how stitching have became part of my creative process, a path for me to generate new ideas and not an end by itself. I love to explore all the possibilities that stitching brings, beyond the "job" part. I think it can make a whole lot of difference in my future work.
3. Share with us the creative process behind each of your project.
I don't always follow the same creative process. Sometimes, I jot my ideas down on paper. At other times, when I see interesting patterns or shapes that inspires me, I start to fragment them and combine them with other shapes to create new forms. Occasionally, I like to seek inspiration from art and scenes from my daily life. In short, I try not to bound myself when creating and aim to be as fluid as possible.
4. Pick one of your favourite designs and answer these quick questions!
The inspiration behind this design is… The inspiration for this piece comes from way back when I was exploring stitching on grid fabrics. As I stitch my way through the fabric, I realized that I could generate some form of pixel-based stitching. At that moment, I also wanted to transform my work into stamps, so I created my first stamped textile collection, which I called "Oficio".
The dream store in which I would like to stock this design is… There are so many incredible shops all over the world! I have a particular love for shops in Asia, so it would be a dream to see my designs in Kröne and my stamps in Tomato!
Which celebrity house can you picture your design at… Björk's work has been of great inspiration for me in many ways, I adore her aesthetics, and above all her collection of work. No doubt I'd love to share my design with her!
If this design made it big, I would… I will consider having a huge studio that will create more visibility for my work, allow me to have more direct contact with people, get in touch with artists from different disciplines and make collaborations at a greater scale.
If this design could talk, it would say… Let's make it big time
5. Great things take time… So how much has changed since you first started needlework and where do you see yourself in the next five years?
Above all, I have learnt to enjoy the creative process. Stitching or any other crafts that involves creating with your hands requires a huge amount of time investment, and the entire process can sometimes be slow and exhausting. As a designer, I was more accustomed to a more active rhythm: design a collection, produce a certain quantity, sell the products in shops and investing the income to restart the creation cycle. Maybe it was because of this contrast that had put me away from stitching when I tried it out for the first time as the fact of not being able to see quick results was quite stressful to me. Today I can say I truly enjoy every stitch I make and have learnt to respect the process of stitching. By doing so, I am more aware of what happens during the execution phase and appreciate final result more. Stitching has also given me the opportunity to meet many awesome people that have the same love for stitch as me, from teachers that I admire to students that put their trust and allow me to share what I learned with them. No doubt, it has been very comforting!
It is difficult to picture myself a few years down the road, but I hope I will continue to grow in the same way. Right now, I'm working on a very interesting project that will see light in a while. I believe having faith is the first step for greater things to come. I have plans to create a collection of work that has been at the back of my mind for a while and hope to have the means to make it possible!
Photo Credits: Daniela Lardiés