The Woven Path: Natalie Novak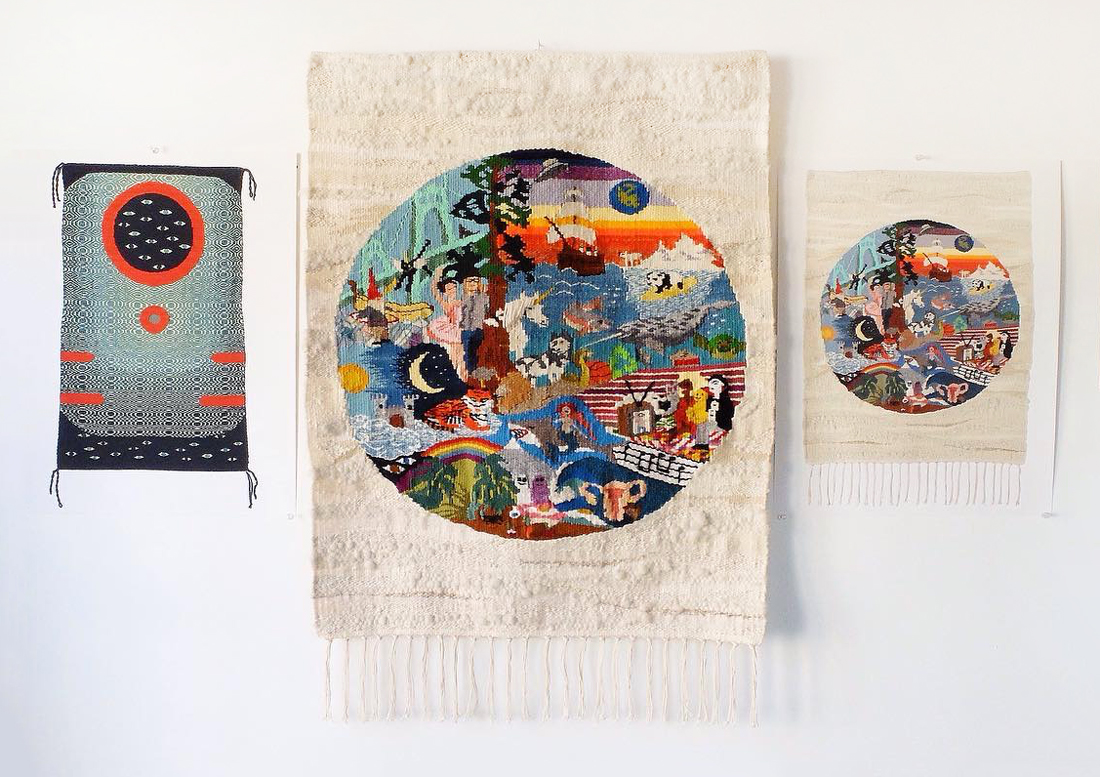 When we first spotted Portland based weaver Natalie Novak's "XXI The World" work on Instagram, we were totally mind blown. How can one weave such intricate depictions into a woven piece, that's just insane! So we had to stalk down Natalie and learn about the story behind this masterpiece of hers. Last April, Natalie was weaving a series of tapestries based on the 22 major arcana cards in the tarot for a show in Seattle. When she reached the final card "The World", she felt that she needed outside voices to inject new perspectives into the piece and posted for feedback on her Instagram account. And with that "XXI The World" was born out of 97 responses and 73 people from the Instagram community! Learn more about the piece and her story as you scroll further down.
5 Things About Natalie Novak…
Early riser or night owl… Currently an early riser, formerly a night owl. Choosing color is probably my favorite part of weaving and it's too difficult to see the yarns properly without daylight.
A song to get you into the creative groove… Anything by PJ Harvey!
What did you aspire to be when you were 5… An artist, a spy or lounge singer.
3 essentials we can find in your bag… A sketchpad, book to read and essential oils.
If you weren't a weaver, you would most probably be doing… I would be out in the wild (:
1. Tell us about your background and what led you to choosing weaving as a craft.
I studied the arts at the University of Wisconsin and the Oregon College of Art and Craft and I've been painting and drawing my entire life. However, a few years out of school, I just wasn't making time to create anymore. At that time I had a full-time job that I liked and I'd make up excuses for not being able to create, like not having enough time or being too tired.
At one point I started borrowing books about weaving from the library and I eventually borrowed so many of them I figured I should give it a try. I live less than an hour away from the Damascus Fiber Art School, where they've been teaching tapestry and Navajo style weaving since the 1960s. I took my first weaving class there in spring of 2011 and I just fell for it, everything about weaving felt right! Six years and seven looms later, I'm still in love with it. I love being a part of the continuum of weavers that goes back to ancient times.
2. What made you want to take your passion to the next level?
I've always wanted to be a full time artist with a professional studio practice, but for a long time, it was much easier to say "I am going to do that someday" rather than fulfilling it. A few years ago, I realized that someday was never going to happen, so I'd better start now. Maybe it had something to do with turning 30? I love spending so much time weaving in my studio, it never seems like there are enough hours in a day. Also, I never expected to enjoy teaching weaving workshops as much as I do now. I was so terrified to teach my first class, but now I look forward it. It's a thrill to show someone how to weave and see it really click for them. Weaving and teaching is a dream come true for me, for sure. The full truth is that I still moonlight as a server on weekends (I've been working in the restaurant industry for years and it's hard to leave it entirely behind!). It's a good way to balance all the hours I spend alone in the studio, and a bit of a reality check!
3. Tell us more about the exhibitions you have participated in.
I've had a number of pieces in group shows over the last few years, but I'm still relatively new to weaving so I don't have a very large or focused body of woven work just yet. Sometimes it's tricky to promote myself as a weaver in the gallery scene, because when you say weaving, many people immediately think of functional pieces like rugs or cloth. And when you say tapestry, they often think of medieval or renaissance pieces and wonder if what you're making is relative in the contemporary art world.
That said, I did have a solo show last fall in Portland, Oregon, where I live. It was a really wonderful experience and the curator is someone who I admire. I felt really honored to be given the opportunity to create a series of very personal pieces and show them in such a public place. The work I created used weaving as a metaphor for ritual, and the imagery I chose referenced elements of incantations and magical thinking. There were a lot of cats, prisms, alchemical symbols and celestial objects.
4. What kind of materials do you like to work with for your woven pieces?
Right now I work almost exclusively with wool. I love how it looks, feels and especially how it smells. I'd like to try working with silk, linen and hemp, but I haven't gotten around to it just yet.
5. What is your favourite piece of finished product and what inspired you to create it?
Definitely "XXI The World"! I was weaving a series of tapestries for a show in Seattle that were all based on the major arcana of the tarot deck. There are 22 cards that make up the major arcana and the final card is "The World", which represents the completion of a cycle. I made up new imageries for the first 21, but I felt like I wanted other voices than just my own to chime in for the finale. I posted about it on my Instagram account, asking for suggestions and got an overwhelming response. I ended up weaving ideas from almost 100 people into that tapestry. It was a great challenge to take all the disparate submissions and weave them into a cohesive piece. And it felt very special to have so many people contribute to something my hands were making.
5. How is the yarn scene like in Portland?
Bustling. There are several schools with weaving programs and many less formal organizations that host workshops and classes for all sorts of fiber arts. There are incredible artists living in Portland and we are lucky to have some really great fiber festivals in the area too. It's always interesting to meet the people who have raised the sheep, spun the wool and dyed the yarn in your local fiber shed. My only wish is that there was a really great weaving supply store in town. The yarn shops in Portland are more focused on stocking softer yarns for knitting and crochet, but that's a small complaint.
6. Is there any interesting or particularly memorable/interesting moment in your career as a professional maker?
Last fall I helped organize a retreat for a group of weavers who had previously only known each other through emails and social media. We came from all over the United States and met in the Rocky Mountains for a long weekend of weaving and relaxing. It was really amazing to meet and spend time with all of these artists whose work I admired from afar and had never met in person before. It was such a good time that I'm hosting another retreat in Oregon this summer and teaching at a weaving summit in Colorado this autumn with some really talented people. The fiber community in general is so kind and welcoming, it's like a big family sometimes. I've made so many new friends through weaving!
7. Advice for those wanting to make the switch into crafting full time?Be prepared to work long hours.
There is a lot of behind the scenes work that goes into making art into a full time job. If we only had to make the work and then call it a day, it would be easy and everybody would be doing it. The reality is that unless you have the money to pay assistants, you'll be doing everything yourself for a while.
Be patient. Even if your work is brilliant, you probably won't be an overnight success. It takes time and effort to get recognition for your work and get your name out there. Social media has made this process a lot faster sometimes, but you still have to create the work and promote it.
Focus on quality and content. The truth is that there are millions of people in the world creating all types of art. When you make something, try to make something original and make it well. Nobody likes a copycat, but fresh voices are always welcome!
Don't be afraid to ask for help, nobody is born knowing everything. There are so many people who have been making art professionally for years and most of them will be happy to give you a hand.
Have fun! The whole point of making for a living is to love what you do.
Photo Credits: Natalie Novak