The Woven Path: Lindsay Oncken
"Don't let insecure thoughts ruin something amazing." – Like many, yarn crafter Lindsay Oncken struggled with the feelings of inadequacy when she first started out. But, she decided to just go for it and with the help of the Instagram community of makers, she turned her knitting-crocheting hobby into a side gig, Bundle. Apart from providing accessible, fun and cozy patterns online, Lindsay aims to empower beginner makers with the skills and confidence to create by themselves. We had a chat with her about what made her dove into the world of yarns and of course we are not letting her go with out getting some advice.
5 Things About Lindsay Oncken…
Early riser or night owl… A little of both, but I'm more of a night owl. I tend to create best after midnight. That said, I do love the feeling of mornings. So basically, in an ideal world, I just don't sleep.
A song to get you into the creative groove… That's ever-changing, but lately it's "Mind Over Matter" by Young the Giant.
What did you aspire to be when you were 5… For a long time, I really wanted to be a jockey – I was totally obsessed with horses! Being a veterinarian and writer were also on my aspiraiton list.
3 essentials we can find in your bag… Chapstick, hand sanitiser and my Kindle.
If you weren't a weaver, you would most probably be doing… Something academic – policy work, teaching, editing, writing, or a combination of thereof.
1. Tell us about your background and what led to you choosing knitting and crochet as a craft.
I actually learned my crafts fairly recently. When I was in my first year of college, my roommate taught me how to knit and crochet. I remember being really jealous of how quickly she could work up a big, cozy afghan while I struggled through a wonky looking scarf for the better part of a year. While I really wanted to learn to master knitting and crochet, I felt that I just wasn't "getting it," so I put down the yarn, hook, and needles for a few years.
Towards the end of college, though, I discovered this beautiful community of crocheters and knitters on Instagram, and it totally rejuvenated my love for the crafts. So I picked up some tools and tried again, and I completely fell in love with crochet. The inspiration I got from the Instagram community pushed me to keep learning and working at it, and once I was comfortable enough that I could crochet mindlessly, I found that it was a huge source of stress relief for me.
I started graduate studies in 2016, and dove headfirst into honing crochet and knitting during a difficult time in my professional and personal life. Creating was my escape from stress, and it allowed me to express love to my family and friends in the form of oversized, cozy blankets. It was during this time that I started Bundle and formed invaluable friendships with fellow makers on social media. I am so grateful to have had this outlet during this time of my life; it really got me through the stress and let me make beautiful things and friendships.
2. What made you want to take your passion to the next level? 
The biggest thing that pushed me towards opening my own shop was realizing that a simple product can still be valuable. At first, I was hesitant to put my work out there knowing that I was still fairly new to the yarn world. I have struggled with feelings of imposter syndrome in my professional making life – I often think, "Man, there's no way I will be able to do this when there's so many people who are much more talented than I am doing the same kind of thing!" I still feel that sometimes. But I decided then, as I often do these days, to just go for it and see what happens. I was also fortunate enough to be in a financial situation where Bundle could be a side gig, which definitely took some pressure off the decision.
Now, I'm so glad I did! My shop and identity as a maker are evolving as I learn more and hone my skills, and I've decided to embrace that as a positive thing. Making the leap was as simple as recognizing that I didn't need to be an expert, and that it'd be good enough as long as I did work that I could be proud to share.
3. Tell us more about your online shop, Bundle. 
Well, as I said, it was an evolving thing. I started out selling hand crocheted blankets and some other odds and ends, but I found the most satisfaction in designing. My first crochet pattern – a very simple, chunky granny square blanket – did really well! I started seeing my blanket all over Instagram, often created by people new to crochet, but also by more established makers, and it made me feel so fulfilled. I realized that seeing other people create my patterns was the most rewarding feeling for me personally.
So, the shop is shifting towards crochet and knit designs. I value simplicity and do my best to create patterns that are beginner-friendly. I also do my very best to answer questions and direct customers to good resources, because I remember how confusing working with yarn can be when I'm new to it. I remember how daunting learning how to crochet and knit was for me, and how impossible some of the patterns seemed in the beginning. My biggest goal through Bundle is to inspire and teach beginner makers so that they can feel empowered to create by themselves. I firmly believe that something doesn't have to be difficult to be beautiful, and it's my goal to embody that idea with the patterns I publish.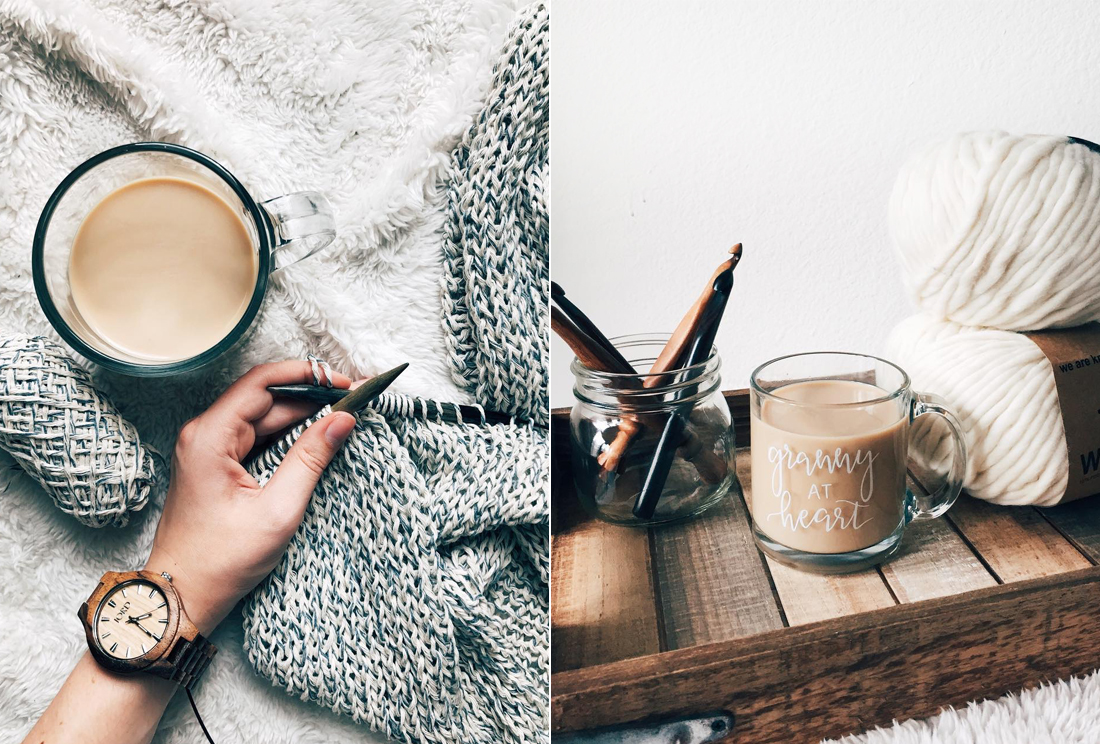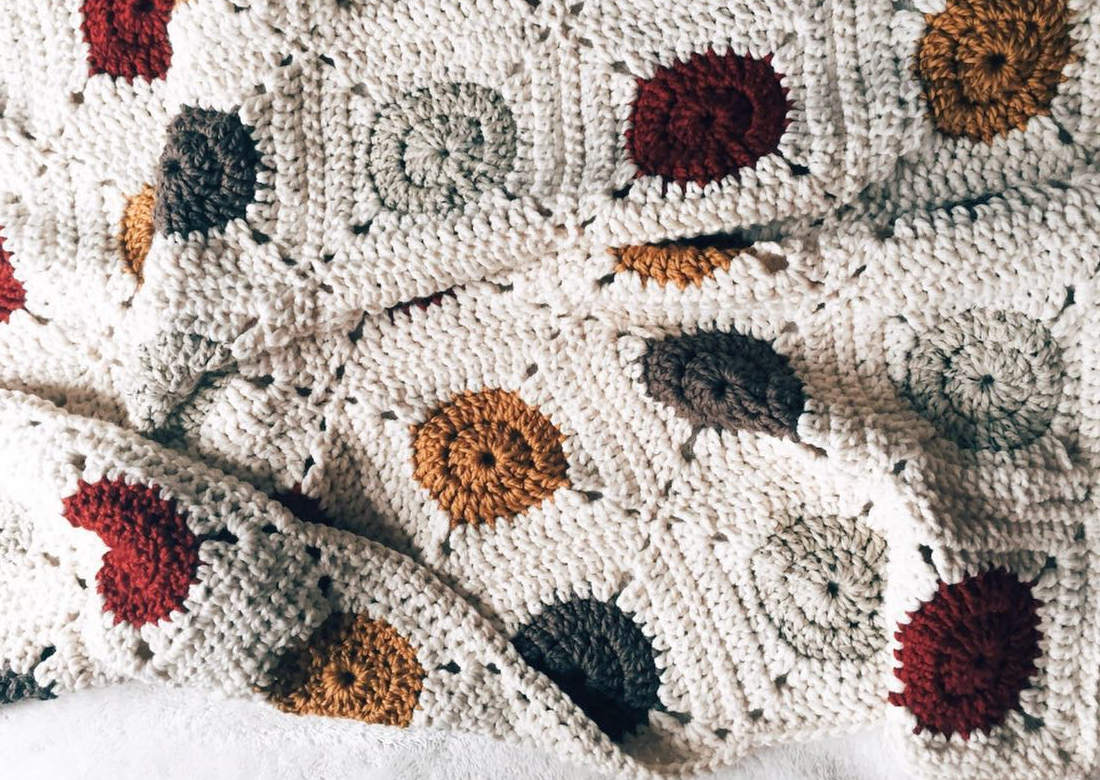 4. What kind of materials do you like to work with?
Even though I live in Texas where wool is never necessary, I really love working with wool yarns. Chunky, squishy knits have a special place in my heart. Wool roving was the first material I was really excited to work with, and I have a soft spot for it. Lately, though, I've been gaining an appreciation for the drape of lighter weight yarns, especially cotton. I'm still exploring the yarn world, and I feel like I fall in love with new fibers every time I try them!
5. What is your favourite piece of finished product and what inspired you to create it?
My favorite product is my first button blanket, which I called 'Autumn Leaves'. I was inspired by the beautiful fall colored yarns I was seeing in the craft chains I frequent, and I decided to make a simple granny square using the chunky yarn I loved working with. The final result was beautiful and totally worth the long hours I had put into it, and it's still the blanket I'm most proud of.
6. How is the yarn scene like in Texas? 
Honestly, I have only recently begun to explore it! I spent a lot of time buying yarn from chain craft stores (which, don't get me wrong, I love!) due mostly to the restricted student budget I must live with. But recently I explored several of the local yarn shops in Austin, Texas, and I can't tell you how excited I was by them. I want to give a special shout to Hill Country Weavers in Austin. It's huge, homey, and filled to the brim with gorgeous yarns. It's a fiber lover's dream!
7. Is there any interesting or particularly memorable/interesting moment in your career as a professional maker? 
The most memorable moments for me have been when I have been recognized and encouraged by other makers and organizations. Having the chance to collaborate with and be featured alongside the makers I admire so much is truly surreal and so special for me. I really value the love of community exhibited in the fiber world, and any chance I have to get involved is really exciting and flattering.
8. Advice for those wanting to make the switch into crafting full time?
The best advice I can give is to just go for it! There are so many ways to delay yourself, and so many reasons to feel like you don't have it together enough to get started, but let me just say – you'll figure it out. It is complicated, especially when tax season rolls around, and there are things you'll need to take care of on the business side of things that you probably won't be entirely prepared for. But don't let those scare you off. It's okay to figure it out a little bit as you go. I certainly did! Just be ready to roll with the punches and ask the right questions to the right people, but don't let those things hold you back.
I would also encourage every aspiring maker to establish themselves on social media, especially Instagram. It's been such a huge source of both friends and business for me. Finding a way to engage with the creative community on Instagram is a huge asset to your creative business – it's where you get sales, find inspiration, and learn from others. And, most importantly, don't be afraid to be you on social media. Don't make or promote anything you don't believe in. Be your creative, unique, weird, original self! Experiment with other things (your craft, your strategy, your products), but never your voice.
Photo Credits: Lindsay Oncken