The Woven Path: Laura Rosado Virues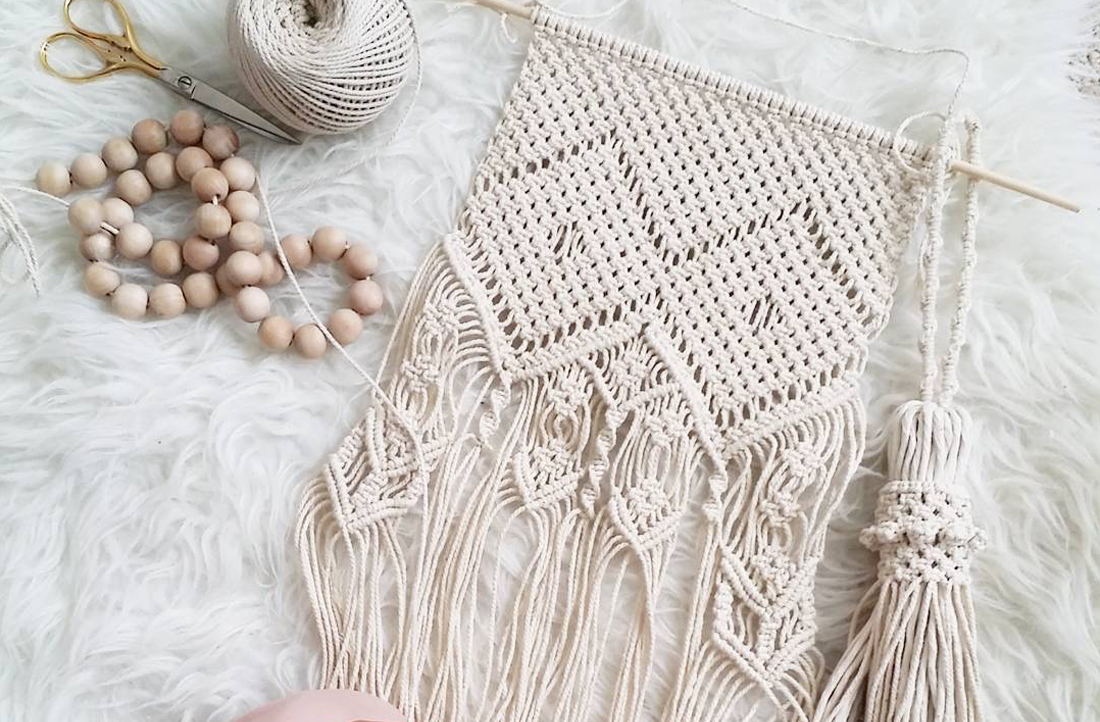 Inspired by cities she have visited in her younger days, different cultures and memories of her home country, Portland-based fiber artist Laura Rosado Virues's works give us that feeling of goosebumps when we first caught eyes on them. Owner of Etsy shop, Natura Macramé, Laura sells unique textured wall pieces and handmade macramé home accessories (our favorite: her macramé coasters!) using 100% natural cotton rope. We had a little chat with her on some of her collections and words of advice.
5 Things About Laura Rosado Virues…
Early riser or night owl… Definitely a night owl, even with two kids I can't make myself go to bed before 11 p.m!
A song to get you into the creative groove… Prabhujee from Ravi Shanka. It really helps when I want to isolate myself from all the noises around the house!
What did you aspire to be when you were 5… I can't recall what I wanted to be at that age, but I remember telling my parents when I was around 9 or 10 that I wanted to be a veterinarian. Unfortunately when I went to High school, I realized that Science was not my thing – I was more into Literature, Philosophy and Art!.
3 essentials we can find in your bag… Phone, wipes and diapers! 😉
If you weren't a macramé artist, you would most probably be doing… Probably painting, I love working with oil paint and watercolors.
1. Tell us about your background and what led you to choosing macramé as a craft.
I am originally from Jerez, a small city in Andalucia, south of Spain, but I moved to USA almost a decade ago after getting married. I have two little girls and a dog who is like a third child to me (sometimes even worst). I got a degree in graphic design, but soon realize that working with design programs wasn't for me (I don't even know how I graduated from Art school!). I think deep inside I always knew that I wanted to create things with my hands! Eight months ago, I found a couple of spools of cotton rope in a outlet store and something told me to get it. A couple of months later, I was creating my very first macramé piece! It has also become a way of helping me to cope with the feeling of being away from my country and family!
2. What made you want to take your passion to the next level?
I don't think there was an exact moment, it just happened naturally. My mom is a dressmaker and I grew up watching her stitching her days away to bring money to the family. So, when I started creating my pieces I thought it was the right thing to do!
3. Tell us more about Natura Macramé
I just launched Natura Macrame in November 2016, so I am just starting out! You will find unique, textured wall pieces along with other macrame items handmade by me using 100% natural cotton rope. I design and handcraft each one of them myself and do my best to provide high quality items and top notch service to all my costumers. Right now, I am working on a new collection of wall hangings called "A tale of love" inspired by Ancient India, its jewelry and clothing. It is a very romantic collection whereby the square knot button and the lark's head knot take on major rolls!
4. What kind of materials do you like to work with for your macramé pieces?
I work with 2 mm and 3 mm 100% unbleached cotton rope.
5. What is your favourite piece of finished product and what inspired you to create it?
Each piece is unique and special to me. For example, the collection "Andalucia" was inspired by different cities that were very important to me, cities that I grew up visiting and loving when I was a kid– they all bring me memories of their architectures, people and way of living. I put my heart and soul in each one of them so it's really hard to choose just one!
6. How is the yarn scene like in Florida?
I live in a small city in Florida Panhandle so it is very difficult to find local stores that sell cotton rope – I have to look for it online. I haven't met any macramé artist here either. People in my city don't have the passion for macramé as those from the west coast or up North where most of my clients come from.
7. Is there any interesting or particularly memorable/interesting moment in your career as a professional maker?
The journey itself has been great! I have learnt so much about myself and being a business owner. I have met wonderful makers and continue to meet more everyday! One thing that definitely made a difference on my journey was when I decided to be part of the Cyl community. There, I have found a wonderful group of hard working, supportive woman willing to help each other out not only with the business but on a personal level too!
8. Advice for those wanting to make the switch into crafting full time?
Don't wait to have everything figure out! Go for it and don't be afraid of not knowing what you are doing! Everyday will be a challenge – you will have doubts about what you are doing and why you are doing it, but at the same time you will experience the satisfaction of doing what you love and following your dreams. Only that will make it all worth it!
Photo Credits: KOEL Stories | The Woven Path – Laura Rosado Virues