The Woven Path: Wiktoria Nowak
"My advice is to wait for great opportunities and then seize it!" When the opportunity to participate in a young entrepreneur deign contest came knocking at her door, Polish weaver Wiktoria Nowak walked right into it, which then became the turning point of her professional crafting journey. Together with her best friend Jadzia Lenart, they set up Tartaruga studio where they weave contemporary Kilims and wall hangings using sustainable and natural materials. The studio aims to create slow designs that uphold the rich traditions of the textile industry in Łódź, Poland. We had a chat with Wiktoria about what made her take the leap as a crafter and more. Read on for some solid advice from her!
5 Things About Wiktoria Nowak…
Early riser or night owl… I'm more of a early riser, but I also work often at night – I just don't sleep much!
A song to get you into the creative groove… It's hard to say, I've got many! If I had to choose, it'd be "Time of my life" from Dirty Dancing.
What did you aspire to be when you were 5… I wanted to be an archeologist, but I figured something might have gone wrong.
3 essentials we can find in your bag… A small utility knife (it's the most necessary thing as I use it every day for a thousand purposes!), a pack of tissue (I always have a running nose) and a mini calendar with all my to-do-lists (I'm a very busy person and tend to forget about things so I would die without this!).
If you weren't a weaver, you would most probably be doing… Hmmm… I've got a lot of hobbies! I would probably own my own bakery because I love to bake cakes for my family and friends. I could also be a florist as I'm totally crazy about plants!
1. Tell us about your background and what led to you choosing weaving as a craft.
To be honest, it wasn't completely my choice, but more of a coincidence. After high school, I wanted to study animation in the biggest and most prestigious film school in Poland. At that point of time, I didn't know what I wanted to do in my life and since I liked watching films and drawing, animation became an option. Unfortunately, I didn't pass the exams and decided to hold my studies and re-take my papers again the following year. The city of Łódź, where the film school was located has a very strong connected to the textile industry. It is actually the only city in Poland where you can study textile design. So I took up design studies and loved it so much, that I didn't even think of trying for animation again! When I was a student, they taught us subjects that were connected more to industrial design and textiles. I used to make jacquard fabrics and even participated in many contests and exhibitions. However, after a couple of years, I realized that there's no future in Poland for jacquard designers. Earlier I tried to create some handwoven pieces and I enjoyed it. With woven piece I created, I was becoming a better craftsman. After a few years, I've totally converted to hand weaving.
2. What made you want to take your passion to the next level?
In the beginning of the 2017, I participated in a contest for a residency in an incubator for the creative industry. I wasn't quite sure about it at the start, but the jury was excited about my business idea. Fast forward 3 years, I am now not only a weaver, but also a fresh businesswoman! We have got only a few brands that deal with "designer" textiles currently in Poland so I think there's a big chance for Tartaruga to grow.
3. Tell us more about Tartaruga Studio.
Tartaruga is a weaving studio born out of a passion shared by two friends – my best friend Jadzia Lenart and I. We are lovers of craft and slow design. Tartaruga means "a turtle". To us, the turtle is a symbol slow but, at the same time, longevity and uniqueness. Exactly like our fabrics. We create contemporary Kilims and wall hangings because we think that textiles are an essential part of every interior. Every piece is handmade with traditional tools and techniques. The materials we use are produced in a sustainable way and the yarns are all dyed with non-toxic dyes. We also try to reduce as much production waste as possible. Our fabrics are made with a vision to protect the environment and respect our employees. A percent of our income is also used to support non-governmental organisations that helps migrants and refugees.
Tartaruga Studio is naturally located in Łódź., at an old textile factory, which is an incubator for the creative business now. With the city's rich heritage in textiles, we try to uphold it's traditions in all of our activities. That's why we also conduct weaving workshops for kids and adults!
4. What kind of materials do you like to work with?
I love to work with natural materials, especially wool. Most of Tartaruga's products are made of recycled yarn that comes from nearby carpet factories. The wool I use are all over 30 years old from New Zealand and are still extremely durable.
5. What is your favourite piece of finished product and what inspired you to create it?
My favourite piece is always the one I'm currently working on. When a piece is done, I lose interest in it and turn my attention to another piece. But I have to admit that I recently found my favourite piece and it's the kilim with black and white stripes. I just love stripes, maybe that's why I like it so much. The whole collection was inspired by the language of kilims of eastern Poland and I use the symbols that have changed or lose their meaning. I always like to use modern colors and keep my designs fresh.
6. How is the yarn scene like in Poland?
Textile art is not so popular in Poland nowadays. There used to be a lot of innovative Polish artists in the sixties (just like Magdalena Abakanowicz). Now we've only got a few great artists, studios like us, and a couple of semi-professional Instagrammer weavers. I think that a renaissance of handcrafted textiles is starting in Poland right now and it will be very popular in the next year or two. A lot of Poles connect kilims and handmade textiles in general with a horrible period of Communism in Poland and with average-quality designs. But there are also a lot of young and conscious people, who appreciate craft as well as old traditional techniques.
7. Is there any interesting or particularly memorable/interesting moment in your career as a professional maker?
The breakthrough in my career came when I participated in the very prestigious Polish contest for young designers. My jacquard fabric was appreciated and was chosen for the finals. It was seen by a lot of people and professionals from the design industry. But the most important outtake was the self-confidence that the contest gave me. Without it, I wouldn't be where I am now.
I also like moments when people visit my studio, which happen almost every day! It's pretty interesting as visitors can see how we look through a glass wall. We've got a lot of random visitors who are concerned about the techniques or the tools we use. It's really nice to meet interesting people day in and day out, and just have a nice chat with them.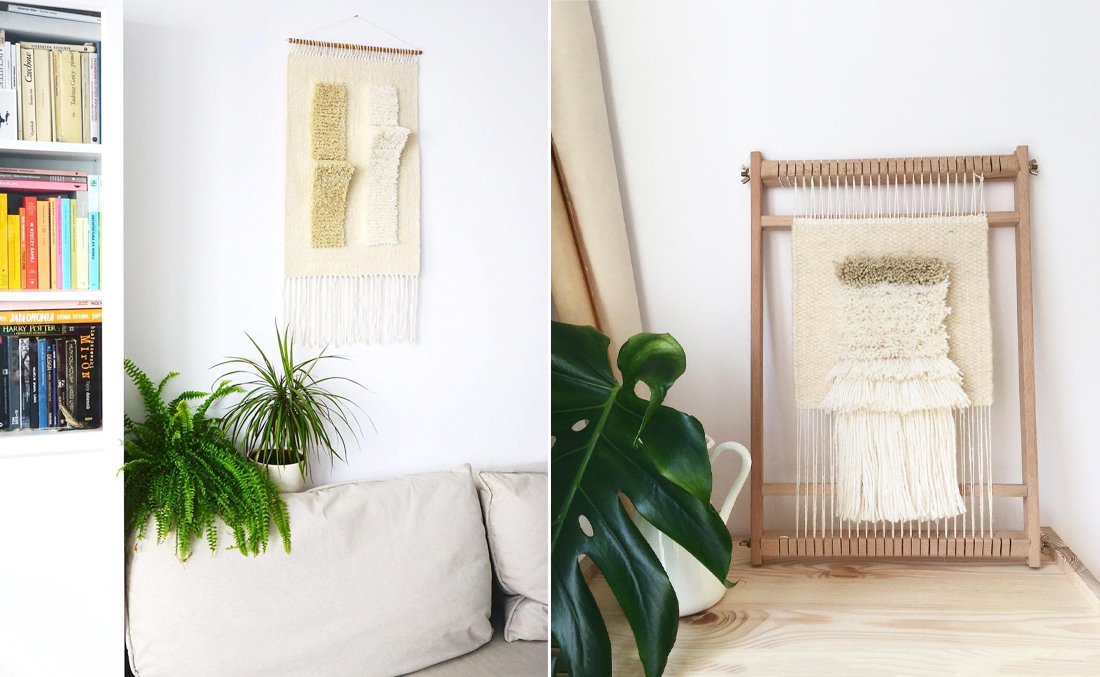 8. Advice for those wanting to make the switch into crafting full time?
My advice is to wait for a great opportunity. I had a lot of them throughout my whole craft journey and I just seize every one of them. For me, it was my participation in the contest and getting a beautiful studio with a reasonable price. I also crafted a business plan in the beginning and that helped me with organising my own company. And I would advice to save the money you earn from the first months of starting your business as you will probably have more expenditures than income in the beginning. And prepare to work 24/7! Sometimes I even work in my dreams – sounds funny but it's true. And of course it's worth it! I keep my fingers crossed for all of you, who want to switch into full time crafting!
Photo Credits: Wiktoria Nowak