The Woven Path: Emillie Ferris
If there's someone that can make animals look like real (they can literally pop out!) on fabric, that would be Emillie Ferris. Being away from her countryside hometown, Emillie wanted to encapsulate what she miss most back home with what she does best, embroidery! From deers, to insects and cute hedgehogs, Emillie does her magic with floss to give these animals a new life. Now, she does commissions for pet portraits and has even embroidered Jimmy Fallons's dog for him! Scroll below to enter her world of animals and threads.
5 Things About Emillie Ferris…
Early riser or night owl… Both!
A song to get you into the creative groove… I like to listen to my Disney playlist or Flight of the Conchords while I'm working on my computer. I couldn't choose just one song, but if I had to, it would be Shiny by Jermaine Clement in Moanna!
What did you aspire to be when you were 5… A zookeeper or a book illustrator
3 essentials we can find in your bag… My iphone, a pen and notebook!
If you weren't a embroider, you would most probably be doing… I would probably be working with animals, or work at a design company.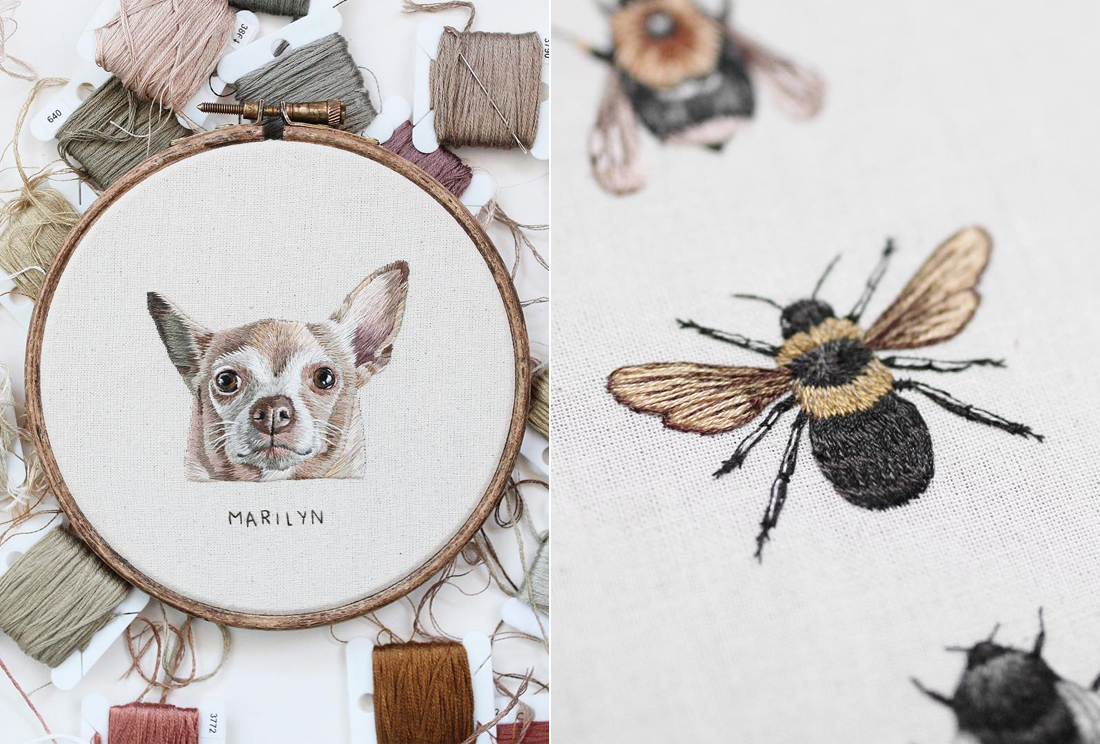 1. Tell us about your background and what led to you choosing embroidery as a craft.
I chanced upon the art of embroidery in my second year of university. Embroidery at that point was an out-of-reach fantasy to me. When someone mentioned embroidery, I would picture pre-raphaelite paintings depicting women doing needlepoint by windows of large castles. I loved the idea of using this ancient craft to connect with these talented women from the past. My boyfriend bought me an embroidery kit for my 19th birthday and from then I started posting my creations on Instagram.
2. What made you want to take your passion to the next level?
I didn't plan to turn my embroidery passion into a business, it was something that progressed naturally. As soon as I started embroidering, I found that I had a natural affinity for the craft! I have a background in Art & Photography and just love to post photos of my embroidery work on Instagram purely for fun and encouragement. From there, I started to receive a lot of emails and requests (to my surprise) from people wanting to purchase them!
3. Tell us about your fascination about embroidering animals.
I have always loved animals, in particular woodland animals. I believe moving from the countryside to a town for University had somehow contributed to this obsession. I missed the countryside and wanted to put it on my walls while engaging my creativity at the same time.
4. What kind of materials do you like to work with?
I like to work with Calico fabric & DMC threads.
5. What is your favourite piece of finished product and what inspired you to create it?
My favourite piece is an old one – four animals in a circle. I wanted to create a piece that was slightly magical and unreal and will definitely be recreating a better version of this hoop in the future!
6. How is the yarn scene like in UK?
Brilliant! I can't say I know a lot about it, but yarn is very easy to access from where I am. There is a great shop called TOFT nearby that has alpacas and runs amazing workshops!
7. Is there any interesting or particularly memorable/interesting moment in your career as a professional maker?
When Drew Barrymore emailed me to request an embroidery of Jimmy Fallons's beloved dog!
8. Advice for those wanting to make the switch into crafting full time?
I'd suggest using all of your spare time and weekends to your advantage before quitting your full time job. Develop your product, have fun and don't underestimate social media as its through Instagram that I started my career.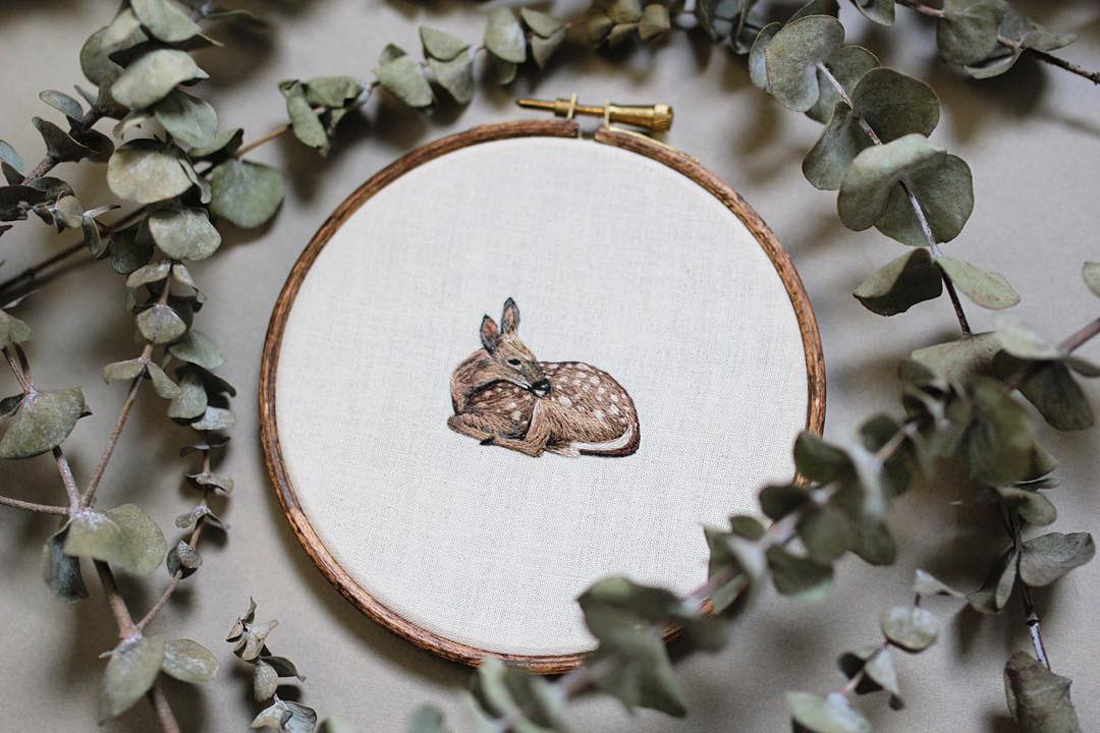 Photo Credits: Emillie Ferris