The Woven Path: Cindy Hsu Zell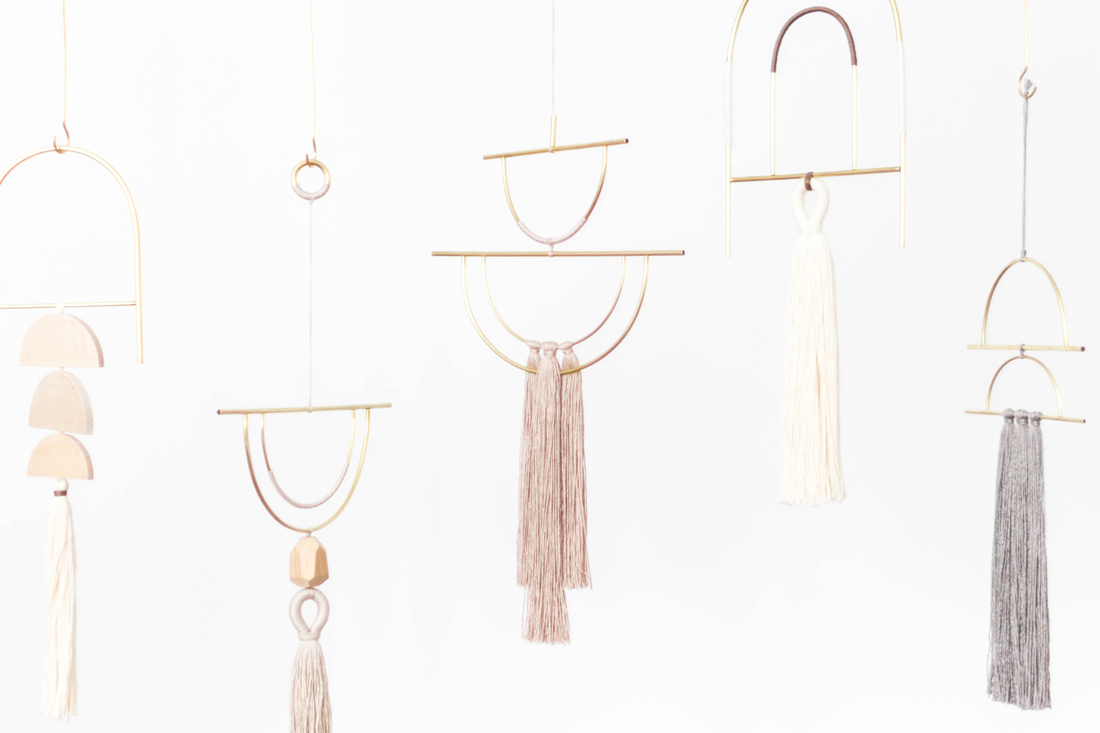 Los Angeles based fiber artist and owner behind WKNDLA (pronounced as "Weekend L.A."), Cindy Hsu Zell, creates sculptural wall hangings and accessories that are a modern version of a good luck talisman. Inspired by nature, art deco and her closest family and friends, Cindy individually hand cuts, files, bends, solders, sands, polishes and coats her pieces in her garage studio and assembles them using organic or sustainably-sourced natural fibers. Apart from creating these yarn and brass beauties, Cindy also makes large-scale fiber art, of which she spun the rope herself! We couldn't let her go without asking Cindy to share with us some advice in making your passion a full time business.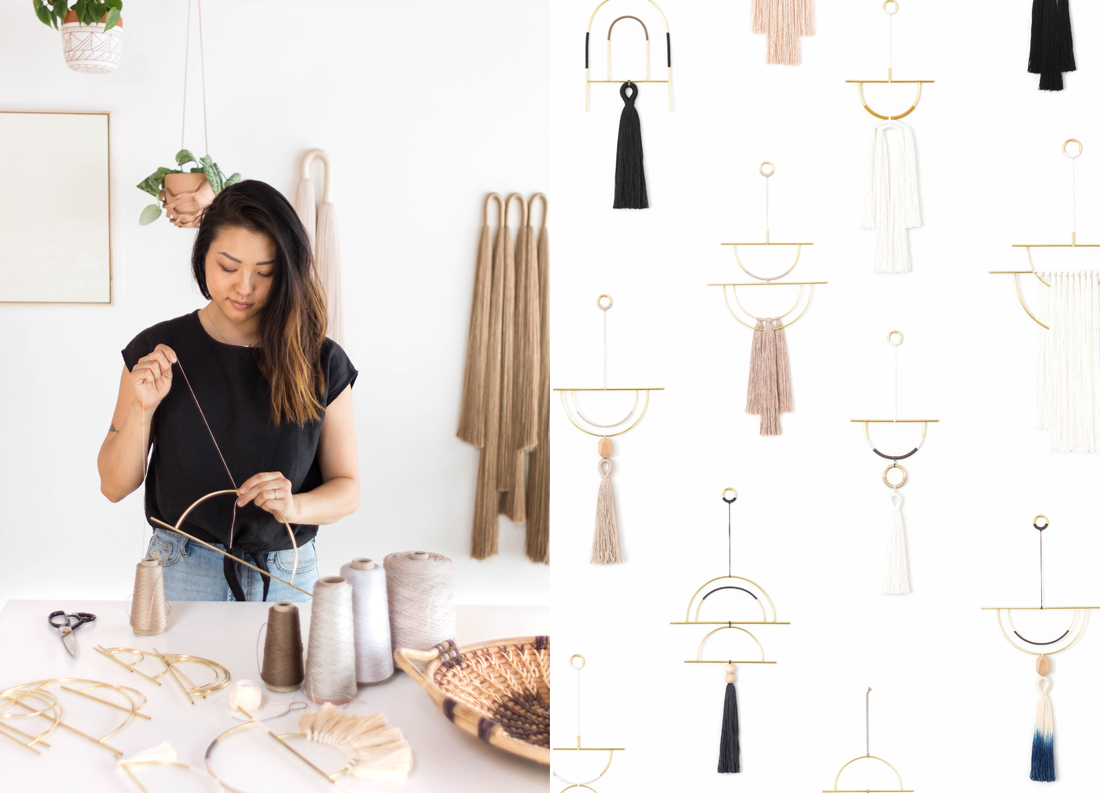 5 Things About Cindy Hsu Zell…
Early riser or night owl… Night owl!
A song to get you into the creative groove… I listen to Beirut when I want to create a calm, reflective environment. I like the song Postcards From Italy too (it inspired me to learn how to play the ukulele!)
What did you aspire to be when you were 5… I wanted to be an astronaut, a teacher or an artist.
3 essentials we can find in your bag… I always need lip balm, sunglasses and floss on hand!
If you weren't a fiber artist, you would most probably be doing… Perhaps something in interior design or photography.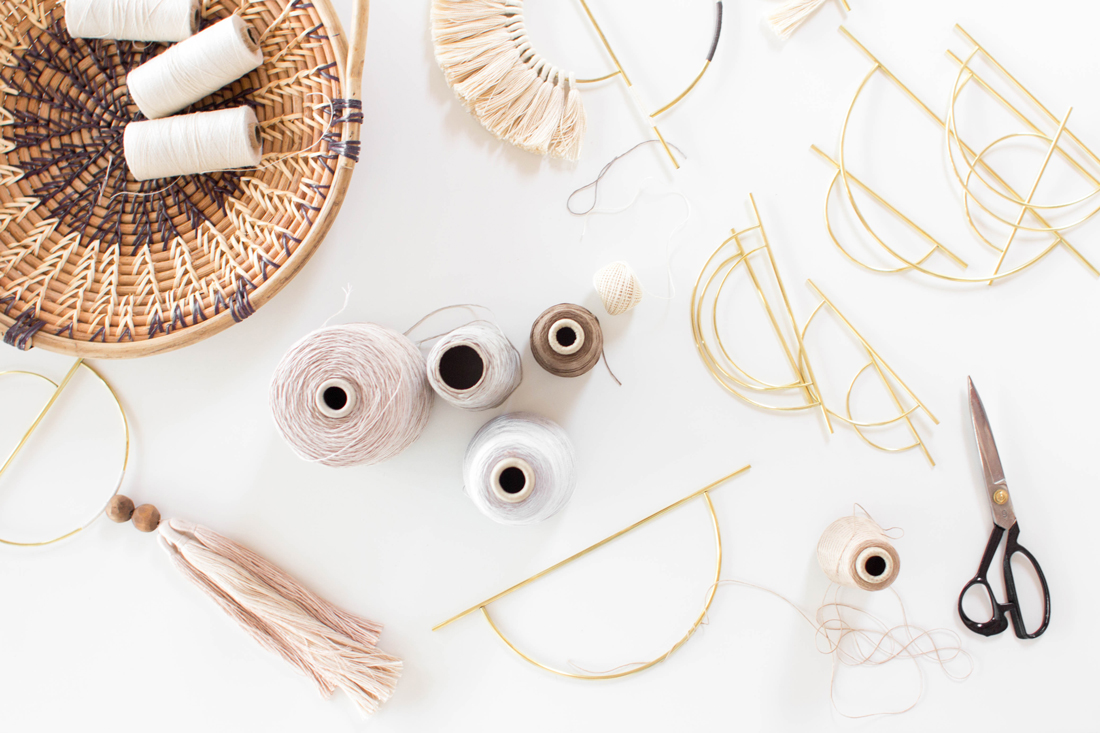 1. Tell us about your background and what led you to choosing fiber art as a craft.
I studied Fine Arts and Animation at USC with an emphasis in sculpture. After I graduated, I became a retail display artist where I learnt incredibly fun skills such as weaving baskets with a garden hose and creating chandeliers out of zip ties. I've worked with almost every material I can imagine and the one I kept wanting to play with was fiber.
2. What made you want to take your passion to the next level?
I was running WKNDLA on the side for a year before I decided to pursue my own full-time business. Working for someone else in a team environment means that everything you do is a group effort. While that was very fulfilling, I knew that eventually I would want to build something that was my own.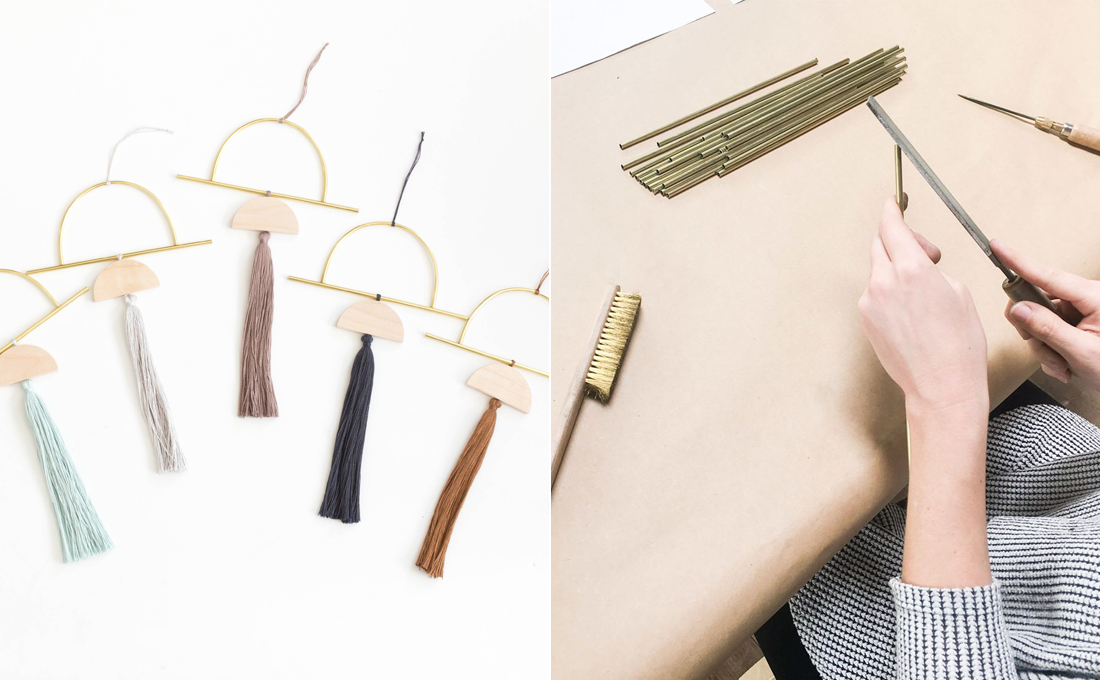 3. Tell us more about WKNDLA and the wall hangings you create.
WKNDLA is named after my time and place. It was inspired by when I first started and was making things during the weekends. I created my first collection of wall hangings in 2014 as wedding favors for our guests. Each one of them were inspired by nature, Art Deco, Los Angeles sunrises and our closest family and friends. I wanted to make a modern version of a good luck talisman to give as tokens of our appreciation for my family and friends who took time out to celebrate our special days together.
4. What kind of materials do you like to work with?
I mostly work with wood, natural fibers and brass. I enjoy learning new techniques and have taught myself how to solder and make rope in the last few years. I love discovering new ways to interpret raw materials!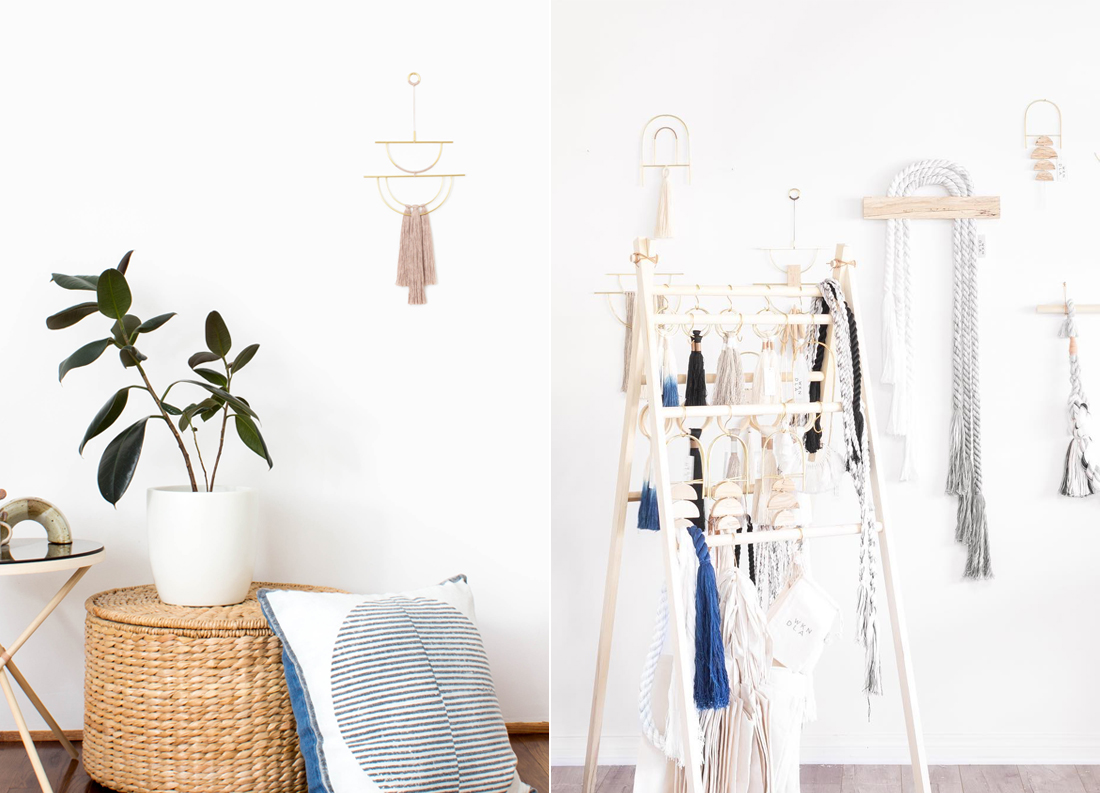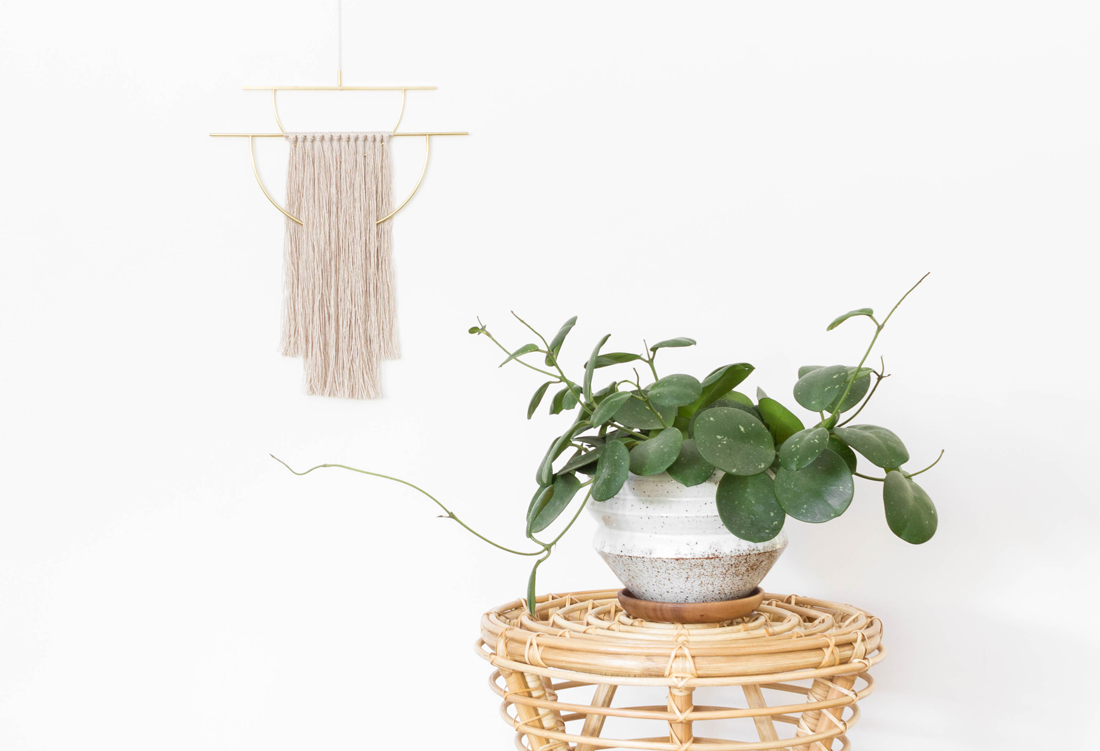 5. What is your favourite piece of finished product and what inspired you to create it?
I once made a sculpture that consisted of a very large piece of rope draped over a wooden dowel. This piece is the reason why I started to make rope myself. To make the piece, I needed to create a 4" diameter rope from scratch as I couldn't find it readily made anywhere. It took 8 hours to walk the string before I spun it and several hours more to dye it indigo. It is over 4,000 strands of thread thick and uses 36,000 feet of string. I can still recall every drop of blood, sweat and tears that went into making it!
6. How is the yarn scene like in Los Angeles?
There are a lot of great resources for yarn here and I feel that Los Angeles has been really receptive to textile art. I'm lucky to be a part of the creative community in a place that has so much to offer.
7. Is there any interesting or particularly memorable/interesting moment in your career as a professional maker?
I had to pinch myself when I received the Anthropologie fall home catalog one year ago and my wall hangings were in it! Working with every single one of my retailers has been incredibly fun and I am so grateful for the relationships I've been able to cultivate with small business owners around the world.
8. Advice for those wanting to make the switch into crafting full time?
My advice is not to romanticize the idea of quitting one's day job. It is difficult for creativity to thrive when there is a constant pressure to make things that will sell in order to pay the bills. While I love working for myself, it comes with a lot of sacrifices that I hadn't appreciated before I took the leap!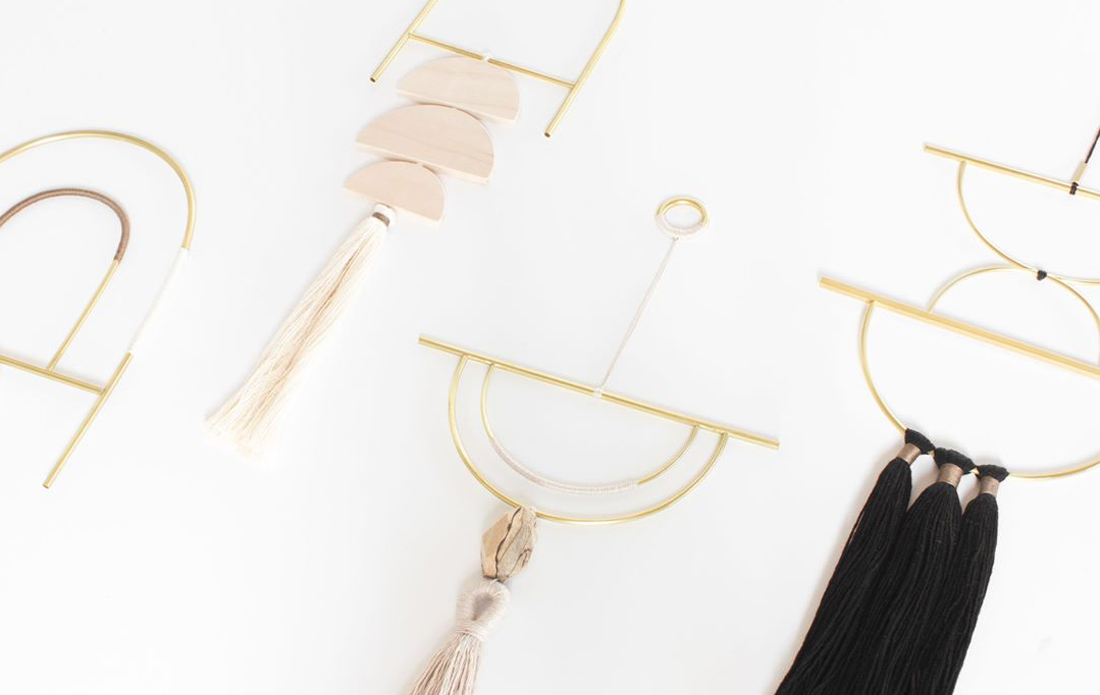 Photo Credits: Cindy Hsu Zell