The Woven Path: Kat King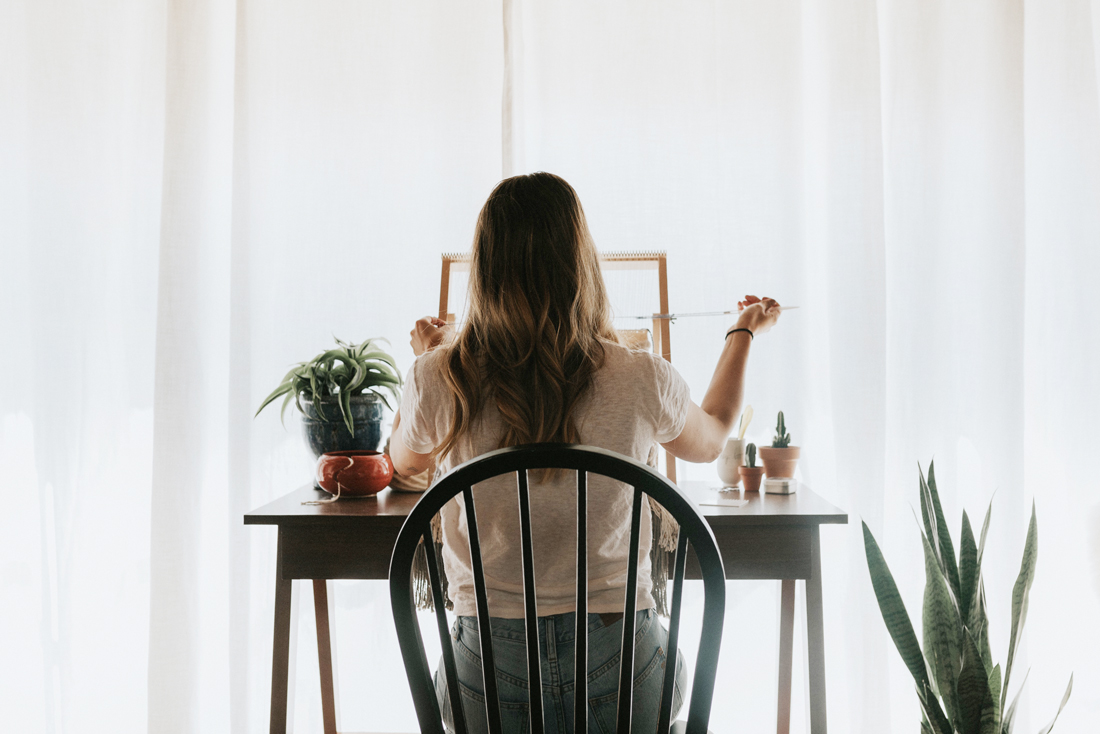 "Reversing the roles is such a huge weight off my shoulders, and if not now then when?" Having to quit her job might not have been a choice for New Orleans based weaver, Kat King, but we love her "not now then when?" mentality to jump straight into realising her crafting dream. Without looking back, Kat started selling her weaves (and even crocheted works) on her Etsy shop, Kat King Tapestries and turned it into her full time job. Read on to be inspired by her story.
5 Things About Kat King…
Early riser or night owl… Neither really, but I'm definitely not a morning person. I just really love my sleep and work best with a good nights rest!
A song to get you into the creative groove… I love working to a good blues station. Buddy Guy always gets my creative juices flowing!
What did you aspire to be when you were 5… I wanted to be an art teacher (:
3 essentials we can find in your bag… What don't I have should be the question! I'm like a Mary Poppin's over here!
If you weren't a weaver, you would most probably be doing… If I didn't have weaving in my life, I would still be working full time in retail. I've always contemplated going back to school for fashion merchandising.
1. Tell us about your background and what led you to choosing weaving as a craft.
I've always struggled with finding my "thing" or what I wanted to "be" for as long as I can remember. I've dabbled in other creative mediums like drawing and painting, but I was never able to find my voice or the confidence in my work. Until I discovered my love for weaving. I treated myself to my first loom, with one of Maryanne Moodie's weaving kits, and taught myself the process. Weaving has provided me with a creative outlet that I can truly connect with, and to be able to produce a finished product that I am genuinely proud of – that is where the joy is and I'm just hooked! I've also been so blessed to have such a strong support system from my family and friends to encourage me to move forward and believe in what I do!
2. What made you want to take your passion to the next level?
Life just happened, really. My man and I made the move to New Orleans for his job, so I quit mine with no real prospects in mind and decided to do crafting for awhile! I mean why not try, right? That is the dream after all!
3. Tell us more about your Etsy shop KatKing Tapestries.
Etsy is really a great place to start your business! You can build your brand and really get your name out there. However, I've only recently seen more consistent traffic through my shop, and I credit a lot of that to social media. You seriously have to learn how to market yourself, promote your product, and take advantage of the resources you have! Self promotion is key!
4. What kind of materials do you like to work with for your woven pieces?
Rovings! I just can't get enough of it. I use it in pretty much all of my pieces now, and I'm just a sucker for all of the fluff and fringe. The more the better, am I right?
5. What is your favourite piece of finished product and what inspired you to create it?
One of my all-time favorite pieces that I have made was for a trade with a fellow Louisiana maker, Sophe Probst of Urban Roots Handmade. She is such a gem and just encouraged me to make something that I loved! I was inspired by the colors in her linen collection. I experimented with new shapes, new techniques, and I couldn't be happier with the way it turned out and the beautiful home that it went to.
6. How is the yarn scene like in Louisiana?
I feel so lucky to have been born and raised in city so rich in culture and art! From the streets of Lafayette to New Orleans and all of the amazing festivals, markets, and artists – it's thriving! I still remember my mom taking me to Festival Acadiens when I was young and witnessing these women spinning their own yarn. My mind was blown away and still is to this day! One day, I would love to learn how to spin my own yarn and I will! It's all just part of the dream.
7. Is there any interesting or particularly memorable/interesting moment in your career as a professional maker?
I would have to say that this opportunity to be featured on KOEL Stories is pretty high up there on the list! But my business is still growing and it's so encouraging every time I get a new order or even an inquiry! It's just such an honor when people decide to have your work displayed in their homes, and that feeling will never get old.
8. Advice for those wanting to make the switch into crafting full time?
My mom always told me to find something that I love to do, because I'm going to be doing it for the rest of my life. Weaving has been my side hustle ever since I discovered it for myself. It became a way for me to escape from my real job and make a little extra cash on the side. Reversing the roles is such a huge weight off my shoulders, and if not now then when? It's definitely not easy, you have to want it, but if it's something that you love to do and it makes you happy at the end of the day – it's all the more worth it!
Photo Credits: