The Woven Path: Lucy Poskitt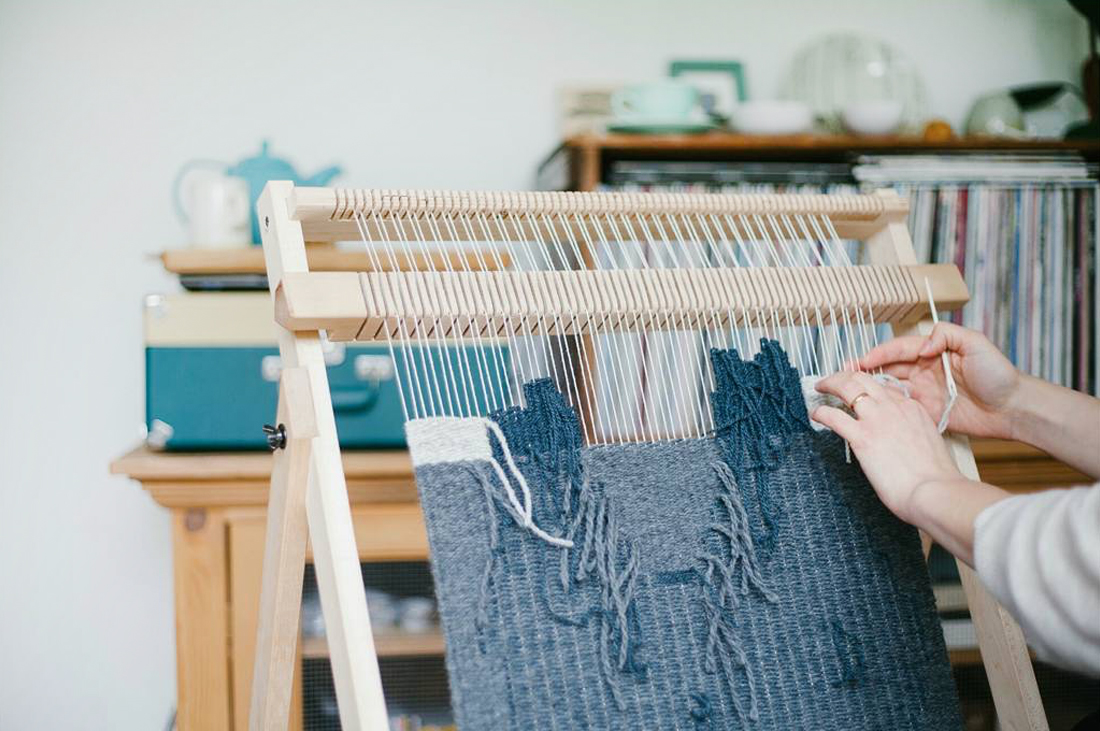 "You have to start somewhere to make it anywhere." To many, the first step will seem like a huge (and often terrifying) hurdle to cross. And it's no exception for Canadian based weaver Lucy Poskitt when she was asked by a curator to teach a workshop at an exhibition where her works were showcased. Her shy nature didn't stop her from pursuing it, and the rest we would say is history. Lucy now teaches tapestry workshops to hundreds of students across Canada carrying the "teaching genes" she inherited from a late grandmother (who was a artist and teacher herself!). We couldn't let slip an opportunity to talk to her about what led her to her crafty path, her most memorable teaching experience and more.
5 Things About Lucy Poskitt…
Early riser or night owl : Early riser! I'm usually up by 6am and asleep by 10:30pm.
A song to get you into the creative groove: I will never get tired of 17 by Youth Lagoon, or the whole album, Year of Hibernation – calm, moody and sounds great extra loud…
What did you aspire to be when you were 5: A baker or a part-time artist on a farm (:
3 essentials we can find in your bag: My Ink+Volt planner, three different kinds of lip chap and a zillion hair elastics – I get frantic if I don't have these things with me at all times!
If you weren't a weaver, you would most probably be doing… I would probably be doing what I thought I would be when I was 5 – baking!
1. Tell us about your background and what led you to choosing weaving as a craft.
I studied mainly printmaking at art school, (NSCAD University in Halifax, Nova Scotia), but in my third year I became really tired of it – the atmosphere of the studio (grey, cold and hard), the long drawn-out process to create a piece that I was never 100% happy with, and the general attitude of the students were too much for me.
My mother has a weaver friend and I was always fascinated by her work, so on a whim I took a weaving elective to fill a credit and I immediately fell in love with it. Everything about the weaving studio seemed opposite to the printmaking studio that I'd grown to dislike. Yet, it was still very process-oriented and methodical, which were the aspects of printmaking that I loved. The weaving studio was colourful, tidy, soft and warm. I could also see physical progress on my pieces and they had a tactile sense to them which was new to me. The students there had a totally different attitude towards learning – welcoming, open and proud to be part of a "craft" tradition. I was hooked!
2. What made you want to take your passion to the next level?
It just happened very organically, I don't think that there was a moment when I decided that I would go for it… Having gone to art school and being raised in a family that was very involved in the arts, I had never thought that I couldn't make (at least part of) a living from making professionally. In fact, it had always been a part of whatever future I'd envisioned for myself throughout my life.
3. Tell us more about your experience teaching workshops.
Again – something that happened organically! I had been asked to exhibit some works and the curator suggested I do a workshop to introduce people to weaving so that they might understand the process and my work better. My initial reaction was NO WAY – being a pretty shy and private person, the thought of speaking to a group of people was so terrifying. I ended up doing it and it sold out so quickly that we decided to do another… and another and another and before I knew it I was doing two workshops per month! It was totally terrifying (for at least the first 5 times), but I kept with it because I love introducing people to something that has given me so much joy.
4. What kind of materials do you like to work with for weaves?
Everything! Most of my professional work is made with traditional materials – wool, linen and cotton yarn. When I'm creatively stuck or have time to play around, I really enjoy more unusual, less traditional fibres – horsehair, leather scraps, paper, ropes and trims, wood veneer, mylar… you name it!
5. What is your favourite piece of finished product and what inspired you to create it?
Ah, that's like picking a favourite child! One piece that really stands out for me is Monsoon. The piece was inspired by the imagery of the Pacific Northwest landscape drenched in heavy clouds and rain, which has always been a favourite subject of mine. I was however inspired in a technical sense: weaving this piece was a bit ambitious – in scale and skill – so it was kind of a personal challenge to me.
6. How is the yarn scene like in Vancouver/Victoria?
So, so good! Vancouver, being a large city, has a ton of resources for yarn and fibre – Maiwa, the Silk Weaving Studio, the Fibre Arts Studio are all places I regularly shop at along with many independent yarn stores. There are also several fibre festivals and gatherings that happen each year in the city.
Victoria, for a smaller city, has a very active yarn scene – we have a number of excellent stores (Knotty by Nature and the Beehive Wool Shop are my favourites), plus local online suppliers (like Jane Stafford Textiles and Chaotic Fibres) and producers make acquiring any type of fibre a breeze.
7. Is there any interesting or particularly memorable/interesting moment in your career as a professional maker?
Oh, there have been so many! One really special moment in particular that I'll always treasure: I taught a class in Vancouver to a group of women and one of them revealed to me that she had been a student of my late grandmother, Irene Poskitt. My grandmother was a wonderful artist that taught everything from calligraphy to watercolour to quilting well into her late eighties. Unfortunately, I spent most of my life living on the opposite side of the country from her, only to move back to Vancouver a few years before she passed away. Hence, I don't have many memories of her. My grandmother's ex-student had the loveliest things to say about her as a friend, artist and teacher. At that moment, everything just clicked that I was following my grandmother's footsteps – something that had never crossed my mind! Now whenever I get a bit nervous before a workshop, I think of my grandmother and am grateful for the "teaching genes" that she passed along to me.
8. Advice for those wanting to make the switch into crafting full time?
Well, full disclosure – I don't do weaving full time. I've never felt financially secure enough to make the leap into full-time art making, so I work at part-time outside of the studio, and part-time inside the studio. While I do admire professional makers, personally I feel that I start to compromise my vision and integrity as an artist when I need to solely rely on what I create to pay the bills. That said, even part-time ain't easy! Sometimes I get so busy that I wake up at 5am to work in the studio until I need to go to work-work, and then come home to the studio again before bed… It can often feel like I'm working 2 full-time jobs!So my advice for anyone making part- or full-time: Ask help and advice from your partner, your friends and those you admire. Don't be afraid to ask the "dumb" questions – if you're not sure how to do something (for example – figuring out technology and finances is not my strong suit) reach out to someone that appears to have it all figured out. Likely, they'll tell you that they don't (which – yay – makes you feel much better!) and will be more than happy to share what they DO know. I've never received a response that has made me feel worse off, or dumber. When in serious doubt, I'm more than happy to pay for professional advice so that my conscience is clear.
Photo Credits: Lucy Poskitt , Joey Armstrong & Jenn Kiel