The Woven Path: Gabrielle Diamantis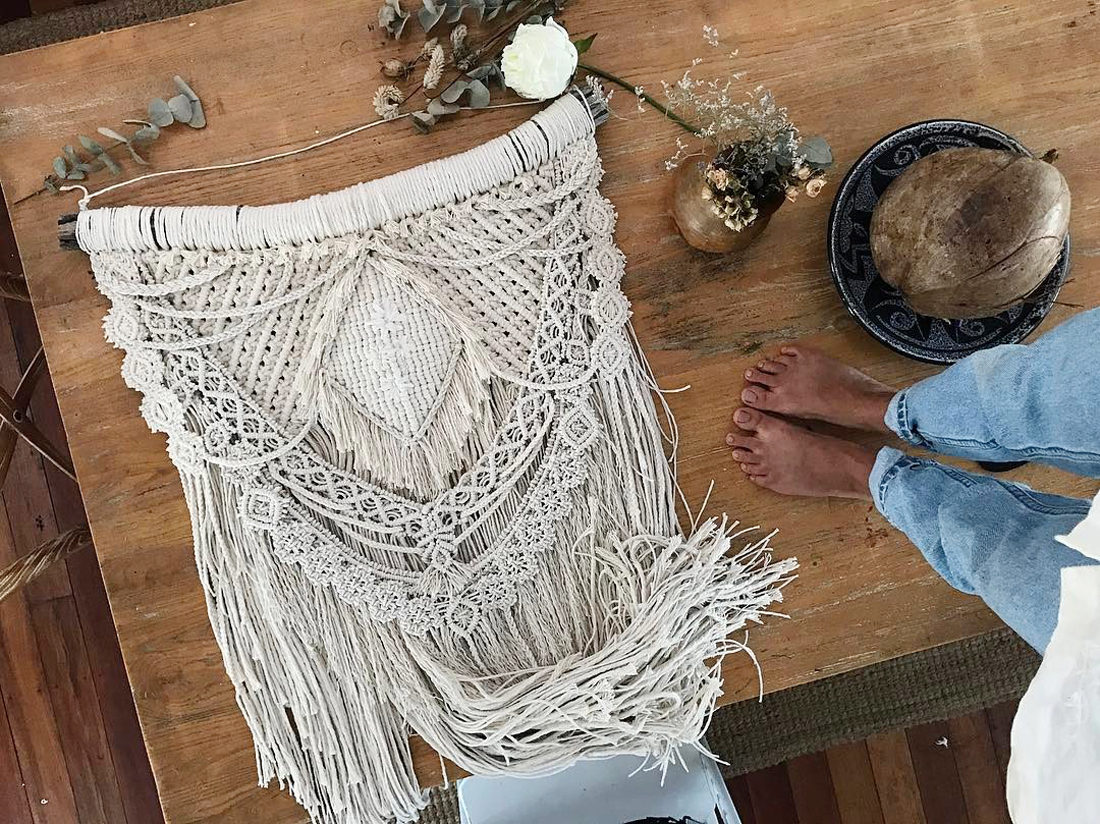 By just looking at the thousands of small knots that make up Gabrielle Diamantis's macramé works, we can assuredly say that she's in a different league from the rest. And to top off her amazing macramé skills, Gabrielle intricately combines embroidered and crocheted adornments (and even floral arrangement!) into her pieces, which have earned our upmost admiration. Mum of four and owner of Family Threds, Gabrielle creates customised pieces that exudes a touch of romanticism. If you are wanting to get a macramé backdrop for your bohemian styled wedding, then she is the person you should look to!
5 Things About Gabrielle Diamantis…
Early riser or night owl… Definitely an early riser!
A song to get you into the creative groove… I don't really have one, but I love listening to Van Joy and Bon Iver when knotting (:
What did you aspire to be when you were 5… I think I really wanted to be an interior designer when I was younger. I loved doing anything creative and knew that I wanted to pursue something creative as an adult.
3 essentials we can find in your bag… Nappies, my phone and paw paw lotion (I'm a mum of four so these are a must!)
If you weren't a macramé artist, you would most probably be doing… I would most likely be pursuing something food-related as I love cooking!
1. Tell us about your background and what led you to choosing macramé as a craft.
I am a mum of four. I've been doing the mum thing since I was 21 when I had Ava. I really love being creative and after having Ezra, I began looking for an creative outlet for me to pursue from home. I sort of fell into macramé when I was learning how to weave and crochet. I fell in love with the craft after I made my first piece and my passion for the art of knotting has only grown from there.
2. Tell us more about Family Threds.
Family Threds is a one woman show. I work from home with the kids around. I design and hand craft each piece myself. I put my heart and soul into what I do. Each piece I make is unique and thoughtfully crafted.
3. What kind of materials do you like to work with for your macramé pieces?
Driftwood and cotton string are the number one staples in all my pieces.
4. What is your favourite piece of finished product and what inspired you to create it?
My favourite piece have got to be my largest one to date, which I made in December last year for a close friend wedding backdrop.
5. How is the yarn scene like in Australia?
The yarn scene in Australia is big! It is only getting larger as more people are going back to their creative roots and dabbling into fibre arts like weaving, macrame and embroidery. It's awesome to see so many people showcasing their love for fibre art and sharing their creativity.
6. Is there any interesting or particularly memorable/interesting moment in your career as a professional maker?
I think this whole experience for me has been so memorable. I have grown so much as a person and met so many interesting people through Instagram, since I started a year and a half ago. Selling my first piece was pretty special and memorable (:
7. Advice for those wanting to make the switch into crafting full time?
Just go for it! It is hard work, but truly rewarding. If you have a passion and love for what you do, then share it. Always be authentic and true to yourself and you will be successful in your own right.
Photo Credits: Gabrielle Diamantis