Meet The KOEL Kids: Linn Markstein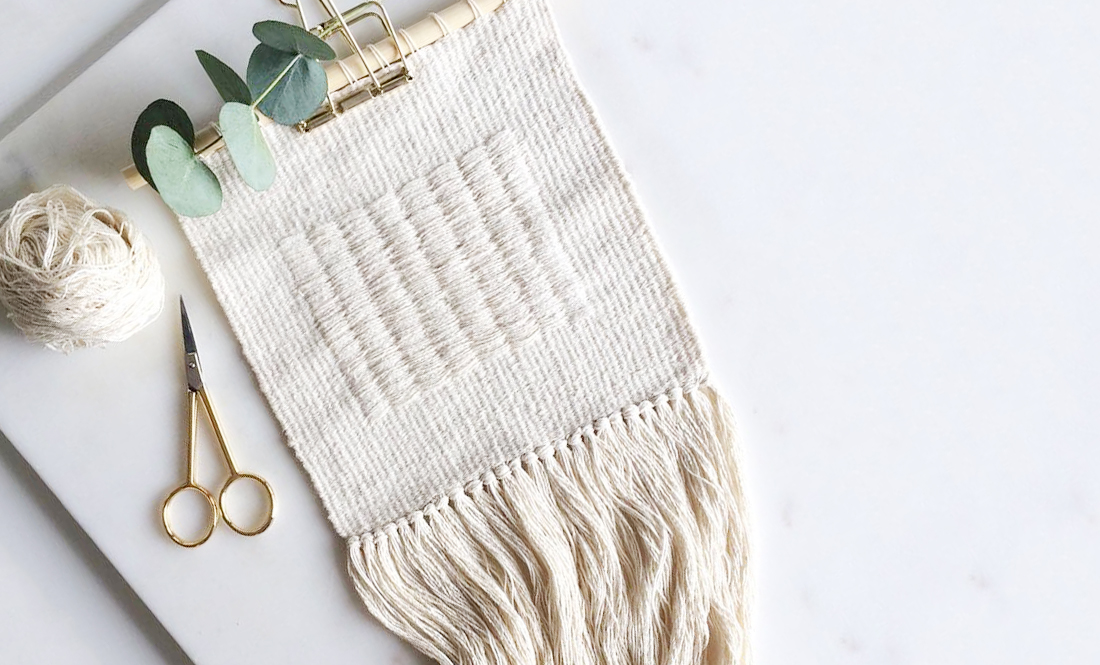 Memories can be captured in many forms – through a photograph, recording or even penning it down in a journal. For a tactile person like Linn Markstein, creating woven pieces using natural textiles and fibers has became her way of holding on to special moments in her life (we can imagine more woven wall hangings than frames in her home!). Linn gives her weaves a touch of uniqueness by sewing on dimensional shapes to them, creating a textural feel to her monochrome pieces. We got her to share about her favourite piece and the memory it captures.
1. Tell us more about your background and what led you to choosing weaving as a craft?
I started weaving four years ago after buying a loom for my oldest daughter. She had no patience at that time, so I borrowed it and started experimenting with yarn and fiber. Natural textile, fiber and different textures have always intrigued me and been a fascination of mine. I guess I'm quite a tactile person!
In retrospect, weaving came to me at a time in my life when I really needed it. It felt, and still feels, necessary to let myself get lost in colors, textures and shapes. And to not worry about anything, and just be! It keeps challenging me, but in such a forgiving way. To make something with my own two hands also feels quite therapeutic and important these days. In my work, I often use materials that have a nostalgic feel to me. Sometimes I think I weave to remember, or I try to communicate or capture a feeling in my pieces. It's a way to hold on to the people I love or have loved, and memories made. Especially with my family.
2. What makes you a KOEL Kid?
Hmm.. that's a hard question to answer! I can easily think of quite a number of KOEL kids on the block, so I feel honored to be featured here. My work is different in the way that I try to let one type of yarn/fiber be the main focus and try to create life on a monochrome surface. The shapes on my weavings are sewn on to the woven work and are minimalistic in its expressions.
3. Share with us the creative process behind each of your project.
I find a lot of inspiration in colors and color combinations, in my everyday life and rituals. Hanging out with my fiber friends even if we don't weave is always inspiring. The creative process is an ongoing process, which I can't turn on or off. New ideas can come in the middle of the night, when making dinner, or in other daily routines in my life. It can also be weeks without them.
4. Pick one of your favourite designs and answer these quick questions! My favorite design is my linen piece with the mohair circle.
The inspiration behind this design is… The mohair in this particular piece makes me think of my mother's mohair sweater, and growing up in the late 80's early 90's. It has a calming effect on me and it currently lives in our living room.
The dream store in which I would like to stock this design is… I would love to have my own web shop up and running, but life has been a bit too hectic to make it happen. Maybe one day…
Which celebrity house can you picture your design at… I really can't think of any celebrity, but what does make my heart skip a beat is when artists I admire and look up to wants to do a trade of work.
If this design made it big, I would… Keep the one I have in my living room.  😉
If this design could talk, it would say… Remember to breathe with your stomach!
5. Great things take time, so how much has changed since you first started weaving and where do you see it in the next five years?
Well, life is good at throwing you a surprise or two! In the future, I hope to still be weaving and meeting more lovely creatives. To share collaborations, inspiration and enthusiasm.
Photo Credits: Linn Markstein