The Woven Path: Robyn Parker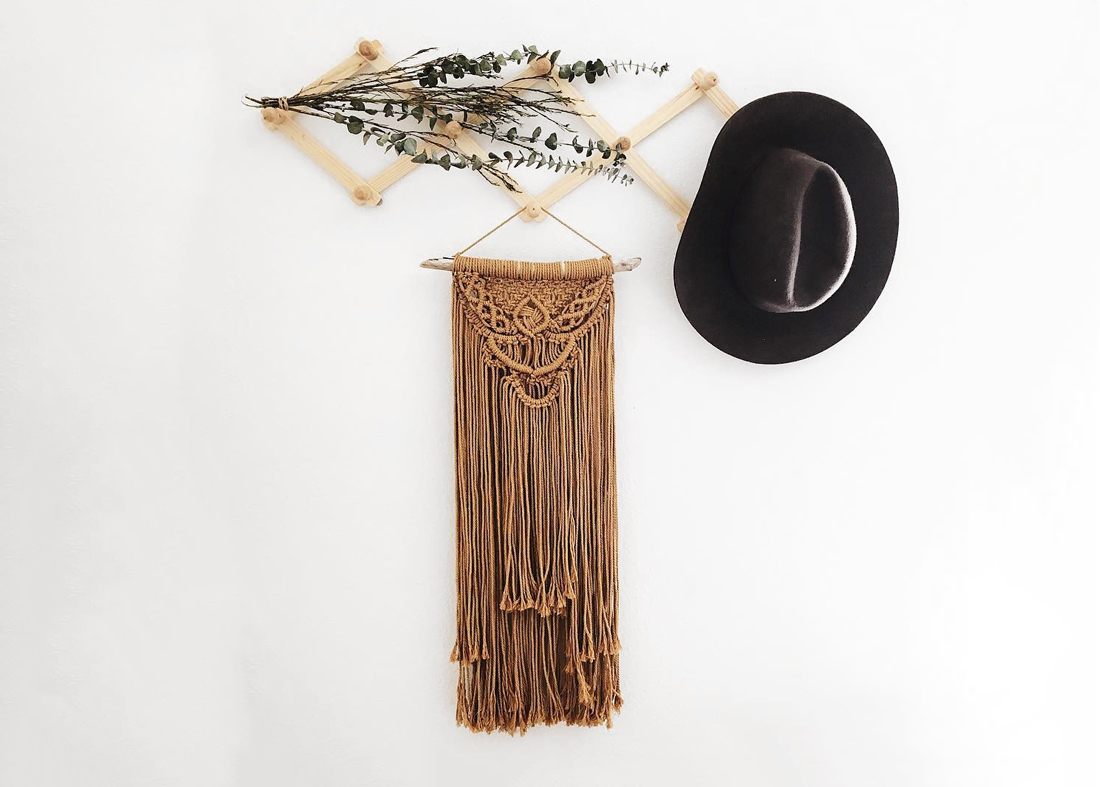 We always have great respect for mums, and more so, mums that juggle between caring for their family and pursuing their passion in crafting. Fiber artist Robyn Parker is that kind of "super mama" we would give our hands downs to. Talented in both weaving and macramé, Robyn owns her own Etsy shop, WovenByRo and even has her work available at West Elm recently. Read further for full interview with this crafty mum we think deserves a two thumbs up.
5 Things About Robyn Parker…
Early riser or night owl… I'm easily a night owl, but now that we have a toddler in the house… I have had to become an early riser!
A song to get you into the creative groove… I've really been loving the Lumineers lately. Their song "Angela" has a great beat.
What did you aspire to be when you were 5… I'm guessing I probably wanted to be a dolphin trainer around the age of 5.
3 essentials we can find in your bag… Lip gloss, one of my son's toy cars, and a pair of earrings I wore for half the night out.
If you weren't a fiber artist, you would most probably be doing… I would most likely be creating in some other way. I love curating spaces and anything design related.
1. Tell us about your background and what led you to choosing weaving/macramé as a craft.
I found my love for fiber art in 2014 after coming across a great online weaving tutorial. I instantly fell in love with the craft. At that time, I was working as a pediatric nurse and weaving on the side for my friends and family. When we moved from Seattle to Phoenix in 2015, I decided to leave my position at the hospital to stay at home and care for our son. I filled the nap times and evening pursuing a creative outlet by weaving and most recently learning the art of modern macrame. I have always loved being creative. It's one of the things that makes me feel most alive!
2. What made you want to take your passion to the next level?
The process of becoming a professional maker happened very organically for me. What started out as a side hobby quickly became an almost full time role before I even had a chance to decide what I want it to look like. As my first priority is my family, I have been facing the challenge of finding enough time to keep up with the demand for my art work and the day to day of caring for our family. I love both roles and hope to continue to find a way to keep up with these different areas of my life.
3. Tell us more about your Etsy shop WovenByRo.
I made my first weave for our house with a couple skeins of yarn from the local craft store and that weave still hangs on our wall to this day. It reminds me of where I started and how much I've grown as an artist. I soon began making and giving away my pieces to anyone that asked for one. I was just so honored to have something I made in someone else's home. My friends encouraged me to open an Etsy shop and so I did! Etsy is such a great platform for a new small business owner. I have found it super easy to use and a great way to connect with an amazing community of fellow makers. I'm still blown away by the requests I get from people all over the country.
4. What kind of materials do you like to work with for your macramé and woven pieces?
Being from the Pacific Northwest, my favorite pieces to use for macrame and weaving are driftwood. I love the well worn, distressed coloring of each unique piece. Often times it's the driftwood that help me decide the shape a macrame piece will take. I have also enjoyed working with brass recently. I love the contrast of the forged metal with the natural raw elements of the cotton rope.
5. What is your favourite piece of finished product and what inspired you to create it?
I'm not sure if I have a specific favorite piece. The pieces I love the most are the ones I've been asked to make. Some have been for weddings, Christmas gifts, the loss of a loved one, newborn nurseries, etc. It's just such an honor to have something I've created part of someone's home.
6. How is the yarn scene like in Sweden?
As Sweden is such a huge city, I have had a harder time finding supplies, specifically cotton rope for macrame. Outside of the major craft stores, there are a handful of yarn stores in the Phoenix area. They each offer a unique selection and some even carry locally made fibers.
7. Is there any interesting or particularly memorable/interesting moment in your career as a professional maker?
The first year as a professional maker has been so amazing! I have received such a warm welcome locally as well as from the online community. And I love teaching workshops and being part of some amazing markets. The most recent exciting news is that I'm partnering with West Elm to become one of their LOCALS. My work will now be available in West Elm Arizona. It's been a dream of mine ever since I started working with fiber art and I am so thankful to see it come true!
8. Advice for those wanting to make the switch into crafting full time? I'd say finding other makers to connect with is such a huge encouragement. If you are wanting to take your craft to the next level, I highly recommend reaching out to other creatives and find a community to support you along the way. I belong to a couple of groups and they have been so life-saving as I navigate in this new season of my life.
Photo Credits: Robyn Parker