The Woven Path: Monika Kalinowska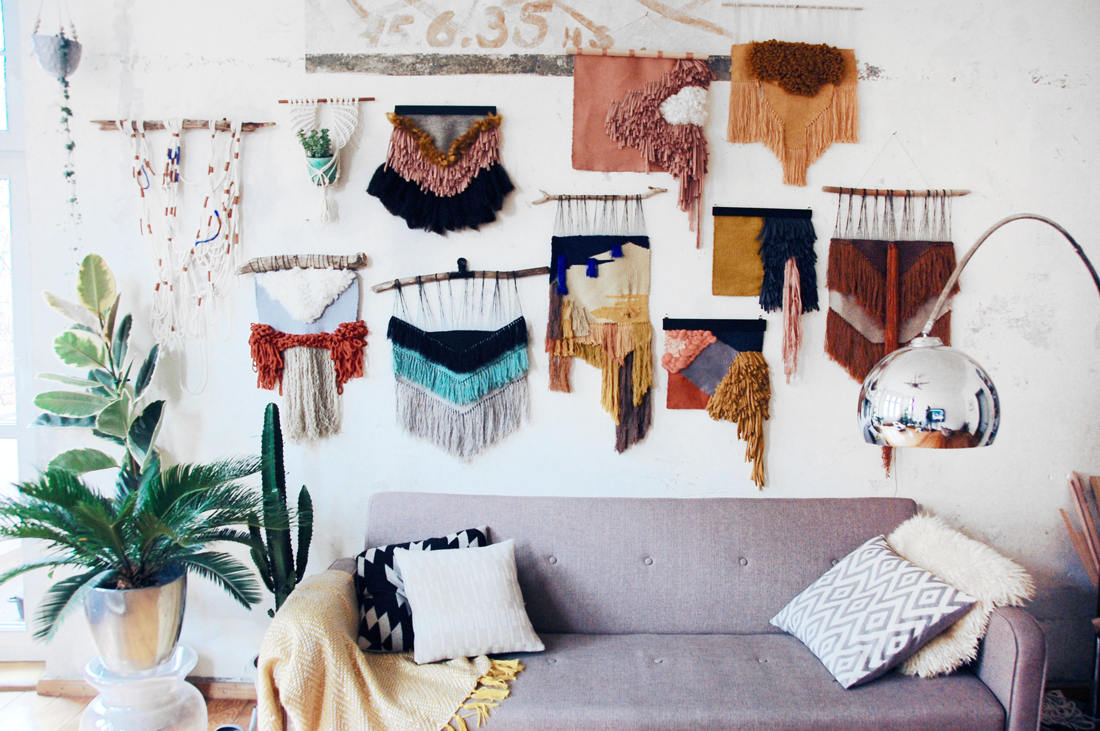 "If you don't like where you are, then change it." That's what Monika Kalinowska did, leaving behind her full time job and dive right into a passion that makes her feel alive. She must have the crafty trait running through her blood (with her mum being a good sewer, embroider & knitter!), which led Monika to set up Mo & Mum selling her gorgeous weaving pieces. And she don't just keep the love for fiber art to herself, conducting workshops ranging from macramé, weaving to botanical dyeing at different studios in Melbourne. Read on to get inspired by Monika's journey to becoming a professional maker. 5
Things About Monika Kalinowska…
Early riser or night owl : Night owl!
A song to get you into the creative groove: Anything from The XX or Patti Smith.
What did you aspire to be when you were 5: Pharmacist or a baker 😉
3 essentials we can find in your bag: Sketch book, hand cream & lip balm.
If you weren't a weaver, you would most probably be doing… Video Journalism.
1. Tell us about your background and what led you to choosing tapestry weaving as a craft.
I had been searching for my creative medium for a while. I tried out painting, collages and photography. However, I couldn't help but feel that the scene was full and exploding with talents and I just couldn't fit in it. That's when I have discovered fibre art! Ever since I tried weaving, I am obsessed with it. It feels like the scene is still young and there's a lot of space for new faces.
2. What made you want to take your passion to the next level?
My previous job had worn me out and weaving became my way to escape and meditate. Since it was making me super relaxed and happy, I got really addicted to doing it. Then I met like-minded people who encouraged me to share the love of weaving and start teaching. I never thought I could enjoy that, but now here I am and I actually love it! It makes me a happy person to be able to share my passion and make a living out of it!
3. Tell us more about Mo & Mum.
Originally, I started Mo & Mum to encourage my mum to get her back into craft work. Since I was a kid, I remember her doing everything from sewing costumes for me to embroidering table linens. She was also a good knitter! With that in mind, we started a small collaboration and I was selling a few of her pieces. Since moving to Australia, we had to put our collaboration on hold but I can't wait to get back into it this summer!
4. What kind of materials do you like to work with for weaves?
My absolute favourite materials to work with are linen yarn, recycled t-shirt yarn, viscose and thick twisted cotton.
5. What is your favourite piece of finished product and what inspired you to create it?
My current favourite piece is the pink landscape with mustard fringe and gold clouds. I had stumbled upon an abstract painting with a similar motif, which got me inspired to create that piece. I often find landscapes or paintings very inspiring for weaving!
6. How is the yarn scene like in Melbourne?
I think that the yarn scene in Melbourne is strong and growing! I am seeing a large interest in workshops and met talented ladies that share the same passion (I'm blown away by their work!). Also, fiber art is entering art shows, which is a fantastic way to popularise it!
7. Is there any interesting or particularly memorable/interesting moment in your career as a professional maker?
My favourite and most important moments in my weaving career have been meeting other creative & inspiring ladies! If it wasn't for them I wouldn't know what weaving was! I've met so many beautiful souls both on the internet and in real life. The support and encouragement I have received from other creatives has been pushing me forward with my work. I'm eternally grateful!
8. Advice for those wanting to make the switch into crafting full time?
If you'd like to become a professional maker, first you'll need to up your social media game! It's crucial to be present and active. You'll have to spend a lot of time on marketing yourself. Also, to minimise stress, it's good to keep some sort of part time job that will bring you $ while you can focus on your craft!
Photo Credits: Monika Kalinowska, Andrew English & Jules Villbrandt