The Woven Path: Fanny Zedenius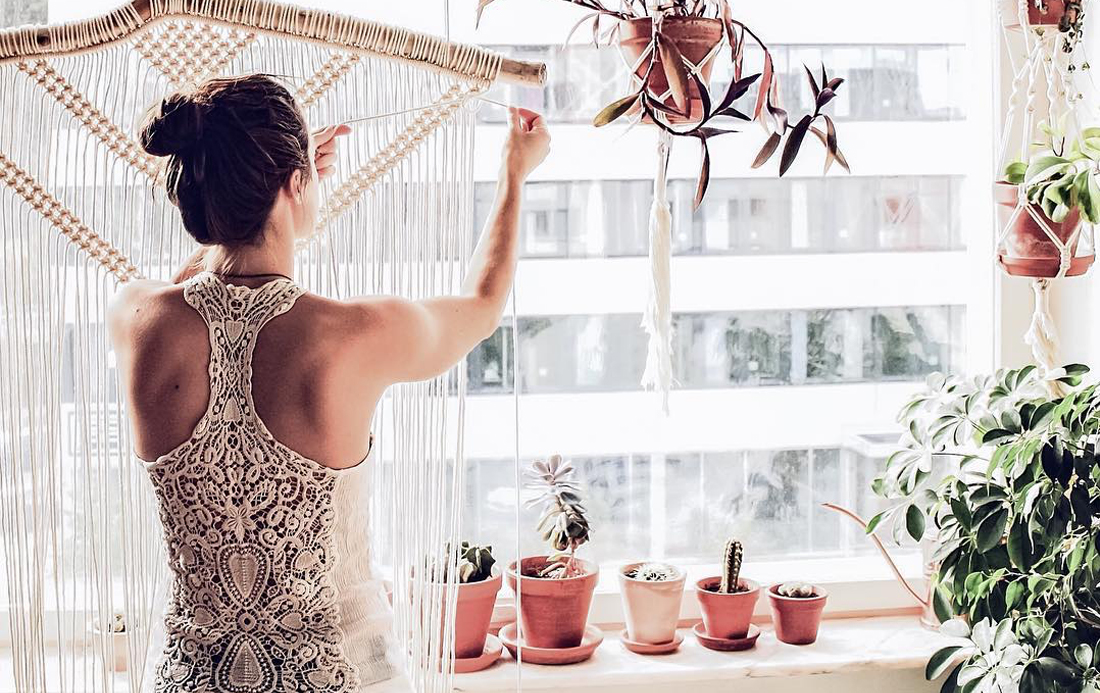 From creating macramé pieces as a form of stress relief to building a business around it, Swedish artist Fanny Zedenius sure has found her dream job through a craft she believes chose her instead of the contrary. Converting her addiction of crafting into a professional job, Createaholic is where Fanny sells her exquisite macramé wall hangings and planters. Recently, she took her passion for macramé up a few notches by writing a book all about it so that more people can experience the joy of engaging in the craft. Read on to hear more about her story.
5 Things About Fanny Zedenius…
Early riser or night owl… Definitely night owl! While I consider it torture having to pull myself out of bed in the mornings, I have no problem staying up almost all night if I am in the midst of working on a project. That's the best thing about having become a grown up – nobody's telling me to go to bed, I can just continue until I can't keep my eyes open any longer!
A song to get you into the creative groove… Right now I can't stop listening to Rodriguez – his music and lyrics just go straight to my heart.
What did you aspire to be when you were 5… I can't remember if I had any visions about a career at age 5, but I was already obsessed with drawing and having different creative projects! I was mostly living in a fantasy world and imagining myself as a mermaid or a lion or a fairy-tale creature of some sort. I would often use my creative skills to fuel my fantasy day dreams, like making myself costumes or drawing the world I was imagining.
3 essentials we can find in your bag… Either an ongoing knitting or crochet project (what else am I suppose to do on the subway?), hand cream (I am unfortunately a very, very dry person), and liquorice (I'm a total sucker for Swedish salty liquorice).
If you weren't a macramé artist, you would most probably be doing… Well, I have a bachelor in International Relations with focus on Gender and Development, so I would probably be working with an organization that focuses on advancing women's rights and fighting poverty. You could say I live two lives, and I'm lucky to be passionate about them both!
1. Tell us about your background and what led you to choosing macramé as a craft.
In 2014, I was studying hard to finish my Masters degree in International Relations. In many ways it was a very stressful time as I was also seeking internships for the next year. During that time, I started doubting myself and my self worth. I think it is a common thing among young women, feeling like they need to perform at their very best all the time and feeling like it's never enough in any way. It was during that time that I discovered macramé, and I fell head over heels with the craft. I taught myself the techniques and felt I had a natural talent for it. Macramé became my stress relief and a way to get some well-needed perspective. Suddenly, things I had worried so much about became less worrying. Even though starting up a business to sell macramé in fact meant I increased my work load by a lot, I was less stressed than I had been in a very, very long time. I think this is why we have seen such a growing interest in crafting lately – people feel like they need a break from their hectic career focused lives and crave the feeling of having made something with their own hands.
Another reason for choosing macramé (although sometimes I feel like macramé chose me) is that I don't get tired of macramé. I have explored many different creative crafts and I love most of them very much. But I eventually move on from one to the other. With macramé however, I just never feel like I get enough! It is one of the more easy-to-learn crafts, and yet one of the most challenging if you want it to be. There is an infinite number of ways to combine knots, and there are more knots to learn than you might think as a beginner.
Finally, I think one of the reasons I chose macramé was that there weren't that many people that had discovered this craft back when I started in 2014. We were a couple of creatives around the world who picked up this craft again that had been dormant since the 70's. This meant that I had a unique chance to influence people and inspire them to try out a new craft, and I am proud that I was a part of the macramé renaissance!
2. What made you want to take your passion to the next level?
Most of all it was the response I got from people through Instagram who were following me and my creative journey to learn macramé. Their positive feedback and requests for purchases was what pushed me to believe I could take that step to the next level, going from creating things for my own pleasure to creating for other people's homes. It was truly an incredible feeling, that first sell!
The decision to start a business was not an easy one, however. I have never taken any lessons in book keeping or business start up, and it was quite challenging in the beginning. But I thought that if others can do it so could I! And I asked for a lot of help from friends in the beginning.
3. Tell us more about Createaholic.
Createaholic was born on Instagram before I had discovered macramé. It was my way of sharing bits and pieces of what I was making and creating, everything from hand made jewellery and crocheting to painted portraits and home built furniture. The choice of name, Createaholic, was a reference to me being addicted to crafting and creating for as long as I can remember. Not having an ongoing creative project makes me feel restless and unsatisfied!
As soon as I discovered macramé however, Createaholic became all about the knotting and it was also then that I started getting more followers on Instagram.
Createaholic is basically my dream come true. I would have never thought I could use my addiction for crafting for something that I could also work with professionally! Without a doubt, I would still be crafting even if I wasn't able to make a living out of it, but my business going well means I can spend more time doing what I love.
4. What kind of materials do you like to work with for your macramé pieces?
I prefer to work with natural cotton cords or rope. Macramé requires quite strong materials that can take a lot of pulling and tightening, and not all materials are fit for that. For a long time, I was searching for braided cotton cord (as opposed to twined or twisted cord) and once I finally got my hands on some thick braided rope I was like a kid on Christmas! Using natural cord also allows me to dip dye my pieces, and I would say that 90 % of my works are made with natural cotton materials.
5. What is your favourite piece of finished product and what inspired you to create it?
Actually, every new piece I make is my new favourite piece. I usually have a vague idea about what I want to create, and the final result is always a bit of a (happy) surprise! With each new design I try to challenge myself and try out new techniques. My inspiration can come from many different sources such as a beautiful branch that I want to use for a new wall hanging, but usually it is the new found techniques that inspire me the most.
I am out travelling the world for a year since September 2016, and my head is almost exploding with all the new ideas and designs I have piled up in there after 6 months of not being able to make my ideas reality! I know that when I come back home, I will spend weeks just crafting to make up for this time when my hands haven't been able to create as much as they usually do.
6. How is the yarn scene like in Sweden?
As with most things in Sweden, yarn and rope is quite expensive. As a macramé artist I don't use much yarn, I use rope. While yarn in all shapes and forms is easy to access (although expensive), rope is much more difficult to find. This is why I quite quickly decided to also sell rope and other materials so that others would be able to start knotting faster than I was able to in the beginning.
7. Is there any interesting or particularly memorable/interesting moment in your career as a professional maker?
To answer this question, I will tell you some exciting news! The best moment so far in my career as a macramé artist was when I was asked by a British publishing company to write a book about macramé. So for the last year I have been working very hard with this exciting and fun project. My book, Macramé – the art of creative knotting for your home, will be published in June 2017. It will be available to order in English and several other languages, from all good book shops, and it's the perfect tool for anyone who wants to learn macramé. I am very happy to be able to spread the love for crafting to even more people this way!
8. Advice for those wanting to make the switch into crafting full time?
First of all, if crafting full time is your dream, then you must follow your heart and believe in yourself! It is probably going to take a lot of time and energy, and don't expect to be making a profit from the start. Be prepared for people who haven't learned to appreciate handmade, and don't allow this to make you question your price setting for example. Handmade is not the same as generic factory-made items, and you should be proud of your work. It might be a good idea to phase out your other work a little at a time while increasing your focus on the crafting simultaneously. But if it is your dream, you will automatically have the energy and will power to make it happen.
Secondly, ask for help from the people around you and don't try to do everything yourself at once. Maybe your weakness is also accounting? Then find a friend who is good at this to teach you how to do it.
Finally, my advice is to use Instagram as a way of reaching potential customers. It is free, and more importantly it's very effective if you put some effort into creating an attractive and inspiring feed! Good luck!
Photo Credits: Fanny Zedenius & Kim Lightbody