The Woven Path: Belinda Evans
We were first captivated by Belinda's take on quality living: a slow and simple life filled with natural, sustainable materials, which then led us to wanting to discover more about her and her obsession with the natural world. A multidisciplinary artist with a penchant for exploration and foraging, we managed to get hold of the educator who prefers to work out of temporary studios. Read more on Belinda's insightful and thoughtful journey below.
5 Things About Belinda Evans…
Early riser or night owl : I'd have to say neither! I like to sleep about 10 hours a night so I usually miss the action on both ends of the day. My favorite time is when the sun is high and bright.
A song to get you into the creative groove: Saudade by Thievery Corporation is getting me in the creative mood lately. The album is a journey and I love it, it's hard to pick just one song.
What did you aspire to be when you were 5: Wild and free.
3 essentials we can find in your bag: Japanese pruning shears, homemade meditation balm and my favorite ceramic cup for impromptu takeaway coffees.
If you weren't a weaver, you would most probably be doing … If I weren't an artist and sustainability educator, I'd be a farmer. For me, there's something very primal and satisfying about growing your own food to eat, so to do it for others would surely be even more so.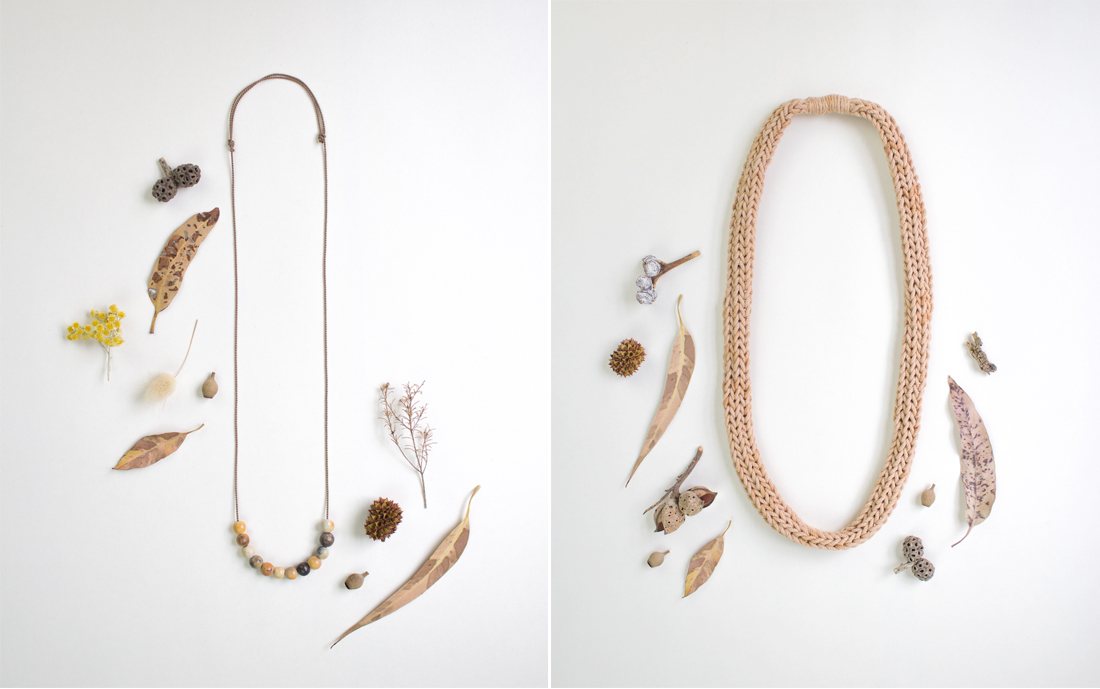 1. Tell us about your background and what led you to choosing tapestry weaving as a craft.
I come from a creative extended family who shared with me their love of making things by hand from very early in my life. Despite this, I entered my teenage and young adult years feeling that I was not naturally creative in the artistic sense. A few discouraging experiences with my school art teachers left me feeling as though I would be better off not exploring any creative pursuits. It wasn't until I approached my thirties that I started to use art and craft as hobbies to help my through some difficult times that I realised how much I loved exploring my creativity, and how much of a positive impact it had on my life. Since then, it has grown quite organically into Alchemy, the name under which I sell the fruits of my creativity. These include jewellery, home textiles and tapestry art that I create using locally sourced wood, textiles, clay and plants.
2. What made you want to take your passion to the next level?
Alchemy came about as a way to share the things I was making with other people. After I discovered how healing and enjoyable making was for me, I became quite a prolific maker! I realised that, although I loved the things I was making, it was the making process that was most important to me, so I would just try new mediums and techniques with the natural materials that I was finding as often as I could. As you can imagine, my home (and later, my studio) became quite full! So I opened my little online store and started selling the things I was making there and through shops that share my values.
3. When did your fascination with nature and fiber begin? How did it come about?
I have always had a fascination with the natural world, especially Australian native plants. I spent a lot of time camping and hiking in the bush and by the sea as a child, and I've continued to find a great deal of pleasure in doing these things as an adult. I love working with materials like natural fibers, clay and wood that yield in my hands and ground me. I initially started tapestry weaving with reclaimed and vintage yarns to capture the experiences of places that I'd spent time in, and then started incorporating dyes that I make using plants that I foraged in these places that I connect with. Now I use foraged plant dyed and undyed yarns and fibers almost exclusively in my tapestry. There's something about the colour and feeling of plant dyes that chemical dyes cannot capture. They're alive.
4 What is your favourite piece of finished product and what inspired you to create it?
I have a soft spot for my ephemeral floral pieces. Of all my work, they have received the least manipulation by my hands and I think that the most beautiful things are left unchanged from the way they choose to be.
5. You've been working from temporary studios, but is there any particular place that strikes and inspires you most?
I am really inspired by the Australian landscape generally. I feel so humbled to live in this beautiful and unique place. One of my favorite spots in this country that has been a source of inspiration my whole life is Wilsons Promontory (affectionately know as The Prom). It's not only visually striking in its varied landscapes, but also a place where I feel at home spiritually. I feel myself opening creatively and energetically every time I visit.
6. Is there any interesting or particularly memorable/interesting moment in your career as a professional maker?
I think the most memorable part of my creative career for me is that I have one! To go from being a person who doesn't regard themselves as creative to someone who is being paid to create is still quite strange to me.
7. How do you manage your full-time work and your creative executions? Any advice for those wanting to do the same? It's not an easy juggle at times, because I often have to say no to great creative opportunities due to time restraints. On the other hand, I never have to say yes to opportunities that are not so great or compromise my art or craft in any way, which I found was happening when I relied on it as a primary source of income. I understand the desire to be a full time artist, and many of my friends feel this desire and live this life, but it's not for me. Whatever your desire, I think you should pursue it. If you're working full time in another field, I'd suggest only taking on those projects that you absolutely love. Then they won't feel like work when you're doing them on the weekend!
Photo Credits: Belinda Evans