The Woven Path: Andreia Gomes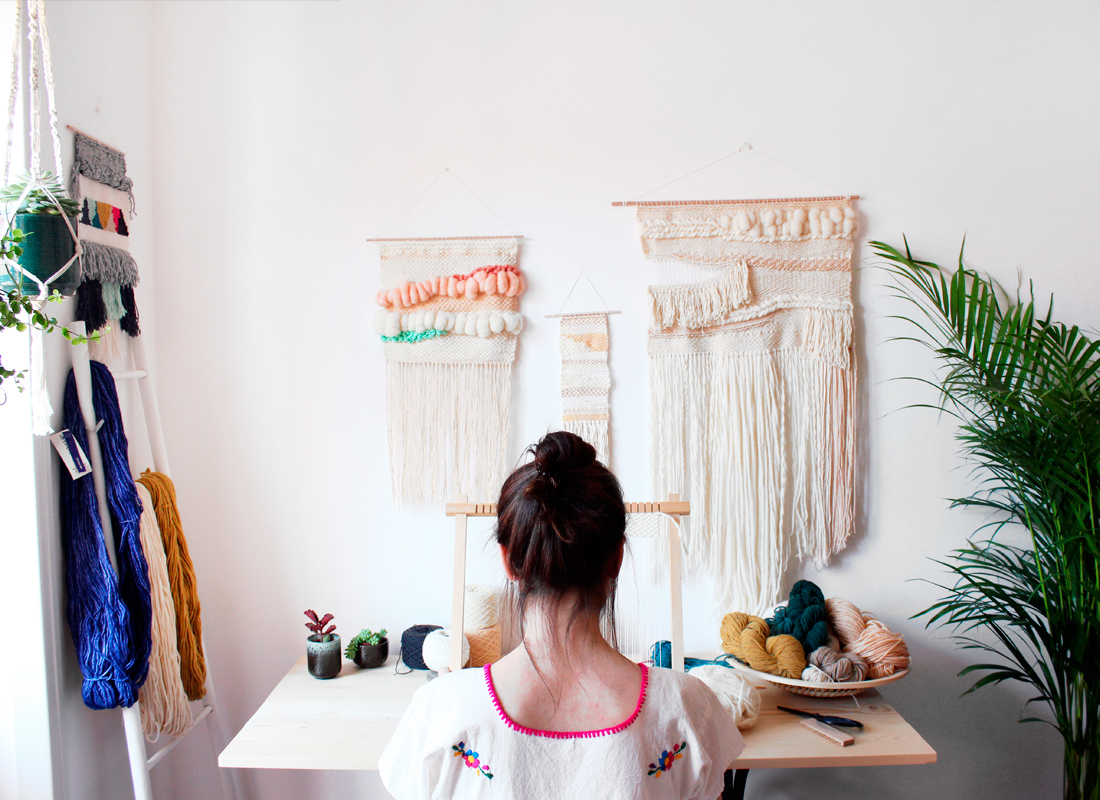 Andreia Gomes left her job as an interior stylist to focus on what she loves most: weaving. It is always daunting to make that first move and step into the unknown, but thanks to the support of her peers and followers on Instagram, Andreia elevated what was just a hobby to a full-time career. Get to know more of this Lisbon-based artist, her biggest love, and her beautiful works in this interview of The Woven Path — a series showcasing crafters who have taken the leap of faith to convert their passion into something greater!
5 Things About Andreia…
Early riser or night owl: Night owl. I have the best ideas at night
A song to get you into the creative groove: Depends on my mood. I balance between Indie bands and vintage songs especially from French artists
What did you aspire to be when you were 5: A teacher
3 essentials we can find in your bag: Mobile phone, sunscreen, notebook
If you weren't a weaver, you would most probably be… working as an interior stylist
1. Tell us about your background and what led to you choosing weaving as a craft.
I have a background in interior styling, so I was naturally drawn to textiles and art. I have also always appreciated the artisanal process of making things by hand. I'm someone who is creative and loves crafting, so when I discovered weaving three years ago, I was intrigued and decided to teach myself weaving through pictures, books, and a little help from the Internet. My very first weave was done on a cardboard loom. It all started out just as a hobby but then I realized I wanted to do it more and more — I was addicted! That was when I decided to buy my first "real" loom, and I have never looked back. I'd like to think that the weaving life chose me!
2. What made you want to take your hobby to the next level?
I started sharing my passion for weaving in 2014 when I created my brand, LOOP Weaving Co. Thankfully, I received great feedback from the public and the orders kept coming, so I knew I was on the right path! The support I received from the community of makers on Instagram was also an important part of the process, because they helped me believe in myself and in my work. They still do! Instagram has some great communities that support and promote small businesses, like Cyl Collective, Female Creatives Association and Maker's Movement just to name a few.
3. What's the philosophy behind LOOP?
Our philosophy is simple. We have a passion for design, high quality yarns and small scale manufacturing. When you buy a LOOP product, you will receive a genuine handwoven item that was carefully thought from start to finish. We believe in making things slowly, with great care, using only quality materials. We believe our pieces can last for a lifetime.
4.What kind of materials do you like to work with for weaves?
I love the warmth and comfort of yarns, especially organic yarns. For LOOP products, I only use natural fibers; mostly wool, cotton, silk and linen. I choose every yarn carefully — sourcing for sustainable and ethical businesses, whether it is the small yarn store next door, or from global suppliers. I believe that my work reflects the raw beauty of the materials I use to create it.
5. How is the yarn scene like in Portugal?
In Portugal, we have a long tradition of yarn and handwoven textiles. Over the last few years, we've observed the revival of the yarn industry. Now, you can easily find a number of small businesses offering beautiful yarns, locally sourced and produced in Portugal. I proudly use these yarns in my work.
6. Is there any interesting or particularly memorable moment in your career as a professional weaver?
Every time I sell something! I still get very excited to see my work in homes around the world. Once, I was invited by a great Portuguese Architect, Eduardo Souto de Moura, to design a couple of tapestries to decorate a recent project of his in Alentejo. I'll never forget that!
7. Advice for those wanting to make the switch into crafting full time?
I took the leap to work full-time on my brand LOOP, and I'm so glad I did it though running a business by yourself can be a little overwhelming sometimes! You have to be very organised and learn to manage your time wisely so that you will have time for your family and friends too (something I'm still working on). Some days are filled with insecurity and self-doubt, but I wouldn't have it any other way — I get to do what I love!
To those wanting to make the shift, I would say that you would definitely need courage, perseverance and a bit of craziness to take that first step. I strongly believe that if you start something with passion and work really hard at, you have every great chance for success.
Photo Credits: KOEL Stories | The Woven Path – Andreia Gomes